A global hit on Netflix, this exuberant Indian musical now makes a play for awards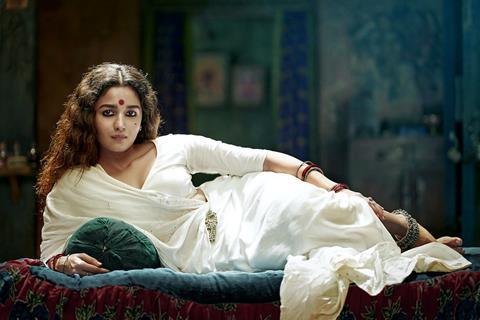 Source: Netflix
Dir: Sanjay Leela Bhansali. India. 2022. 152mins
Gangubai Kathiawadi has all the sweep and brio of a Martin Scorsese gangland epic. Loosely inspired by a real figure and elements of Hussain Zaidi and Jane Borges' 2011 book 'Mafia Queens Of Mumbai', Sanjay Leela Bhansali's barnstorming film charts the rags to-riches, degradation-to-Mother Courage rise of its title character. A commanding, charismatic central performance from Alia Bhatt carries an immensely entertaining fusion of melodrama, incurable romanticism and social commentary.
The film has a brazen forward momentum that is hard to resist.
With its all-guns-blazing approach to emotionally charged material, Gangubai Kathiawadi has already become the most-watched Indian title globally on Netflix following a successful theatrical release. It could place writer/director Bhansali in the awards conversation again, 20 years after he received a Bafta nomination for Devdas (2002).
The film begins as a teenage girl is sold into a life of prostitution. She is given comfort by Gangubai (Bhatt), who tells her own story. Plucked from a prestigious family, the naive, trusting Gangubai was promised a life of glamour and an audition for a film role. She subsequently discovered that she had been sold for 1,000 rupees to a brothel in Kamathipura, the red light district of Mumbai. Electing to embrace her fate, she vows that one day she will buy the brothel and rule over the city. The story follows what it takes for Gangubai to make that vow a reality, with all the trials and tribulations it entails; from a savage beating by a sadistic client to making a powerful ally in local crime boss Rahim (Ajay Devgn) and, ultimately, being in a position to negotiate with the Prime Minister.
Bhansali confidently handles a story that veers in tone between Victorian melodrama and a grittier, more thoughtful biopic. He is not averse to a broad-brushstrokes, romanticised approach but the film has a brazen forward momentum that is hard to resist. A sentimental tugging at the heartstrings is balanced by an unflinching consideration of what Gangubai strove to achieve for the 4,000 sex workers of Karamthipura. A climactic speech to an assembly of hundreds offers a rousing summation of her fight for dignity, acceptance and education for the prostitutes and their children.
The film is peppered with expertly choreographed musical numbers, in which the swirling harmony of camerawork and energetic dancers combine to create flowing sequences filled with joy and liberation. The lavish artificiality of the sets and meticulous production design add to the classical musical feel. Kamathipura is a warren of busy streets, the bustling multitudes either going about their business or providing an audience for the affairs of others; it doesn't feel that far removed from the New York alleys of West Side Story, or the London cobbles of Oliver! And that Dickensian feel continues in the rogue's gallery of supporting characters. Vijay Raaz chills the blood as Gangubai's venomous, vindictive nemesis Raziabai, while Seema Pahwa is suitably monstrous as callous, conniving brothel keeper Sheila Masi.
Bhansali may sanitise some aspects of the real Gangubai's life but he salutes what she achieved. He also notes the sacrifices she made along the way in the estrangement from her family and the refusal to be distracted by the possibility of romance, despite the entreaties of local tailor and bashful, besotted suitor Afshan (Shantanu Maheshwari). A stunning Alia Bhatt conveys the complexity of Gangubai, covering all the ground between swaggering self-confidence and moments of vulnerability when all her tough talk and posturing falter. There is a steely core to the performance that leaves powerful men cowering at her feet as she takes another slug of booze, puffs on a cigarette and laughs off their feeble, futile attempts to intimidate her. She also dances up a storm. It is a performance to relish at the heart of a film that becomes a celebration of female empowerment
Production companies: Bhansali Productions (India) LLP, Pen (India) Ltd
Worldwide distribution: Netflix
Producers: Sanjay Leela Bhansali, Dr. Jayantilal Gada
Screenplay: Sanjay Leela Bhansali, Utkarshini Vashishtha
Cinematography: Sudeep Chatterjee
Production design: Subrata Chakraborty, Amit Ray
Editing: Sanjay Leela Bhansali
Music: Ankit Balhara, Sachet Balhara
Main cast: Alia Bhatt, Ajay Devgn, Shantanu Maheshwari, Seema Pahwa, Vijay Raaz