Sandi Toksvig narrates Jacquie Lawrence's debut documentary on the history of the iconic lesbian Gateways Club in London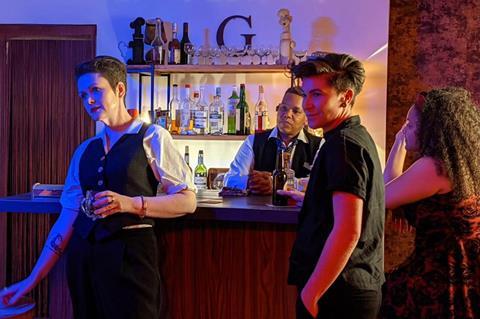 Dir/scr: Jacquie Lawrence. UK. 2021. 80 mins.
Largely unknown now, Gateways Club, a small basement club off London's King's Road, played an essential role in the history of the UK's lesbian scene. As this enlightening documentary reveals, there was another world behind the non-descript door — then green and now literally whitewashed — that offered entertainment, company and sanctuary for queer women across four decades. Following a standard documentary format, and at a brisk 80 minutes, Gateways Grind seems destined for the small screen following its bow at Flare. Yet its simple approach allows its powerful story to take centre stage.
It is clear that Gateways played a huge role in London's LGBTQ+ history, as a place where women and non-binary people could find safety and identity
Introduced by former Gateways' aficionado and broadcaster Sandi Toksvig, the documentary whizzes through the club's history from 1943 (when Ted Ware took ownership - its original opening was in 1931) to its closure in 1985 by way of interviews with the clientele who graced the dance floor. (The film is named after a colloquialism given to a risqué dance move performed by many regulars.) The roster of contributors is broad and diverse, including the late civil servant Barbara Hosking, LGBTQ+ poet laureate Trudy Howson, DIVA magazine publisher Linda Riley, Stonewall co-founder Lisa Power and artist and writer Jude Adams, who join clubbers from the across the cultural spectrum — education, military, politics, arts, the NHS — to share their experiences.
Stories range from the emotional to the explicit. Some women speak about the fun they had at Gateways — on the dance floor, in the toilets — others about the sense of community they found there. Many reveal the trepidation with which they first arrived, which gave way to the sense of belonging that came with being a member. They describe the club's vivacious owner Gina Ware, who ruled the establishment with an iron fist; there were codes of conduct that could not be broken, lest you would find yourself on the street. Gina's daughter, also called Gina, recalls its surprising origins — her father won the lease in a boxing bet — and her parents' desire to make it a safe space for queer women who had nowhere else to go. Archive images and video provide further texture, although dramatised sections, filmed in the original Gateways, are rather superfluous given the richness of the interviews.
It is unsurprising that most of the contributors have nothing but fond memories. "Down the dark seedy stairs and through the dark seedy door there was heaven," sighs artist Maggi Hambling. Heaven is a word used by a number of the participants but, although the club is described as something of a "meat market", you get the sense that these reverential terms describe not simply physical pleasure, but the experience of being entirely accepted for who you were — or, indeed, who you chose to be on any given night.
That is not to say there are no dissenters. There is a discussion surrounding the club's requirement that its clientele identify as either butch or femme and behave accordingly; although, as DIVA editor Roxi Bourdillon points out, butch/femme has its roots among the working class lesbians who frequented the club. Elsewhere, writer Elizabeth Wilson describes her disappointment that the club was not supportive of her activism when she joined the Gay Liberation Front; she was thrown out for attempting to distribute leaflets. When the GLF protested outside the club, they were arrested. While this may seem counter-productive for a lesbian venue, there was a valid reason behind such a stance. Many of these women were attending at a time when to be outed as a lesbian could mean the loss of their jobs, homes, even their children, and they simply did not want to be outed. "What happened in the Gateways stayed there," remarks former army officer Babs Trainer, and that protection was welcomed by the women, and safeguarded by the club.
So it is something of a surprise that owner Gina allowed filmmaker Robert Aldrich to film a pivotal sequence of his 1968 drama The Killing Of Sister George in the club, using many of its regulars as extras and giving out its actual telephone number on screen. In one of the documentary's most intriguing sections, Briony Hanson, head of film at the British Council, dissects the ethics of this decision.
By the film's end, it is clear that Gateways played a huge role in London's LGBTQ+ history, as a place where women and non-binary people could find safety and identity in a world where they were at best ignored and at worst pilloried. Almost 40 years after the club's closure, there is an ongoing campaign to have it recognised with an official blue plaque; something that seems entirely fitting for a place where, as Gina says, "the bullshit didn't have the upper hand."
Production company/international sales: Jackdaw Media Ltd, jackdawmedialimited@gmail.com, Anubis Films Ltd
Producers: Fizz Milton, Lucie Warrington
Cinematography: James Cook
Editing: Beccy Strong