The Nasser brothers turn their lens on a late-life romance in Gaza featuring Hiam Abbass and Salim Daw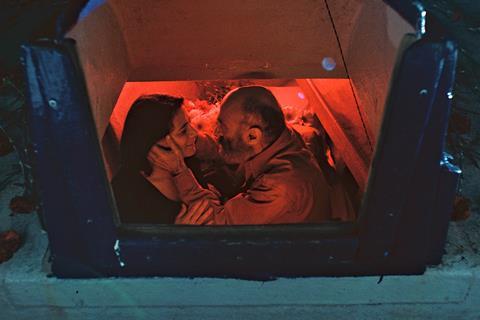 Dirs. Tarzan and Arab Nasser. France/Germany/Portugal/Palestine/Qatar. 2020. 85 mins.
A strong sense of place, plus a spare but pithy touch of political background, give a firm underpinning to a gentle but rambling third-age character portrait in Gaza Mon Amour, the second feature by Palestinian writing-directing brothers Tarzan and Arab Nasser. Altogether low-key but highly likeable, this portrait of a cantankerous but ultimately charming elderly loner shows that the spirit of Italian neo-realism still lingers powerfully in world cinema, with dashes of magic realism and absurd comedy leavening the mix. Nicely played but unexceptional in visual execution, the film is unlikely to resonate strongly beyond the festival circuit, but its prospects may get a fillip from the presence of Hiam Abbass – who, after long incarnating Palestine on the world cinema map, is now known to a huge international audience for her role in TV's Succession.
Hiam Abbass projects a composed, introverted dignity in a more austere and altogether unglamorous role than we've seen her in lately
The film is set in contemporary Gaza, where sixty-year-old Issa (Salim Daw, recently seen in 2019's critical success Tel Aviv On Fire) plies a trade as a fisherman, pulling in hauls by night and selling them the next day at the market. There his attention has been caught by Siham (Abbass), a stern, detached woman who also works in the market as a dressmaker and clothes mender. Siham, a widow, lives with her world-weary but sharp-witted adult daughter, seen by some in this close Muslim community as somewhat disreputable because she is divorced. Issa, who sometimes shares confidences with a younger man who runs a shop in the market, is at long last considering marriage – and Siham is his only candidate, although his sister is insistent on bringing groups of middle-aged contenders for him to consider.
The film takes a more broadly comic turn one night when Issa's net hauls an unexpected catch – a life-size, and extremely heavy, Greek bronze statue of Apollo. It's also a very priapic embodiment of the god – until it topples over, breaking its erect penis, which Issa then wraps up and takes to a shop for evaluation. Issa's imprisonment and questioning by a sly but harassed police inspector provide one of the film's droller threads.
Where the film falls down is in failing to make full use of his concise running time, which even at 85 minutes feels a little overstretched because the Nassers don't quite manage either to sustain the relaxed appeal of the first third, or to fully sustain an interplay between the film's two threads – Issa's polite, cautious courting of Siham and the larks with the statue. The gentle ribaldry, though, is nicely carried off, and the brothers create a vivid sense of a Gaza community where many are dreaming of escaping to Europe, and where regular bombing by the Israeli air force is a fact of daily life.
Shooting in Jordan and Portugal, and doing their own production design, the Nassers, themselves from Gaza, carry off a convincingly detailed evocation of a run-down community, with its daily struggles and tenacious community. Salim Daw's Issa is peppery, rough-and-ready but with a dapper touch of dandyish gallantry, while Abbass – who also starred in the Nassers' 2015 debut, female ensemble piece Dégradé – projects a composed, introverted dignity in a more austere and altogether unglamorous role than we've seen her in lately. Christophe Graillot's photography is for the most part grainily functional, its desaturated greens and blues establishing a harsh daily drabness – which is why the eccentric coda, steeped in reds and carried off with an unexpected flourish, is all the more incongruous but hard to dislike as a fantasy pay-off.
Production companies: Les Films du Tambour, Riva Filmproduktion
International sales: Versatile Films, vpichon@versatile-films.com
Producers: Rani Massalha, Marie Legrand, Michael Eckelt
Screenplay: Tarzan and Arab Nasser, Fadette Drouard
Cinematography: Christophe Graillot
Editor: Véronique Lange
Production design: Tarzan and Arab Nasser
Music: André Mathias
Main cast: Salim Daw, Hiam Abbass, Maisa Abd Elhadi, George Iskandar