A blend of light-touch social commentary with vintage thriller tropes has seen this entertaining Daniel Kaluuya feature soar to the top of the US box office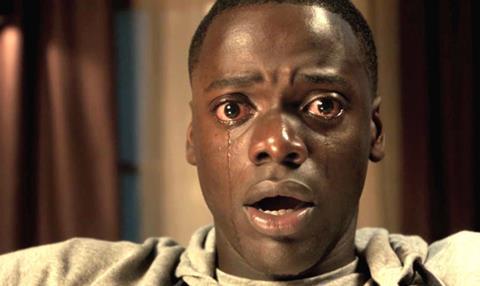 Dir/scr: Jordan Peele. US. 2017. 103mins
Retro horror and racial tension mix to surprisingly entertaining effect in Get Out, the feature directing debut of US TV comedy multi-hyphenate Jordan Peele. With British up-and-comer and former Screen Star of Tomorrow Daniel Kaluuya adding to the appeal in his first big screen lead, this is another piece of smart and commercial genre filmmaking from producer Jason Blum and his Blumhouse Productions.
The film's build-up is quietly creepy, with the feel of vintage thrillers from the seventies like The Wicker Man and The Stepford Wives.
After its Sundance premiere, the low budget (reportedly just $5m) outing over-achieved wildly in its North American opening, grossing an estimated $30.5m this weekend through worldwide distributor Universal. The numbers might not be quite so impressive as the film rolls out internationally through the spring, though Kaluuya and the topical theme should still make for some above-average grosses.
Kaluuya (best known for UK TV series including Skins and Babylon) plays Chris, an African-American photographer from New York nervously setting out with Caucasian girlfriend Rose (Allison Williams, from HBO's Girls) to meet her parents over a weekend at the family's country estate.
Rose's psychiatrist mother (played by Catherine Keener) and neurosurgeon father Dean (Bradley Whitford) give the new boyfriend an apparently warm welcome – with Dad noting his admiration for President Obama - but there's something odd about Rose's brother (Caleb Landry Jones) and the family's black housekeeper (Betty Gabriel) and black groundsman (Marcus Henderson).
Things get stranger still when the guests – almost all of them older white folks - turn up for a family party at which Chris turns out, in more ways than one, to be the centre of attention.
Peele, who also wrote the script, is best known as partner to Keegan-Michael Key on Comedy Central sketch show Key & Peele (the two also starred in recent big screen action spoof Keanu) and there are bits of comedy throughout the film, most of them delivered by Chris's suspicious best friend and ultimate saviour Rod (LilRel Howery).
For the most part, however, the film's build-up is quietly creepy, with the feel of vintage thrillers from the seventies like The Wicker Man and The Stepford Wives. The final act gets more visceral, and while there are a few heavy-handed moments the action has a refreshing vigour and a crowd-pleasing outcome.
The social comment is there from the start – when a young black man gets paranoid walking the streets of a middle-class suburb – but it's delivered with a light hand and mostly takes a back seat to the genre tropes. Kaluuya's engaging performance does a lot to make the mix shocks and commentary work, which bodes well for his upcoming turns in Marvel's Black Panther and Steve McQueen's Widows.
Production companies: Blumhouse Productions, QC Entertainment
Worldwide distribution: Universal Pictures
Producers: Sean McKittrick, Jason Blum, Edward H Hamm Jr, Jordan Peele
Executive producers: Raymond Mansfield, Couper Samuelson, Shaun Redick, Jeanette Volturno
Director of photography: Toby Oliver
Production designer: Rusty Smith
Editor: Gregory Plotkin
Costume design: Nadine Haders
Music: Michael Abels
Website: www.getoutfilm.com
Main cast: Daniel Kaluuya, Allison Williams, Bradley Whitford, Caleb Landry Jones, Stephen Root, Lakeith Stanfield, Catherine Keener