A Sydney security guard and part-time ghostbuster confronts his own terrifying past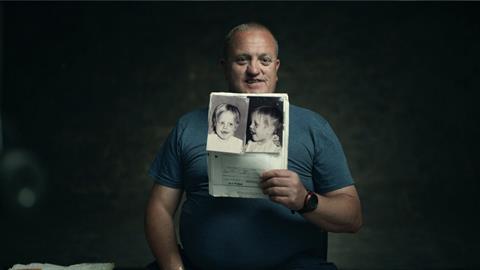 Dir/scr. Ben Lawrence. Australia. 2018. 96 mins.
Ben Lawrence has stumbled across a documentarian's dream In Sydney security guard Jason King. The part-time spirit chaser is an eager subject, willing to dive deep into his own difficult past and uncover a wide-ranging story that only grows in complexity over time. Shot across seven years, the fascinating if not completely satisfying Ghosthunter starts out with King's fondness for the supernatural and ends up dealing with violence, abuse, repressed traumas, fractured memories, police proceedings, family secrets, estranged relatives and tussles with depression.
What begins as a portrait of a grieving man helping others with their supposedly haunted homes gradually becomes an account of erxtreme distress
Truth is indeed stranger, bleaker and more compelling than fiction, and while the documentary favours suspense at the expense of nuance, it should attract interest from factual-minded programmers after premiering at the Sydney Film Festival and making its international bow at Sheffield Doc/Fest before a theatrical release in Australia in 2019.
Lawrence (son of Lantana and Jindabyne director Ray Lawrence) came across King via a local newspaper article in which he claimed to have seen his dead brother's ghost. A few phone calls later, the cameras were rolling. The end product doesn't quite conform to Lawrence's initial intentions, however, with Ghosthunter evolving considerably during the shoot. What began as a portrait of a grieving man helping others with their supposedly haunted homes gradually became an account of distress, its pervasive impact and the need to confront the past to face the future.
At every turn, there's more to King's story. As to-camera interviews and casual chats reveal, discovering he had a brother was a recent development, for example. Before his newfound sibling's death, King had been trying to track down his absentee dad, motivated by an utter lack of memories from his formative years. He scours through phone books, visits his childhood homes, searches decades-old medical records and talks to social workers who knew him as a boy to get some clues. Two unexpected sources really get the ball rolling, however: a text message from someone King knew when he was 11 years-old and a phone call from a police officer also trying to find his father.
Ghosthunter hinges upon several attention-grabbing revelations, although it's King's journey and personality that draws viewers in. Typically talking up a storm, his smiling, scarred face — the cause of which he's also searching for — can't hide his own inner turmoil. The more details he unearths about his painful past, the more King struggles, particularly regarding the truth about his dad. And yet, as darker material comes to the fore, Lawrence is torn between siding with his subject and depicting King's troubles. It's a dilemma that's addressed on camera, with the director a regular presence throughout, but it still haunts the film.
Similar issues plague Ghosthunter elsewhere, primarily around balance. The overplayed score tries to ramp up the tension a little too far, recalling the kind of supernatural reality TV shows the feature's title brings to mind, while the shift between suspenseful and solemn sometimes feels awkward. Still, the documentary's candid subject, important subject matter and involving story go as far as they need to. In Australia, the film will also be accompanied by an action campaign that gives voice not to the feature's horrors, but to its ultimate message of surviving and healing.
Production companies: Ghosthunter One, Exit Films
International sales:Autlook Film Sales, salma@autlookfilms.com
Producer: Rebecca Bennett
Editing: Karen Johnson
Cinematography: Hugh Miller
Music: Rafael Johnson