A struggling Romanian immigrant mother finds possible salvation in the boxing ring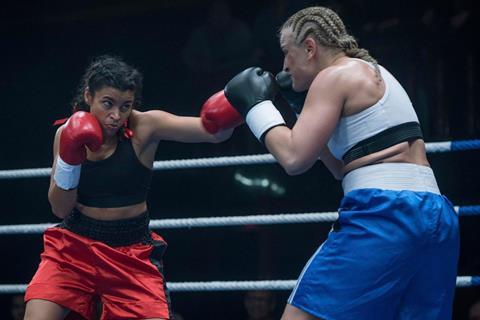 Dir: Huseyin Tabak. Germany-Austria. 2019. 112mins
A Romani single mother struggling to survive in Hamburg finds possible salvation in the boxing ring in this schematic but nevertheless stirring drama. While adhering to many boxing movie tropes – notably the rise of an underdog to a championship shot – writer/director Huseyin Tabak adds a new dimension to the genre by making his protagonist both an immigrant and mother.
Serban portrays Ali with a vivid combination of vulnerability, no-nonsense pragmatism and a feistiness that can occasionally become explosive
The topicality and social context don't detract from the ringside action, where Tabak (Your Beauty is Worth Nothing) orchestrates some terrifically persuasive fight sequences. With a committed, flesh-and-blood central performance by Alina Serban, this is more Girlfight than Million Dollar Baby — and all the better for it. While Tabak doesn't quite deliver a knock-out punch, his film is likely to achieve some arthouse play.
As a young woman in Romania, Ali (Serban) is trained by her father to become a successful boxer, before he violently disowns her when she gives birth to two children out of wedlock. It's hard to say whether the old man is more offended on moral grounds or by the fact that she's taken her eye off her career – he'd wanted her "to make Roma proud". Either way, Ali has little choice but to leave home.
Fast forward a few years, to Hamburg, where Ali, 11-year-old Esmerelda and five-year-old Mateo are living in a small apartment, along with Mary (Irina Kurbanova), a young German aspiring actress, who's put her name on the lease in return, it seems, for Ali to earn most of the rent. This she does by taking any work she can find; hotel maid, cleaner, even as a labourer working with asbestos. Home life is loving and joyful, but the bills are a struggle. And Ali's pride and temper – managers are well-advised not to exploit her – don't make it easy to retain work.
One night she gets a shift clearing up at the Ritze, a seedy bar and boxing club owned by the shambolic, frequently drunk former boxer Tanne (Tobias Moretti). Watching the action in the ring reawakens Ali's passion and, after he watches her at the punchbag, Tanne senses the real deal. A brilliant scene in which the diminutive woman stands in for Tanne's inter-bout comic relief and shows her moves – against men – proves a turning point. A visiting promoter (Aleksander Jovanovic) enlists her as sparring partner for his female championship contender.
Tabak uses an effective shorthand to sketch the background of the immigrant experience: Ali joining groups of Romanian men every morning in the hope of being selected for menial work, all at the mercy of a Johnny Friendly; a hotel manager trying to cheat her of wages; Esme being bullied by racist girls at school.
But the focus of the drama is how Ali will literally fight her way out of her problems. The dark-eyed Serban portrays her with a vivid combination of vulnerability, no-nonsense pragmatism and a feistiness that can occasionally become explosive. It's an intense package that holds the centre of the film. Offering great value alongside her, the charismatic Moretti is often very amusing as a man who's lost his way, propped up by his love of boxing and for whom training Ali represents a form of redemption.
The obligatory training sequences in boxing movies are epitomised by Sylvester Stallone's Everyman workouts on the Pennsylvania streets in Rocky. So it's something of a joy to see Ali, who's lost fitness in the years since she left home, get briskly and visibly back into shape with far less fanfare. The subsequent ring scenes are well choreographed, shot and edited, with a bloody, painful veracity.
Tabak's screenplay is less successful when attempting its dramatic fluctuations. No sooner have Ali's fortunes begun to improve then calamities begin to pile upon her. And just when the director rebuilds goodwill, he again contrives to lose it in the final seconds by denying viewers of what they expect: a result. Yet occasional clumsiness shouldn't deny a film that has much going for it, not least its pugnaciously heroic female protagonist.
Production company: Dor Film-West
International sales: Arri Media International worldsales@arri.de
Producer: Danny Krausz
Production design: Julia Oberndorfinger, Attila Planyger
Editing: Christoph Loidl
Cinematography: Lukas Gnaiger
Music: Judit Varga
Main cast: Alina Serban, Tobias Moretti, Irina Kurbanova, Aleksander Jovanovic