A mother and daughter bicker endlessly in Yang Mingming's finely-crafted debut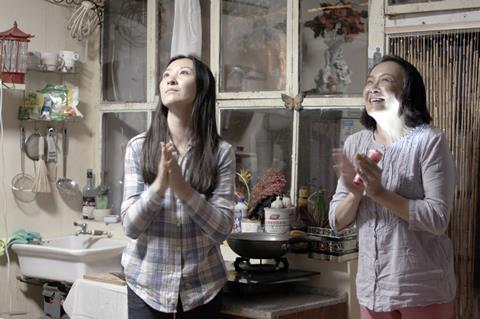 Dir/scr. Yang Mingming. China, 2018, 117 mins.
Swap Sacramento's lower middle-class for Beijing's hutong dwellers, and Girls Always Happy almost resembles China's answer to Lady Bird, laying bare the many ups and downs of a complex yet relatable mother-daughter relationship. A dark centre lurks at the heart of writer, director, editor and actress Yang Mingming's feature debut, however, eschewing warmth for a warts-and-all — and sometimes bleakly humorous — approach.
"The only debt that can't be repaid in this world is a mother's love"
Premiering in Panorama, Girls Always Happy is unflinching in its exploration of a difficult parent-child dynamic, benefitting from intricate performances from the two leads. As Yang bickers furiously with co-star Nai An about everything from marriage to money to table manners, Girls Always Happy proves fascinating. Yet, even though it gives the first-time filmmaker and her co-star a strong showcase, the film's richness of character and insight isn't matched by its narrative thrust, and thus likely to remain confined to the festival circuit.
The first thing that's evident about twenty-something screenwriter Wu (Yang) and her unnamed single mother (An) is their festering despair; accustomed to disappointment on both the personal and professional fronts, slinging their discontent at each other. Resentment lingers at every turn, travelling in both directions. Wu can't forgive her mother for past choices, including squandering the chance to receive a decent relocation payout. Meanwhile, her mother never misses an opportunity to offer criticism and demand recognition. "The only debt that can't be repaid in this world is a mother's love," she wails at one point.
And yet, with an astute understanding of the way that such close bonds can simmer with anger in one moment and resound with comfort in the next, they intermittently tone down their war of words in two situations: over meals, when the usual onslaught of bitterness becomes a trickle; and whenever Wu's Grandpa (Huang Wei) is around. That's only because they want to ingratiate themselves into the elderly man's good graces to secure a place in his will. Their precarious financial state, and the monetary influence behind much of their unhappiness, also speaks to the film's statement on modern China's economic and social disparities
Also apparent in every exchange: the fact that the two women are much more similar than they'd ever like to admit, and not just due to their shared pursuit of writing or lack of luck with men. It's on the romance front that Girls Always Happy is least convincing, with Wu's strained affair with divorced film professor Zhang Xian (Zhang Xianmin) and her mother's sudden interest in the newly divorced Baogang (Li Wenbo) primarily cementing their commonalities and co-dependence.
Yang grew up with her own mother in the same area, which helps explain the film's general art-imitating-life feel — not only in the intense central relationship, but in the detailed way she depicts their shared home's every nook and cranny, as well as the texture of their neighbourhood. The setting particularly shines courtesy of DoP Shen Xiaomin's crisp digital lensing, which, when it strays outside, often follows Wu riding her scooter along the streets with carefree abandon. Affection also resonates in these fluid shots of everyday locales, reflecting the realisation at the feature's core: that what we love and what we struggle with are often the same thing.
Production company: Beijing Trend Cultural Investment
World Sales: Parallax Films, info@parallaxchina.com
Producer: Yang Jing
Executive producer: Yang Chao
Cinematographer: Shen Xiaomin
Editor: Yang Mingming
Production design: Xia Nv, Xiong Yue
Main cast: Nai An, Yang Mingming, Zhang Xianmin, Li Qinqin, Huang Wei, Yuan Li, Li Wenbo