Sophie von Haselberg shines bright in this lurid picture of stardom undone which forms part of Rotterdam's focus on Amanda Kramer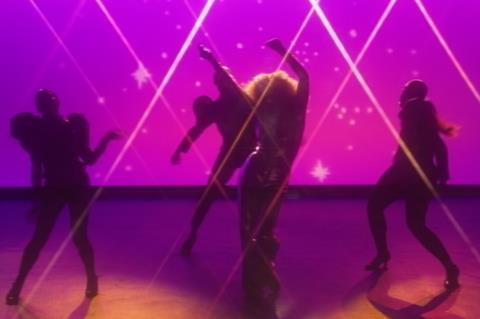 Dir/scr: Amanda Kramer. US. 2022. 80 mins
Sissy St Claire (Sophie von Haselberg) has finally made it. She has been given her own Saturday Night television special, an all-singing, all-dancing one-woman show, complete with disco, drama and self-examination. She is "living proof that television is in a golden age". You can bet that she's not about to blow the opportunity. But as the show progresses, Sissy starts to unravel, and the canned laughter takes on a derisive quality. This psychedelic wig-out trip to the dark side of showbiz screens as part of Rotterdam's focus on writer and director Amanda Kramer, and is a vivid showcase for Kramer's distinctive and playful vision.
Could resonate with audiences with a taste for lurid cinematic mischief-making
Part exercise in kitsch 1980s analogue nostalgia, part examination of ego-driven diva culture, part psychological horror, Give Me Pity! is a singular vision which could resonate with audiences with a taste for lurid cinematic mischief-making. Further festival screenings are likely, in particular in events geared towards the crossover between genre filmmaking and art cinema.
The film's main asset is von Haselberg, delivering a barnstorming performance and dominating a frame which is carved up by lens flares and speckled with the reflections of a multitude of mirrorballs. Her Sissy is a showbiz trooper who owes much to von Haselberg's own mother, Bette Midler, while also nodding to the more demented hunger for fame of Bette Davis in Whatever Happened to Baby Jane? and Divine as Dawn Davenport in John Waters' Female Trouble.
Opening with a monologue in which Sissy compares herself to Jesus (she admires his iconic look and dedication to making it), the film adopts the kind of sparkly camp sacrilege more usually seen in a Pierre et Giles artwork. She then segues into an extended musical number – the original compositions, by Giulio Carmassi and Bryan Scary have an authentically bubblegum-flavoured exuberance, which is tempered – as the film goes on – by an increasingly psychotic edge of desperation. And Sissy's perky showmanship is unsettled by sudden glimpses of something sinister, like acid flashbacks of a figure which may be a stalker or may be a manifestation of her own self-loathing.
The film takes the variety show format and twists it. A question and answer session in which Sissy delves into a sack of fan mail takes a darker turn when she pulls out a letter which is marked with bloody fingerprints; in a scene where she consults a veiled psychic, we learn that the energy which surrounds our star is "demonic". And an impersonation of Sissy by another actress is a grotesque parody which peels back the sequins and false eyelashes to reveal something monstrous beneath.
The colour palette moves from supersaturated pinks and methylated purples to the smeared kohl grey of bleeding mascara. The hunger for adoration that drives Sissy and women like her has, Kramer suggests, dark consequences. It's perhaps not a particularly revelatory insight into the stagestruck insecurity of the performer, but with its gleefully OTT excesses, Give Me Pity! is an enjoyably deranged oddity.
Production company: Irving Harvey, Neon Heart Productions, Smudge Films
International sales: alief info@alief.co.uk
Producers: Jacob Agger, Sarah Winshall
Cinematography: Patrick Meade Jones
Editing: Benjamin Shearn
Production design: Liz Toonkel
Music: Giulio Carmassi, Bryan Scary
Main cast: Sophie von Haselberg, Reshma Gajjar, Cricket Arrison, Shelley Long, M. Diesel, Tess Hewlett, Malachi Middleton