A man meets his maker in the unlikeliest of places in Rebekah McKendry's inventive metaphysical horror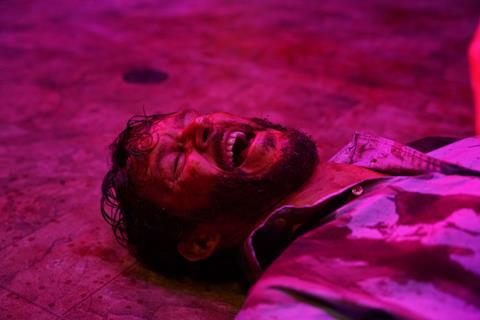 Dir: Rebekah McKendry. USA. 2022. 79mins
The best horror filmmakers appreciate the balance between excess and restraint; knowing how far to push the genre while ensuring the story stays grounded enough to keep an audience firmly on the hook. With Glorious, Rebekah McKendry (Psycho Granny) finds that sweet spot, exploring the thematic and visual boundaries of the metaphysical narrative while also taking full advantage of the real-world elements of a desperate man who encounters a personable but destructive demi-god in a grimy reststop bathroom.
McKendry explores the thematic and visual boundaries of the metaphysical narrative
With its low-brow-meets-high-concept Lovecraftian premise and some truly heady visuals, Glorious should be a firm favourite at Fantastia, where it world premieres, and a likely popular choice when it bows on streamer Shudder on August 18. The presence in the cast of J.K. Simmons, who voices the toilet-dwelling deity, should also pique some interest, and lead Ryan Kwanten also has a dedicated following thanks to TV's True Blood and cult films like Red Hill and Knights Of Badassdom.
Kwanten is Wes, who, when we first meet him, is practically passing out behind the wheel of his car on an unidentified American backroad. Sweaty and pallid, he pulls into an isolated reststop; the way in which he clutches a photo of a pretty girl and leaves numerous pleading messages on her voicemail gives an insight into his emotional state. Cranking up the volume on his car radio, he downs a bottle of liquor and engages in a night of one-man mayhem; waking up face down in the dirt, he lurches to the bathroom — and there the fun begins.
Through the wall of his toilet stall, which is daubed with an elaborate mural of a female demon with a glory hole for a mouth (hence the films's play-on-word title) drifts a kindly voice (Simmons). After some awkward small-talk, the voice reveals that it belongs to an ancient god who has been forced out of his ethereal state by his demonic father, and is beginning to take corporeal form. If that happens, the entire world will be destroyed — and only Wes has the power to stop him.
With the bathroom door locked tight, we watch in real-time as Wes runs the gamut from incredulous disbelief and fear to furious rage and grudging acceptance. Kwanten keeps Wes largely wound up tight, desperately trying to hold it together, to make some sense of this extraordinary turn of events. Hints of buried secrets and past traumas are slowly drawn out as he faces up to both his past and his unavoidable fate. Simmons' measured, largely-benevolent delivery is at delicious odds with the utter carnage he unleashes in the bathroom.
As Wes meets his maker (or perhaps his undoer), the deft screenplay by Todd Rigney, Joshua Hull and David Ian McKendry presents an intriguing exploration of the vulnerability of the human condition, the damning legacy of toxic masculinity and the place of original sin and religious redemption in modern humanity. Crucially, it wears these philosophies lightly; moments of humour, from the wry to the absurd, punctuate (and often puncture) intense moments, and the visuals are never less than eye-popping.
Cinematographer David Matthews utilises every grungy inch of this one-room setting — cracked mirrors, shadowy corners, and that strange pulsating glow and sticky mucous coming from the locked stall are a stark contrast to well-timed flashbacks which are daubed in the golden glow of nostalgia. The colour palette lurches from otherworldly purples to visceral reds and the pitch black void of Wes's own fracturing mind, and the soundtrack takes in everything from death metal to the disorienting jolly strains of 1905 tune 'Wait Till The Sun Shines, Nellie'. It's a trip, and then some.
Production companies: Alliance Media Partners, Fallback Plan Productions
Distribution: Shudder
Producers: Christian Armogida, Jason Scott Goldberg, Morgan Peter Brown, Joe Wicker, Bob Portal, Inderpal Singh
Screenplay: Todd Rigney, Joshua Hull, David Ian McKendry
Production design: Peter Kelly
Editing: Joseph Shahood
Cinematography: David Matthews
Music: Jake Hull
Main cast: Ryan Kwanten, J.K. Simmons, Andre Lamar