A Macedonian woman faces a vicious backlash when she takes part in a traditionally all-male religious ritual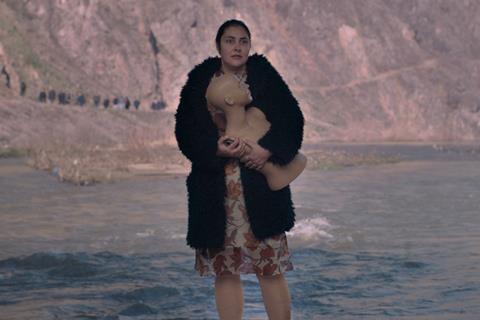 Dir/scr: Teona Strugar Mitevska. Macedonia/Belgium/Slovenia/Croatia/France. 2019. 100mins
With God Exists, Her Name Is Petrunya, Teona Strugar Mitevska makes her Berlinale competition debut with a sharp Macedonia-set satire about power, change and a woman's place in a patriarchal world. Bitingly amusing at times, this crusading, clear-eyed film follows the heated reaction when its titular character participates in a men-only ritual marking the Orthodox holiday of Epiphany. Petrunya (first-timer Zorica Nusheva) starts an uproar by defying tradition, and the film shrewdly dissects society's desire to cling to convention — as well as the destructive fear driving those calling for her punishment.
As its central character stands her ground, Petrunya expands its missive against engrained misogyny
Played with inner steeliness by impressive comic stage performer Nusheva, Petrunya is a thoroughly relatable 21st century protagonist: restless about her future, repeatedly told she doesn't meet expectations, and bone-tired from constantly feeling worthless. She's also no pushover and that, combined with a highly relevant storyline that's both inspired by a true tale and tailor-made for today's growing quest for gender equality, means the film deserves to share its inner spark across the festival circuit.
In Mitevska's fifth feature — and her fourth to screen in Berlin after Panorama contenders I Am from Titov Veles, The Woman Who Brushed Off Her Tears and When The Day Had No Name — there's no better image to illustrate Petrunya's thorny plight than one that she and cinematographer Virginie Saint Martin create twice, in different ways. After Petrunya dives into the icy river to claim the sacred Epiphany cross, she's surrounded by jostling men yelling with anger. When she's taken in for police questioning, she's beset by a furious male mob demanding retribution. Both scenes tap into emotions familiar to women everywhere and, in both situations, Nusheva's silent, expressive face screams louder than the agitated crowd.
Before she scandalises the town of Štip by becoming the first woman to retrieve the coveted object (which is said to bestow a year's good fortune upon the recipient), 32-year-old Petrunya is an unemployed history graduate, a disappointment to her stern mother (Violeta Sapkovska), and unable to convince a lecherous employer to give her a sewing factory job. It's on her way home from the failed interview that she spies the religious event, spontaneously plunges into the water and emerges victorious. Her reward, however, is instant jeers, a terse evening at the police station, and demands by clergy, cops and the community that she not only relinquish her new status, but admit that she shouldn't have even taken part.
Co-writing the screenplay with When the Day Had No Name's Elma Tataragic, Mitevska never fails to find scathing comedy in her premise. As exasperating as Petrunya's treatment is, the behaviour she's forced to face — men asserting their supremacy while shouting like children about not getting their own way — would be farcical if it wasn't so accurate. Petrunya is careful to maintain the ideal balance, parodying the ridiculous response to its protagonist but never downplaying its realism.
As its central character stands her ground while she's deemed "mad", spat on, intimidated and continually threatened, Petrunya expands its missive against engrained misogyny. It's evident as a persistent TV journalist (Labina Mitevska, the film's producer and the director's sister) puts her job on the line to cover the story, and even as Petrunya's mother simply can't grasp why a woman would dare defy the status quo. Indeed, this isn't just an engaging tale of one woman challenging the male-dominated church and state, but a movie making a smart, impassioned statement against widely accepted subjugation in many forms.
Production company: Sisters and Brother Mitevski
Sales: Pyramide International, sales@pyramidefilms.com
Producer: Labina Mitevska
Screenplay: Elma Tataragic, Teona Strugar Mitevska
Cinematography: Virginie Saint Martin
Editing: Marie-Hélène Dozo
Music: Olivier Samouillan
Production design: Vuk Mitevski
Main cast: Zorica Nusheva, Labina Mitevska, Simeon Moni Damevski, Suad Begovski, Violeta Shapkovska, Stefan Vujisic, Xhevdet Jasari, Andrijana Kolevska