Morgan Freeman, Michael Caine and Alan Arkin team-up as desperately broke retirees who plan to rob a bank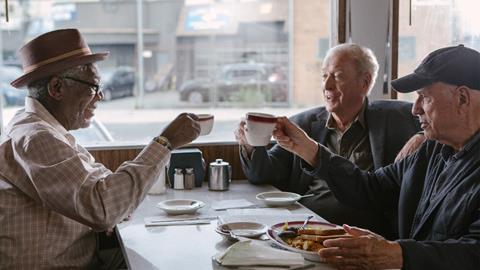 Dir: Zach Braff. US. 2016. 97mins
A lazy heist comedy that asks little of its appealing leads, Going In Style goes down smoothly even if the only thing that really gets stolen is the audience's time. A remake of the 1979 comedy that starred George Burns, Art Carney and Lee Strasberg, this Warner Bros. release looks affectionately at the worries of three older men who wake up to discover their retirement savings have been swindled. But while Morgan Freeman, Michael Caine and Alan Arkin are sufficiently endearing, Garden State filmmaker Zach Braff never rises above sitcom-y shenanigans.
This remake doesn't pretend to be anything more than a breezy, wistful lark.
Hitting the US and UK on April 7, Going In Style will appeal to adult viewers uninterested in younger-skewing fare. And considering that the somewhat-similar Last Vegas grossed $134 million worldwide, there's a possibility that word-of-mouth could provide a sizable commercial boost. Still, although all three actors are venerable Oscar-winning talents, dismissive reviews may hurt theatrical grosses and small-screen prospects look brighter.
Set in Brooklyn, the film introduces us to Willie (Freeman), Joe (Caine) and Albert (Arkin), retirees and best friends who are informed that their pensions have been frozen as part of a corporate takeover of the steel factory where they worked for decades. Furious but also desperately broke, the men hit upon an idea: What if they rob a bank? Figuring, at their advanced age, the worst that could happen is they would get a bed and three square meals a day in prison, they start plotting their daring heist.
Grafting the original 1979 plot onto a timely message about the fears that retirement nest eggs could disappear overnight thanks to unscrupulous employers and financial institutions, this remake doesn't pretend to be anything more than a breezy, wistful lark. A few poignant moments are sprinkled throughout — Willie, for instance, urgently needs a kidney transplant, and all three men realise they're at the end of their lives — but Braff mostly sits back and lets the comedy spring from his stars' relaxed banter.
Of the leads, Arkin gets the most laughs, his sarcastic, staccato line-readings a consistent pleasure. It helps that Albert, a frustrated jazzman who never made it big, is the movie's quietly fuming centre, constantly berating his colleagues for how ridiculous their bank-heist plan is. By comparison, Caine leans heavily on twinkle-eyed charm, his character's sweetness matched only by that of Willie's. Freeman elicits chuckles with those demonstrative eyes of his, not to mention his ability to get exasperated with precise understatement.
These guys make for fine company, but Going In Style doesn't invest in much of anything they do. Braff and screenwriter Theodore Melfi certainly don't generate much suspense in the prospect of these octogenarians trying to execute their dangerous plan. The film eventually builds to the big heist and its aftermath, in which the characters try to stay one step ahead of an FBI agent (a phoned-in Matt Dillon), but even when the story shifts into action mode it remains lackadaisical and almost indifferent to any dramatic stakes, instead focusing on producing a frothy good time for its target audience.
The lack of spark can be felt elsewhere, from Rob Simonsen's excessively peppy and faux-jazzy score to the broad supporting turns. Ann-Margret is assigned the thankless task of playing Albert's pushy love interest; she purrs like a sex kitten and bats her eyes suggestively, but she's less a character than a narrative convenience. But even she is afforded more dignity than Christopher Lloyd as a raving-loon cohort of Willie, Joe and Albert's. The Taxi and Back To The Future star can still do terrific bug-eyed confusion but, still, such rampant mugging ought to be a crime.
Production companies: New Line Cinema, Village Roadshow Pictures, RatPac-Dune Entertainment, De Line Pictures
Worldwide distribution: Warner Bros. www.warnerbros.com
Producer: Donald De Line
Executive producers: Toby Emmerich, Samuel J. Brown, Michael Disco, Steven Mnuchin, Andrew Haas, Jonathan McCoy, Tony Bill, Bruce Berman
Screenplay: Theodore Melfi, based on the story by Edward Cannon
Cinematography: Rodney Charters
Production design: Anne Ross
Editor: Myron Kerstein
Music: Rob Simonsen
Website: www.goinginstylemovie.com
Main Cast: Morgan Freeman, Michael Caine, Alan Arkin, Ann-Margret, Joey King, Matt Dillon, Christopher Lloyd