Andre Techine's latest sees a World War I deserter reinvent himself as a woman named Suzanne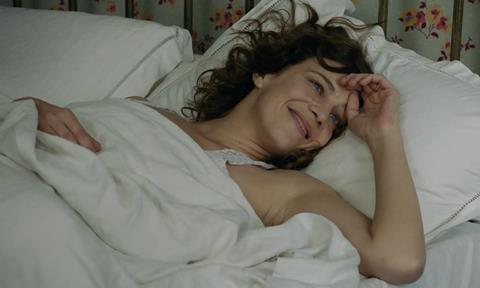 Dir André Téchiné. France, 2017. 103mins
Cannes may be celebrating André Téchiné for his fifty year career but the filmmaker shows little sign of resting on his laurels. Golden Years (Nos Années Folles) is a rare period drama from the director in which true events serve as the basis for a tragic love story. Made with typical sensitivity and craft, it may seem old-fashioned but it is a film that allows events of the past to speak directly to the present.
Golden Years has an appealing modesty to its execution
In many respects, Golden Years is a film about the things we do for love. Paul Grappe ( Pierre Deladonchamps) is completely devoted to seamstress Louise (Celine Sallette) and she will do anything for him. He goes marching off to the trenches of World War I but after a minor injury he decides not to return to the conflict. Desertion is punishable by death and there is no future for him hiding in the cellar of the house owned by Louise's mother.
The solution is the creation of a female alter ego, "Suzanne", which provides him with a cloak of invisibility in a Paris. The couple create a character together out of necessity, but " Suzanne" begins to take on a life of her own as she becomes the toast of a transgressive demi-monde who swirl around the Bois De Boulogne after dark.
Deladonchamps (Stranger By The Lake) has such a lean, lissome frame and delicate features that he is able to successfully transform himself into a woman, and Paul seems to happily reinvent himself through the boldness of "Suzanne". Indeed, a potent element of Golden Years is the way it explores the creation of identity, the fluidity of gender and the struggle to truly be oneself.
Deladonchamps may have the more obviously challenging role, but this is a film about a couple and Celine Sallette is equally crucial in making their story work. Her carefully understated performance makes us believe in Louise's devotion to Paul and willingness to adapt to all the changing circumstances of their lives. She makes sacrifices for his love, resisting even the gentlemanly overtures of infatuated aristocrat Charles de Lauzin (played with twinkly-eyed charm by Grégoire Leprince-Ringuet.)
In the 1920s, the story of Paul and Louise was transformed into a stage extravaganza. Preparations for the production, presided over by master of ceremonies Samuel (Michel Sau), allow Techine to embrace a more colourful, theatrical style. It is also a useful device to launch into a less florid version of what really happened. In order to remain with Paul, Louise was obliged to accept everything about the new life he had embraced and she had resisted. When a general amnesty left Paul free to be himself again, he no longer knew exactly who that might be. His struggle to regain a sense of himself pushes the loyal Louise away, and turns a love story into a tragedy.
Techine and cinematographer Julien Hirsch use real depth of focus to create scenes that are filled with visual information and a sense of perspective on the individuals caught up in this story. Unobtrusive in its evocation of the past, Golden Years has an appealing modesty to its execution. The focus is very much on two individuals, the extraordinary events that created their golden years and the shocking unravelling of their love when those years ended.
Production company: ARP
International sales: Celluloid Dreams info@celluloid-dreams.com
Producers: Michèle and Laurent Pétin
Screenplay: Andre Techine, Cedric Anger based on La garçonne et l'assassin by Danièle Voldman and Fabrice Virgili
Cinematography: Julien Hirsch
Production design: Katia Wyszkop
Editor: Albertine Lastera
Music: Alexis Rault
Main cast: Pierre Deladonchamps, Celine Sallette, Grégoire Le Prince-Ringuet