Willem Dafoe and Camila Morrone star in Patrica Arquette's directorial debut, loosely based on Hunter S. Thompson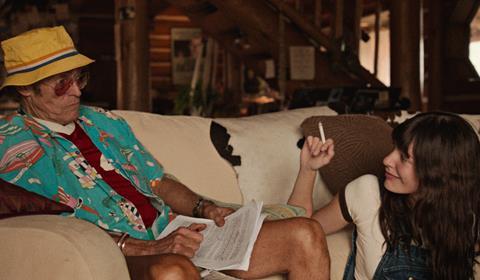 Dir: Patricia Arquette. US. 2023. 107mins
"There are worse things than working for an icon," is a sentiment reiterated by many of the hanger-ons who populate the hedonistic world of noted author Walker Reade (Willem Dafoe). The naive Alley Russo (Camila Morrone) arrives at Reade's secluded ranch in a pickup truck, her face dappled by sunshine and snuggled by the wind, with dreams of working as an assistant to this great man. The reality, of course, is starker, less glamorous and more tenuous than she can imagine. Actress Patricia Arquette's directorial debut is an unwieldy, laborious, and cold inspection of hollow heroes and objectified women which vainly reaches for prestige potential.
A swirling, lurid character study
Gonzo Girl springs from Cheryl Della Pietra's same-titled, semi-autobiographical novel, which partly chronicles her time serving as an assistant for acclaimed author Hunter S. Thompson in the early 1990s. Premiering in the Discovery section in Toronto, the film attempts to bridge the gulf between fans of Fear And Loathing In Las Vegas and The Devil Wears Prada. A swirling, lurid character study, it lacks a certain interest in Alley's inner-life. While Dafoe has an unmistakable magnetism, we shouldn't exclusively pine for his presence in a film about his assistant. The narrative imbalance requires Morrone to do some additional lifting, a task that gets the better of both her and Arquette.
This isn't necessarily a convoluted story: Alley is a desperately broke writer and bartender lured to Reade's Rocky Mountain retreat under the promise that if she helps him finish his next book, she'll receive a tidy sum. But Reade is a washed up shell of a legend. In tandem with Reade's longtime assistant Claudia (Arquette), Alley is merely here to care for what's left. At first, the prospects of being around her literary idol is enough to paper over the shabby situation. She fetches his coffee; makes food; cleans his office; faxes his letters. The drugged out parties Reade throws — replete with dubious gender roles and flower power energy — are bottled-up hippie scenes taken out of cold storage. Everyone is still enraptured by Reade when he reads his new work, except Alley, who hears the reality of Reade's tired, reheated words.
You could place the same scrutiny on Rebecca Thomas and Jessica Caldwell's wandering script. Alley becomes taken by Reade's wild boy habits: she takes cocaine, acid, and booze with the same tenacity as the writer; the pair fire off his .44 magnum in an open field at targets dressed as Nixon.
The cinematographer Bobby Bukowski (Till) aims to cast these high escapades with similar hazy, oblique compositions as Fear And Loathing In Las Vegas, juxtaposed from the sepia filter that cake the sober scenes with a retro patina. Alley and Reade's fun times stop when Reade's agent (James Urbaniak) tells the author he needs to deliver the book in six weeks or risk losing his publisher and his six-figure advance. With pressure mounting and Reade's lifestyle becoming untenable, you come to wonder why Alley is sticking around. Does she really need the money that badly?
Similar to The Devil Wears Prada, this film is about the intoxicating allure of being in the orbit of greatnesses. Unlike that work, unfortunately, Gonzo Girl never conceptualises Alley away from Reade. We get some interiority through Alley's voiceover, which accompanies her personal journal writing. We see she has some talent. When it's clear Reade can't string a sentence together to save his life, she reorders his fragmented thoughts into usable prose. The trite script even fashions a fling between Alley and a hunky movie star (Ray Nicholson). These moments neither carve depth into Alley nor blur reality and fiction enough in the Gonzo style to reveal further truths about her.
Rather we wait for Dafoe to be on screen, again, waxing poetically about his love for words or delivering acidic barbs. Arquette, for her part, knows when she has a great actor: she keeps the lens on Dafoe for long stretches, allowing the actor to do his work unencumbered. Gonzo Girl doesn't have the same patience for its protagonist. Its tedious editing leaves Alley as an afterthought, relying too heavily on tiresomely depicting acid trips, random cameos of Sean Penn and Rick Springfield, and Reade's hijinks. Instead of demolishing the great man myth, Arquette's film gives it new, grating life.
Production companies: Catch & Release Films, Rh Negative, Bayard Productions
International sales: The Gersh Agency, WME
Producers: Frank Hall Green, Tom Heller, Cameron O'Reilly, Patricia Arquette
Screenplay: Rebecca Thomas, Jessica Caldwell
Cinematography: Bobby Bukowski
Production design: Stephonik
Editing: Todd Downing
Music: Pierre Charles
Main cast: Willem Dafoe, Camila Morrone, Patricia Arquette, Elizabeth Lail, Ray Nicholson, Leila George, James Urbaniak