Domhnall Gleeson and Margot Robbie fail to fully convince as A.A. Milne and his wife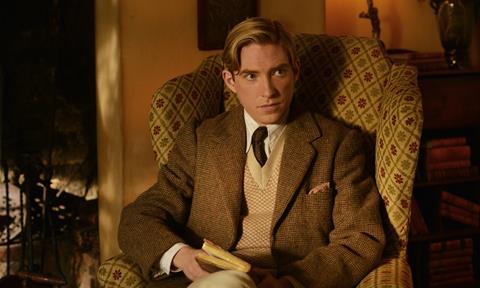 Dir. Simon Curtis. UK, 2017, 89 minutes
A brazenly manipulative film about the author A.A. Milne (Domhnall Gleeson), his son Christopher Robin (Will Tilston), and the unhappy story behind the creation of Winnie-the-Pooh, Goodbye Christopher Robin doesn't just lack authenticity, it appears to scorn it. From casting a rigid Gleeson as the upper-crust, shell-shocked First World War survivor Milne and Australian actress Margot Robbie as his ghastly wife Daphne, the latest film from Simon Curtis (My Week With Marilyn) loses a genuinely moving story in cinematic contrivances.
The score by Carter Burwell swells and surges, in preparation for the next 88-odd minutes of treacly over-statement
Set up along the lines of retro British studio films such as Saving Mr Banks, Finding Neverland, or even last year's independent Swallows And Amazons, this Fox Searchlight picture goes out in the UK from September 29 and in limited release in the US from mid-October, where the reception may be warmer. Notices are unlikely to be fully glowing; Hampstead audiences seem a natural fit for this period drama at home, or those bereft after Victoria And Abdul finishes its run.
Curtis's film, from a script by Frank Cottrell-Boyce and Simon Vaughan, starts out in 1941 with the ageing Milne on his farm in East Sussex with Daphne tending to her roses and sweet-peas. They receive a dreaded telegram from the war office and the film flashes back to the past with their son Christopher Robin as a child with his beloved teddy bear (Tilston, giving the best performance in the film) and playing cricket as an older boy (Alex Lawther). The score by Carter Burwell swells and surges, in preparation for the next 88-odd minutes of treacly over-statement.
The name Christopher Robin is one of the most potent in children's literature and A.A. Milne its equal. To get to Winnie- the-Pooh, Eeyore, Tigger, and Piglet in the hundred-acre wood we must flash back again, though, to the trenches of the First World War, then to post-War flapper London. There, a shell-shocked Milne, or "Blue" as he is called, and his wife Daphne have a child, Christopher, known to them as Billy Moon.
While post-War society in the UK was a perplexing time, both characters here still stand out. The fact that the Irish actor Gleeson is playing an upper-class British war veteran might explain his alarmed stiffness – which persists in scenes where he's supposed to be warm and tentatively loving. Robbie, meanwhile, delivers a Daphne who is only a few hangers short of Mommie Dearest. Parental indifference, verging on neglect, was common in the UK during that time, particularly amongst the upper classes, but this couple never fully convinces as being of the place or period.

The creation of Winnie- the-Pooh, Eeyore, Tigger, and Piglet, takes place in a two-week period where Daphne has abandoned the family in their new country home and beloved nanny Nou (Kelly Macdonald) has gone to tend to her dying mother. Father and son are forced together in the dilapidated picture-postcard house, and soon they are stamping on balloons and curing Blue's PTSD while the author is inspired to write wildly-popular poetry about a boy and his bear.
Mummy comes home, though, and Christopher's jealous parents swifly prostitute their child to the media despite Nou's broken-hearted protests. (Phoebe Waller-Bridge has a scene as a predatory lady reporter from The Times). Much sadness ensues. Not least for the viewer, who is led up the garden path audaciously when an angry teenage Christopher heads off to war. Those who enjoy such manipulation would be advised to bring handkerchiefs.
Tech credits are chocolate box English countryside, with Curtis indulging in a touch of magic realism to add to the enhanced colour palette: seasons change and drawings come to life half-heartedly during a few sequences, but these touches are quickly abandoned. Child actor Tilston is incredibly sweet and relaxed, yet his natural performance only underlines the artificiality of the script. There's a sense that more may have been shot here, particularly of the adult Christopher and the post-war pacifism of his father.
Production companies: DJ Films, Gas Works Media
International distribution: Fox Searchlight
Producers: Damian Jones, Steve Christian
Executive producers: Simon Curtis, Simon Vaughan
Screenplay: Frank Cottrell-Boyce and Simon Vaughan
Cinematography: Ben Smithard
Production design: David Roger
Editor: Victoria Boydell
Music: Carter Burwell
Main cast: Domhnall Gleeson, Margot Robbie, Alex Lawther, Kelly Macdonald, Stephen Campbell-Moore, Will Tilston