A lakeshore in Laos is the enchanting setting for Kiyé Simon Luang's move into fiction feature filmmaking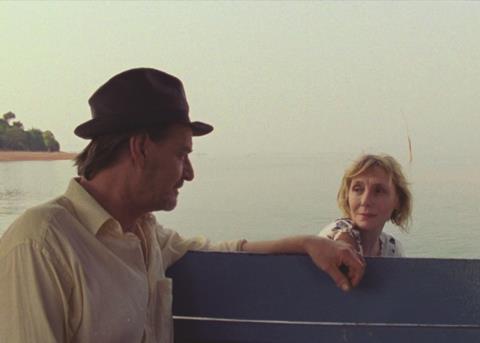 Dir. Kiyé Simon Luang. Laos/France. 2020. 106 mins.
It may come across as a somewhat detached, aesthetic figures-in-a-landscape film – but then, what a landscape. Laotian drama Goodbye Mister Wong is one of those features in which a director struggles not to let their story be overwhelmed by the photogenic grace of their locale – and Kiyé Simon Luang might have had more of a fighting chance had his narrative been a touch more assertive. Nevertheless, the Laotian-born, French-based director's fiction debut – playing in international competition in FIDMarseille – is a contemplative slow-burner that immerses us in a finely-crafted evocation of a contemporary Laotian milieu, complete with its economic challenges and hangover from its colonial past.
The setting itself keeps us captivated, although there's never any hint of postcard prettiness in the still beauty of Aaron Sievers's photography
While it doesn't quite find its feet either as drama or as character study, nevertheless its graceful execution, along with the presence of French arthouse stalwarts Nathalie Richard and Marc Barbé, should bring some festival attention and enhance the standing of a clearly talented director moving into fiction after several shorts and 2010 documentary feature Ici finit l'exil.
The central character is a young Laotian woman (Nini Vilivong) who returns to join her rural working-class family on the shores of Nam Ngum Lake, where they run a small traditional boat service. Her father, long off the scene, is French and indeed, her name is France, emphasising the sense that writer-director Luang is particularly interested in the country's post-colonial situation as a former French protectorate. A wealthy Chinese businessman, Tony Wong ((Soulasath Saul), is currently visiting the lake, and making plans to turn the area into a profitable tourist resort – plans that could put France's family out of business. Mr Wong is one of three men who carry a torch for the beautiful France: the other two are river worker Xana, offered work in China by Wong, and Toui, a shy young man who works for her family.
Another visitor is a bumptious Frenchman, Hugo (Barbé), newly arrived to see his estranged wife Nadine (Richard), who for reasons never stated, has spent the last year living alone on an island in the middle of the lake. As soon as he arrives, Nadine makes herself scarce, leaving Hugo to get increasingly testy – something that the grizzled, floppy-haired Barbé does with characteristic, but eventually excessive aplomb. Meanwhile, Richard maintains an amused sang froid as the enigmatic Nadine.
France, whose stylish costumes suggest a cosmopolitan background at odds with the sparse rural setting, coolly receives the attentions of two of her admirers, while maintaining what Luang discreetly suggests is a passionate relationship with Xana. But in her introspective, sometimes distracted manner, Nini Vilivong is the magnetic centre of the film, as the character who seems to have a clear sense of the bigger picture that the others seem almost to sleepwalk through.
With dialogue in four languages - Lao, French, Chinese and English – this somewhat fragmented, narratively hazy film drifts from episode to episode, offering little major incident until the end, largely keeping its characters in a state of unresolved suspension by the lakeside. Even at a relatively spare 106 minutes, the film feels a touch overstretched. Nevertheless, the setting itself keeps us captivated, although there's never any hint of postcard prettiness in the still beauty of Aaron Sievers's photography; indeed, Luang shows a keen wariness of the pitfalls of prettifying this milieu, as shown by a glimpse of a karaoke video that romanticises Laotian waterside life in a way that he very much does not.
Production companies: Shellac, Lao Motion Pictures, Stempel
International sales: Shellac, contact@shellacfilms.com
Producer: Thomas Ordonneau
Screenplay: Kiyé Simon Luang
Cinematography: Aaron Sievers
Editor: Frédéric Fichefet
Main cast: Nini (Phonesavanh) Vilivong, Nathalie Richard, Marc Barbé, Soulasath Saul, Khamhoo Phanludeth, Phourasamy Vilay, Thongmay Niyomkham.