Dir/scr. Paul Weitz. US, 2015. 79 mins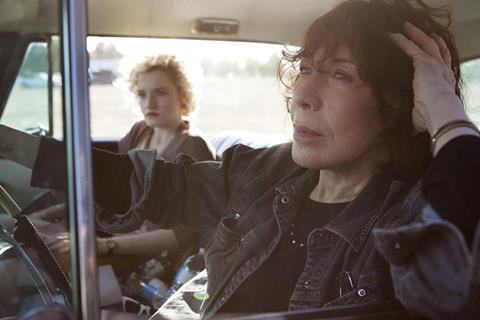 Lily Tomlin has found herself a peach of a role in Grandma as a misanthropic, feminist poet who isn't afraid to speak her mind, challenge convention and hurt everyone's feelings along the way. She plays it to perfection in a bracing, very entertaining little road movie with more grit and gumption than the subject matter might have suggested.
Elle's tart dialogue and aggressive attitudes benefit from Tomlin's sharp comic timing
Writer/director Paul Weitz (About A Boy, Little Fockers) seems most comfortable with a prickly one-liner or a bickering confrontation, but he still manages to find moments of real dramatic heft and poignancy in this compact tale. One of the year's low-budget success stories in America, Grandma has been a slow, steady box-officer performer over the course of its release. Tomlin's recent Golden Globe nomination and status as a legitimate Oscar contender should help to keep attention focused on the film as it opens internationally.
It has been quite a considerable time since Lily Tomlin played a leading film role and one of the pleasures of Grandma is the way it makes us feel as if we are rediscovering the 76-year-old actress. Her Elle Reid is a grumpy old woman with the disposition of a slumbering bear that has been woken from hibernation and is not too happy about it. At the beginning of the film she brutally breaks up with her younger girlfriend Olivia (Judy Greer), claiming she is a footnote in Elle's romantic life compared to the 38 years she spent with her late partner and the love of her life.
When her granddaughter Sage (Julia Garner) arrives seeking $630 for an abortion scheduled for that afternoon, Elle revs up her beloved vintage Dodge Royal and the duo ride around Los Angeles desperately seeking the money from old flames and close friends.
Elle's tart dialogue and aggressive attitudes benefit from Tomlin's sharp comic timing, especially when Elle challenges Sage's feckless boyfriend or bemoans how difficult it is to find a reasonably priced abortion in modern Los Angeles. She seems a woman out of her time, but there is still has plenty of fight left in her and Tomlin also conveys Elle's need to rage against the world.
The duo's eventually crosses paths with Sage's mother, corporate high-flier Judy (Marcia Gay Harden) and Elle's former partner Karl (Sam Elliott). There is a world of emotion between Tomlin and an excellent Elliott as their characters briefly revisit past times, pick at old wounds and mull over lingering regrets. The tender, deeply felt emotions in these scenes are easily among the most compelling in the film.
Inevitably, the story starts shifting into a softer focus in which there will be family reconciliation and gestures of peace and understanding. Even then, there is still an attempt to keep a political edge to the tale of three generations of women, the sacrifices they have made and the way they have lived with the consequences.
Grandma was clearly made on modest resources and can look a little rough and ready in places. Viewers will, however, be more than willing to overlook its imperfections - because it is so funny and engaging and because Lily Tomlin is such a joy to behold.
Production Companies 1821 Media, Depth Of Field Productions
International sales: Sony Pictures Classics, www.sonyclassics.com
Producers Andrew Miano, Paul Weitz, Paris Kassidokostas-Latsis, Terry Dougas
Cinematography: Tobias Datum
Editor: Jonathan Corn
Production designer: Cindy Chao, Michele Yu
Music: Joel P West
Main cast: Lily Tomlin, Julia Garner, Marcia Gay Harden, Judy Greer, Sam Elliott