Dir. Paul Greengrass. UK/US, 2010. 114 mins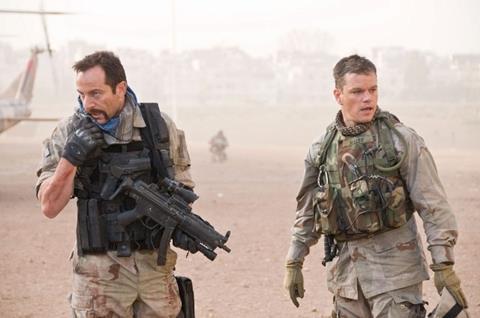 Director Paul Greengrass and actor Matt Damon – who made The Bourne Supremacy and The Bourne Ultimatum together – are re-united for Green Zone, a conspiracy thriller set against the backdrop of the Iraq War which deals with the thorny issue of weapons of mass destruction (WMD).
Audiences expecting Bourne might be disappointed, but they'll get a well-researched and impressively shot conspiracy thriller that works extremely well as an action drama.
The high-tempo action scenes and presence of an impressive gun-toting Damon should help deliver hefty box office returns, though distributors face the challenge of marketing a film that lacks the super-heroic bravado of the Bourne films while also trying to tackle a political hot potato.
Paul Greengrass, though, is a master at meticulously staged action sequences and once again blends visceral hand-hand camerawork with great use of locations and clever CGI work. Though Green Zone is resolutely not a war movie, the Iraq-backdrop – given the awards success for The Hurt Locker – could also prove to be useful in intriguing audiences.
Damon plays Army Chief Warrant Officer Roy Miller, who leads a team of inspectors trying to find WMDs in Baghdad in 2003. They are working off supposedly verified intelligence from a secret source dubbed 'Magellan', but they find nothing in every site they visit.
Miller raises his concerns with his superiors, but only after a conversation with CIA Station Chief Martin Brown (Brendan Gleeson) does he come to suspect the motives of Defence Department intelligence agent Clark Poundstone (Greg Kinnear), who is charged with bringing a new political structure to Iraq.
After Freddy (Khalid Abdalla), an Iraqi civilian, brings Miller information about a secret meeting of former Iraqi leaders, the soldier finds himself caught in a web of intrigue as Poundstone continues to further his own agenda with the brutal assistance of Special Forces officer Lt. Col. Briggs (Jason Isaacs) and his team.
The screenplay is loosely based on former Washington Post Baghdad bureau chief Rajiv Chandrasekaran's best-selling nonfiction book Imperial Life In The Emerald City, which detailed the weapons-inspection process. As a conspiracy thriller, though, Brian Helgeland's story moves at an impressively fast pace, which helps to gloss over the well-known fact that WMDs have never been found.
Greengrass it at his best when utilising the impressive locations – the film was shot in Spain and Morocco – and seamlessly weaving in effects work to help give his imposing aerial shots of Saddam International Airport, Assassins' Gate and the Republican Palace a real sense of place. He also recruited Iraq War veterans and other military personnel to appear on screen, giving the busy military scenes a greater sense of reality.
Matt Damon brings an innate sense of morality to the proceedings, and is convincing as a career soldier who simply wants to do the right thing. Though in the film's trailer his character seems to be something of the Bourne super-fighter, in fact his Roy Miller is no martial arts action man, but rather a by-the-numbers soldier whose moral compass is pretty acute. Audiences expecting a Bourne-style series of fights and action sequences might be rather disappointed. Instead they will get a well researched and impressively shot conspiracy thriller that works extremely well as an action drama.
To sign up for Screen's weekly Reviews Newsletter with all the week's new releases, international openings and full festival reviewsdelivered free to your mailbox every Friday, please click HERE
Production companies
Working Title Films
Studio Canal
Relativity Media
Universal Pictures
Worldwide distribution
Universal Pictures
Producers
Tim Bevan
Eric Fellner
Lloyd Levin
Paul Greengrass.
Screenplay
Brian Helgeland
Cinematography
Barry Ackroyd
Editor
Christopher Rouse
Production design
Dominic Watkins
Music
John Powell
Main cast
Matt Damon
Greg Kinnear
Brendan Gleeson
Jason Isaacs
Khalid Abdalla
Amy Ryan