An unexpectedly camp thriller from Neil Jordan benefits from an eye-raising performance from Isabelle Huppert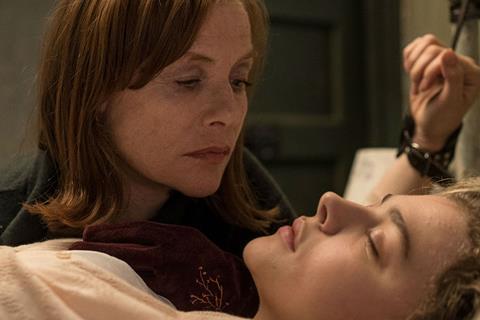 Dir. Neil Jordan. US/Ireland. 2018. 98 mins.
Just when you think you know a film-maker - and a 35-year career does encourage a clearly misguided sense of familiarity – Neil Jordan throws the spice rack into the ludicrously, enjoyably, over-cooked potboiler Greta. A stupendously game Isabelle Huppert gives audiences yet another reason to venerate her as she raises arched eyebrows to new heights in this silly, funny, camp pulp thriller co-written by Jordan and Ray Wright (The Crazies).
A kitschy all-femme drama
With Chloë Grace Moretz in the lead and Maika Monroe in support - but Huppert stealing the show - Greta is a throwback to films like Diabolique, or more accurately the 1996 remake with Sharon Stone. Yet it also has an unexpectedly snappy of-the-moment efficiency. Without bearing up to too much scrutiny, plot-wise, it should hit a previously-unexplored commercial seam by luring Huppert's fans to join The Hand That Rocks The Cradle crowd. Theatrical exposure is always difficult to predict, but it's not too hard to imagine this becoming a future cult classic, and midnight slots may also come calling.
This kitschy all-femme drama – Stephen Rea makes a brief, de rigeur appearance as a shambling private detective – is elevated by Oscar-winning Jordan's (The Crying Game) long-refined cinematic sensibilities, always a help in a tight spot. And Greta, literally, is confined, with a few brief exceptions, to two apartments and a restaurant (this is an expensive cast, after all). DoP Seamus McGarvey lights with subtlety and precision, even in the gloomy Manhattan house belonging to the mysterious Greta Higed (Huppert).
In a further warning – if one was needed – to never talk to strangers in New York, Greta's plot kicks off when a woman leaves a handbag on a subway carriage. The naïve young Frances McCullen (Moretz), recently moved to New York and equipped with only one friend Erika (Monroe), is quick to pick it up and return it to its owner, Greta. Frances is estranged from her father and works night shifts in a fancy restaurant, making her easy prey for passing psychopaths and even when she's ostensibly being warm and friendly, French widow Greta has something of the night about her.
This film certainly has a wealth of mummy issues. Frances is mourning her recently-deceased mother from the luxury of wealthy Erika's roomy loft-like apartment, while Greta is lonely, missing her daughter, who is studying in Paris. The pair bond, cemented by adopting a doomed dog called Morton from the pen, but Greta is clearly not what she seems. Unanswered questions abound, not the least of which is how she affords to live this spacious life, but Greta is not a film to get technical with.
Having said that, this is not your average cheesy psycho-thriller either. There's Huppert, for starters, having fun with her role and her image (the scene where she dances around gun shots in her stockinged feet is priceless). Jordan's soundtrack melds classic chansons with Liszt and Vivaldi, giving the film an edgy elusiveness. The appealing Moretz, as much of a lure with her audiences as Huppert is with cineastes, also proves game, while Monroe adds a Chloe Sevigny-sass to their scenes.
Short, at 98 minutes, and completely unexpected – Jordan's last few films such as Byzantium or Odine have been far more pious – Greta is best read as tongue-in-cheek femme fun. And proof, certainly, that despite her considerable success, Huppert has not at all fallen into the trap of taking herself to seriously.
Production company: Metropolitan Productions, Lawrence Bender Productions, Sidney Kimmel Productions
International sales: Sierra/Affinity
Producers: James Flynn, Lawrence Bender, John Penotti, James Flynn, Karen Richards
Screenplay: Ray Wright. Neil Jordan
Production design: Anna Rackard
Editor: Nick Emerson
Cinematography: Seamus McGarvey
Music: Javier Navarrete
Main cast: Isabelle Huppert, Chloë Grace Moretz, Maika Monroe. Stepjem Rea, Colm Feore, Zawe Ashton