Although a documentary, Viktor Kossakovsky's extraordinary film is every bit as resonant as Bresson's 'Balthazar' or Bela Tarr's 'Turin Horse'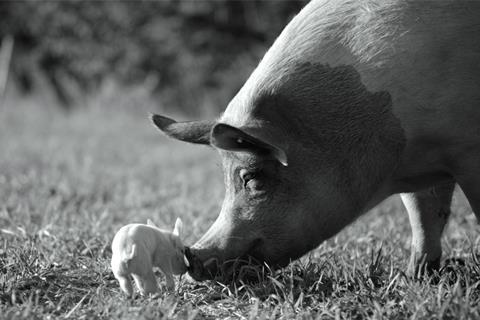 Dir. Viktor Kossakovsky. Norway/US. 2020. 93 mins.
Russian film-maker Viktor Kossakovsky has made acclaimed documentaries about the connections between people (The Belovs, Wednesday 07.19.61) and about the state of the planet (the recent, environmentally themed Aquarela). He now turns his attention to the animal kingdom - or rather, a small, seemingly unpromising sector of it - in Gunda, a portrait of various farm animals, and in particular a mother pig and her litter. Some viewers may be sceptical of the way that Kossakovsky uses elegant, even lyrical camerawork to elevate seemingly base material: cinematically, this may seem like making a silk purse out of a sow's ear. But you don't have to be an animal lover to appreciate the craft and the genuine poetic vision of a film which, though strictly unsentimental, is intensely moving, transfixing and quite genuinely unique.
Intensely moving, transfixing and quite genuinely unique
Joaquin Phoenix's recent decision to sign up as executive producer will certainly boost Gunda's prestige, and as far as sales prospects go, these little piggies will go to market.
The film begins with a shot of a kennel-like wooden construction, with a large pig apparently fast asleep in the doorway. In fact, she is not sleeping but giving birth, as we realise when first one, then another, then a whole succession of small new-born piglets clamber over her body and go exploring the outside world. Subsequent shots take us inside the straw-filled pig house, where a whole litter – some of them still slippery out of the womb – struggle to each get access to their mother's teats. There seems to be a full complement of twelve piglets at first – daylight catching the velvety textures of their skin in superbly precise photography - but throughout the film, their number decreases. Early on, a sequence involving a complex in-barn camera movement appears to show one runt coming to an abrupt end, although nothing is too graphically visible.
Throughout, we see the sow (the eponymous Gunda, though the name is never mentioned in the film, which is entirely without commentary) roaming around a wide expanse of farmland with her lively offspring, their squeals and grunts captured vividly in Alexander Dudarev's complex sound design.
There are also interludes involving other animals. A consignment of chickens arrives in a crate which they cautiously discover, one by one, that they can make their way out of. This leads to an extraordinary sequence in which the camera, at ground level, follows a group of chickens through the undergrowth of unfamiliar terrain, showing them as intrepid explorers on an adventure into the unknown. In particular, one scrawny, one-legged fowl seems up for any challenge, facing the obstacle of a log and puzzling over a wire fence and what lies beyond - the only moment here, given some close-ups of it looking quizzical, that could be accused of anthropomorphism. There is also an astonishing slow-motion sequence of lively cows, each of which is then photographed from low angles to resemble a series of heroic statues.
The film may not strictly show what it purports to, given that, as end credits reveal, it was shot on a number of farms and animal sanctuaries in Norway, Spain and the UK: we can only assume that we are always watching the same piglets at different ages. But a sense of continuity is provided by the consistent elegance of the black-and-white camerawork by Kossakovsky and Egil Håskjold Larsen, which sometimes includes sinuous movements (which must have been very ingeniously achieved, so as not to disturb its subjects) that give the everyday farmyard action a strong but never overemphasised narrative thrust.
Human presence is entirely absent, implicit only in buildings and objects, notably in the machine which figures at the end of the film – an initially puzzling episode, with sound figuring heavily, its full meaning at last emerging to quite devastating effect. Anyone who never thought they could imagine the feelings of an animal will have their mind changed here, in a sequence that you might see as indirectly making Gunda a figure of the human condition on four legs, every bit as resonantly as Bresson's Balthazar or Bela Tarr's Turin Horse.
Production companies: Sant & Usant, Louverture Films
International sales: Cinephil, philippa@cinephil.com
Producer: Anita Rehoff Larsen
Screenplay: Viktor Kossakovsky
Cinematography: Egil Håskjold Larsen, Victor Kossakovsky
Editor: Viktor Kossakovsky