Ewen Bremner stars in this odd satire which pitches a German sausage-maker against the Christian right in a small American town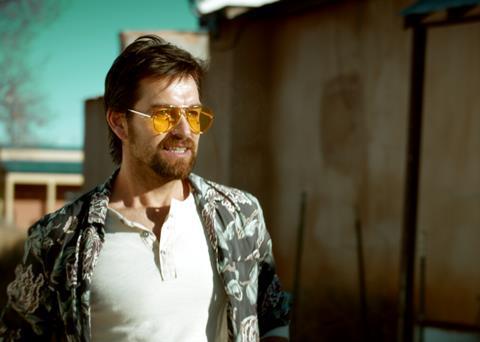 Dir: Ulrich Thomsen. Denmark. 2019. 108 mins
Celebrated Danish actor Ulrich Thomsen's second film as writer-director is an odd bird, to say the least, and that's without the rooster that has an enigmatic cameo. A satire that pits a Bavarian sausage maker against the Christian right in an American small town, its combination of extremely eccentric comedy and bigotry-themed drama would be challenging at the best of times; and Thomsen doesn't exercise enough finesse or restraint to pull it off. The lack of a tentpole cast won't help the film's fortunes.
As the film see-saws tiresomely between its combatants, the tone moves with them
Though the billboard for Gutterbee declares it the 'Cabaret capital of the west', it's quickly apparent that both the opinion and the billboard belong to one Jimmy Jerry Lee Jones Jr (W. Earl Brown), a self-styled impresario and racist bully who appears to hold dominion over this failing town; when Jimmy isn't playing his guitar to an audience of one in his own venue, he's ridding Gutterbee of all perceived foreigners – the slogan 'America First' is indeed namechecked – using violence if necessary.
The irony is that no-one likes Jimmy, or especially agrees with him. Even once-trusty henchman Mike (Antony Starr) realises that a little tolerance wouldn't hurt. Fresh out of jail following a spell earned on Jimmy's behalf, Mike wants a change. He sensibly abandons the idea of his own necktie chain when he meets German newcomer Edward Hofler (Ewen Bremner), a lost and slightly demented soul, who has acquired the town chapel and intends to turn it into the Gourmet House of Refuge – a restaurant specialising in the many varieties of German sausage. Mike offers his services.
So Jimmy intends to run Edward out of town, Edward has no intention of leaving, and Mike is caught in the middle. The confrontation is fuelled by religion. Jimmy's Christian zealotry ­– he also hates his son for being gay – is stoked by local preacher Luke (Clark Middleton), who regards the new business as a drain on the already meagre offerings from his dwindling congregation. For his part, Edward still recalls his dismal time in the hands of the Salvation Army after the death of his parents, until "saved by the primeval lifeforce of the sausage", and has been rebelling against Christianity ever since.
It's possible to see two influences at work here: the edginess and daring of much Danish cinema, from dogme (Thomsen made his name in Festen, of course) to such bizarre comedies as Men And Chicken; and the Dane's long stint (alongside Antony Starr) in the US cable series Banshee, a dark, über-violent crime drama that also posited small-town America at its ugliest.
The result feels strained straight off the bat, when the town sheriff cum narrator (Chance Kelly) addresses the camera with an unmistakable echo of Sam Elliott's Stranger in The Big Lebowski, yet without the effortless charm of either the Coen's writing or Elliott's acting. Scenes in which the heavens rain horse dung on the town, or the sheriff attempts to convey significance to Jimmy's rooster, likewise smack of a filmmaker who is trying too hard.
As the film see-saws tiresomely between its combatants, the tone moves with them – from sweet and kooky as it dwells on Edward, to wholly unedifying when on the vile Jimmy and the cravenly acquisitive Luke, without ever settling into a workable balance.
Thomsen's most successful writing is for the evangelical sausage maker, and the film's choicest moments are those in Bremner's hands. It's a typically brilliant turn from the Scot, who is so adept at making off-the-wall characters strangely accessible. Edward is both hilarious and poignant, whether expounding the wonders of his showpiece sausage, the Black Pearl, or courteously oiling the prosthetic leg of the only woman in town. Starr has something of a thankless role as the buffoonish Mike, meanwhile, and one wonders why Brown, or anyone, would sign onto a role that involves sodomy by a horse.
With cinematographer Anthony Dod Mantle offering a richly tinted slice of Americana, the soundtrack plays to both sides of this cultural battle, with such tracks as 'It's America (love it or leave it)' and 'Lederhosen gangsta'. While Thomsen doesn't appear in front of the camera, as he did in his earlier In Embryo, he does add co-editing to writing and directing duties; this overly spicy recipe might have benefitted from his sharing the load.
Production company: Pro Tempore Film
International sales:roxykohan@gmail.com
Producers: Ulrich Thomsen, Steve Bakken, Henrik Puggaard
Screenplay: Ulrich Thomsen
Production design: Scott Christopher Clark
Editing: Ulrich Thomsen, Søren B. Ebbe, Matthew Levy
Cinematography: Anthony Dod Mantle
Music: George Kallis
Main cast: Antony Starr, Ewen Bremner, W. Earl Brown, Joshua Harto, Luke Kenneth Hosewall, Chance Kelly, Pia Mechler, Gareth Williams