RaMell Ross presents a snapshot of daily life in Hale County, Alabama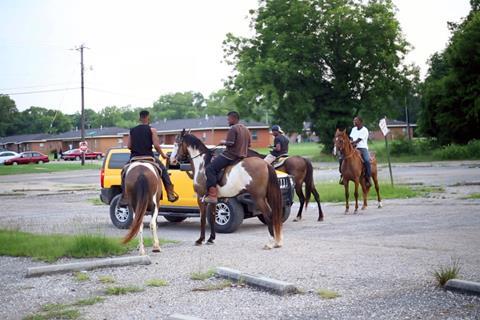 Dir RaMell Ross. US. 2018. 76mins
Fragments of everyday lives blend into a tapestry of African-American experiences in Hale County This Morning, This Evening, a lyrical, impressionistic documentary feature debut from RaMell Ross. The film's dreamy abstraction and plaintive mood should catch the eye of festival programmers and talent spotters as it continues a global journey that began with a Special Jury Prize at Sundance.
Encourages you to surrender to its poetic moods and distinctive rhythms
Filmed over five years, Hale County carries some of the influence of creative adviser Apichatpong Weerasethakul as it focuses on little pieces of time that, together, make up a portrait of life in a rural Alabama marked by racism, poverty and the heavy burden of the past. It balances that by showing lives equally marked by the simple joys and sorrows, hopes and tragedies of daily existence.
We are witness to the tiniest incidents, from a baptism to a basketball practice, a sizzling pan of fried chicken on the stove to a small child running frantically back and forth in a room. An eclipse blocks out the moon, a couple order food at a drive thru fast food restaurant, stars twinkle in the sky, flickering shadows on the ground hint at lives that may leave little impression.
Ross never makes anything explicit. Instead, he invites the viewer to make connections, sense the bigger picture from the shattered shards that he makes visible. There is a vague attempt at a conventional narrative, with a focus on the lives of student Daniel Collins and Quincy Bryant, a young man trying to be the best father he can to his expanding family. They are revisited throughout the film but are never given enough space to impose themselves on the viewer. The more traditional elements are often the least engaging, as the attention drifts and the inevitable banality of some of the material fails to grip.
The film can be difficult to get a handle on, but eventually encourages you to surrender to its poetic moods and distinctive rhythms. Race and the history of America's Deep South are essential to understanding these lives. There is a track from Billie Holliday, we see footage of silent comedian Bert William, glimpse a vast plantation mansion that would once have housed white masters and black slaves. Religion, family and poverty are other key fixtures of that bigger picture as we learn that a catfish plant is the only major employer in the area. Working there is a fate that Daniel dreads.
Sculpted around intertitles demanding "Where does time reside?" or "What is the orbit of our dreaming?", the film is free-flowing, gently beguiling and ultimately poignant. Ross seems determined to confront the stereotypes around the lives of African-American men, finding humour, determination and optimism within Hale County. Lip service is still paid to the comforting notion that against all the odds, anything is possible and that life will be better for the next generation.
Production companies Idiom Film, Louverture Films
International sales Doc & Film International c.lavigne@docandfilm.com
Producers RaMell Ross, Joslyn Barnes, Su Kim
Screenplay RaMell Ross, Maya Krinsky
Editing RaMell Ross
Cinematography RaMell Ross
Music Alex Somers, Scott Alario, Forest Kelley