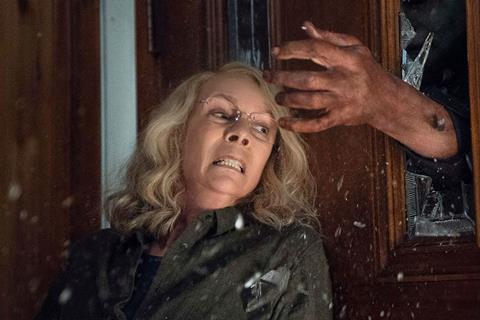 Dir: David Gordon Green. US. 2018. 105mins.
Michael Myers is just one man, a character in the new Halloween argues — how scary can he be? Quite a bit, actually — especially when he's meant to represent all the faceless, inexplicable terrors in the world. This sequel can't compare to John Carpenter's ingenious 1978 original, but director David Gordon Green delivers a crowd-pleasing chiller that doubles as an existential commentary on horror itself, both on the screen and in our lives. Led by an intense Jamie Lee Curtis reprising her role 40 years later, this Halloween is more tonally nuanced than its predecessor, if also more uneven.
Green's Halloween demonstrates a commitment to undercutting the gory, giddy escapism rampant in slasher films
Releasing Halloween on October 19 in the UK and the US, Universal looks to capitalise on scary-movie season with no other horror films in sight. Carpenter serves as executive producer as well as updating his iconic score, and surely the director's seal of approval will encourage genre fans to check out this sequel. Robust grosses seem assured.
The film returns to Haddonfield, the setting of Carpenter's movie. Laurie (Curtis), who survived Michael's initial massacre, has spent the ensuing decades preparing for his escape from prison. Soon enough, the masked murderer descends again on this suburban community, killing indiscriminately but on a collision course with Laurie's daughter Karen (Judy Greer) and granddaughter Allyson (Andi Matichak).
Green (Pineapple Express, Stronger) has dabbled in different genres, but his Halloween — a direct sequel to the 1978 film that ignores all other iterations — turns out to be a pretty reverent take on the material. Granted, there are moments of snarky, hangout humour reminiscent of his stoner comedies, but on the whole the film exudes a tense, even mournful tone, exploring the repercussions of Michael's earlier killing spree.
Those shockwaves are most apparent in Laurie. Curtis plays her as a broken women suffering from PTSD who has become proficient in firearms and self-defence so that no one can ever harm her again. Unfortunately, although the character's trauma is depicted seriously, Curtis' gun-toting performance risks campy overkill.
Nonetheless, Green's Halloween demonstrates a commitment to undercutting the gory, giddy escapism rampant in slasher films. No horror movie about a knife-wielding psychopath could probably be described as realistic, but this sequel pays close attention to character dynamics and emotional complexity so that the action feels like it's grounded in the everyday.
That's especially true in how Green and cinematographer Michael Simmonds stage Michael's killings. Although skilfully choreographed, these scenes de-emphasise razzle-dazzle or cheap shocks. Rather, there's an austere precision to each slaying, which makes Michael's cold, cruel efficiency all the more unnerving. (Actor and stuntman James Jude Courtney plays Michael throughout most of Halloween, although the film tips its hat to Carpenter's original by having Nick Castle reprise the role briefly.) All these years later, this madman's unholy mask and methodical movements remain disturbing.
As is often a frustration with horror films, Halloween gets bogged down in plot contrivances. (Characters get conveniently separated from their cell phones. Seemingly intelligent individuals act stupidly just so that the filmmakers can have Michael dispense with them.) And there's a certain predictability that comes with slasher flicks — especially one like this where a showdown between Michael and Laurie seems predestined.
And yet, Green and his team have crafted a horror film that is cognisant of the horrors around us. This female-driven sequel could very easily be read as a treatise on predatory men — in the end, Laurie, Karen and Allyson realise they're on their own when combating Michael — and the serial killer's wave of carnage plays like a metaphor for terrorist attacks or school shootings. Just as Carpenter's Halloween didn't glamourise Michael Myers, Green's follow-up also highlights what is truly monstrous about this villain, never asking us to identify with or be wowed by his vile acts.
Sadly, the performances are not as sophisticated as the film's thematic ambitions. Curtis may be a commanding, haunted presence, but the character is not particularly well-developed. Likewise, Greer fights to bring dimensions to a simplistic role of a daughter who has tried to distance herself from her mother's paranoia. As for Matichak, she makes for a likeable teen scream-queen who learns that Michael isn't the only man in her life she can't trust.
Production companies: Blumhouse Productions, Rough House Pictures
Worldwide distribution: Universal Pictures
Producers: Malek Akkad, Jason Blum, Bill Block
Screenplay: Jeff Fradley & Danny McBride & David Gordon Green, based on characters created by John Carpenter and Debra Hill
Production design: Richard A. Wright
Editing: Tim Alverson
Cinematography: Michael Simmonds
Music: John Carpenter, Cody Carpenter, Daniel Davies
Main cast: Jamie Lee Curtis, Judy Greer, Will Patton, Haluk Bilginer, Virginia Gardner, Andi Matichak