Ewan McGregor saddles up for Ryan Murphy's racy Netflix limited series about the late, great US designer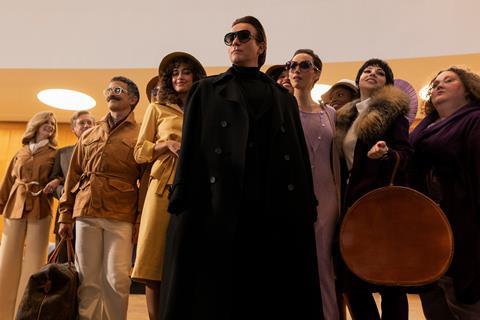 Well…as Halston himself might intone archly…this one's a lot of fun. Ryan Murphy's latest five-part limited series for Netflix delivers raunchy, raucous, row-of-tents-level camp in a full-frontal, Studio 54-led shimmy through the life of American fashion designer Roy Halston Frowick, the man who famously lost his own name. With Ultrasuede and Liza Minnelli to the left and hot pants and Andy Warhol to the right, the series is led by Ewan McGregor performing a man whose public persona was itself a grand performance. Not since his character dived down a toilet in Trainspotting has the actor taken such gleeful risks and, certainly, Halston is a show to launch a thousand memes, many of which will involve McGregor's face in various stages of drug- and sex-induced ecstasy. If it all seems too much to be true, a quick sashay over to Frederic Tcheng's 2019 documentary Halston on Amazon proves that yes, indeed, it is all true, even if Murphy has chosen to very much accentuate the outrageous here.
Don't make the mistake of taking all this too seriously.
Given James Corden took such a hit for playing a gay character in Murphy's last Netflix outing, The Prom, it's a leap of faith for McGregor to dive into Halston's 'dial-a-dick' rentboy world of New York in the 1970s with such confidence. And, in much the same way as Meryl Streep's rendition of Julia Childs in Julie & Julia, McGregor delivers a broad performance which eventually grows on the viewer; a tragic figure in dark shades, black turtle-necks and billowing trenchcoats, Halston walks alone in Murphy's pantomime of frills and frocks. It's exaggerated, sure, and it could easily all be too much – it certainly will prove far too OTT for some viewers - but the 45-ish minute runtime on each episode makes Halston come on like a hit of some of the powdered substance he's stashed in that Elsa Peretti bowl.
Don't make the mistake of taking all this too seriously. The entire second episode of Halston is devoted to the 1973 French vs. American 'Battle of Versailles' couture showdown which took place in the Palace itself. Halston snuck his BFF Liza Minnelli (an endearing Krysta Rodriguez) in as a secret weapon - naturally, she and he stole the show. The American team – Bill Blass, Ann Klein, Stephen Burrows, Oscar De La Renta – are shown wafting around Charles De Gaulle airport to the sounds of Bowie's 'Jean Genie', darting arch looks at the French (Yves Saint Laurent, Givenchy, et al). A slew of recent French feature films have treated Saint Laurent and Coco Chanel with po-faced reverence: Halston makes it all look like a gas-gas-gas. And the clothes themselves are extraordinary.
It probably was all a huge laugh – until it wasn't. Murphy and series director Daniel Minahan don't really dwell on Halston's simple childhood in the backwaters of Idaho, except for in rudimentary flashback which half-heartedly tries to connect the designer's violent father with his later-life predilection for rent boys and his insane boyfriend Victor 'Huge-o' Hugo (Gian Franco Rodriguez). We meet Roy when he is already 'Halston': he has just designed the famous pillbox hat that Jacqueline Kennedy wore to her husband's Presidential inauguration. Working at swanky Bergdorf Goodman, Halston is an overnight sensation, although it's not too long before women stop wearing hats entirely and he's out in the cold.
Switching on to Halston, the viewer might be expecting a little of Steven Soderbergh's Liberace biopic Behind the Candelabra, starring another two straight actors – Michael Douglas and Matt Damon. That's far too sedate for Murphy, however. Twelve minutes into the first episode and Liza is already belting out 'Liza With A Z' and Halston, having cruised some rough neighbourhoods for sex, is setting up his own brand, slapping on the self-tan in the bathroom and reinventing himself again.
At Halston Limited, druggy Joel Schumacher (Rory Culkin) is designing windows; Warhol favourite Pat Ast (Shawna Hamic) is the showroom manager; exotic Elsa Peretti (Rebecca Dayan), who would later go on to design for Tiffany, is an integral part of Halston's team and in love with him while he himself is ripping up bolts of red fabric and pinning it directly on his models. "Halston: rich, textural, cool, like Shangri-La on the Upper East Side," snaps McGregor. All this and Studio 54 hasn't even opened, yet the pitfalls have already arrived in the shape of businessman David Mahoney (Bill Pullman), keen to purchase Halston for the Norton Simon empire.
More than once, Halston tips over into pure silliness. The argument about the bottle for Halston fragrance is interesting – he was ahead of his time in so many ways we can only begin to understand – but asking a "nose" (played by Vera Farmiga) to smell Victor Hugo's well-worn jockstrap for inspiration is taking it a little far. Then again, this is the man who had his lunch flown by helicopter from Manhattan to Montauk and complained when it was cold.
Over five fast and furious episodes, McGregor gives it his all as Halston enjoys spectacular success – and equal amounts of failure. Refusing to give up any control, he hurls tantrums, burns the candle at both ends and swans around town with Liza and the Halstonettes as the 'gay plague' hits the Village and the no-holds-barred party at Studio 54 starts to wind down. If there's any dramatic tension to Halston, it's which of his vices will do for him first – sex, drugs, booze, or the cigarettes he's constantly wafting around like punctuation.
Halston's family has already complained about the trashy treatment meted out by this entertaining show to such an inspirational couturier. One wonders what he himself would have made of it. For all sexual sturm und drang on display here, it must be remembered that none of it took place in the public eye and it was his life's work to cultivate an elegant facade. Yet the lives of designers such as Karl Lagerfeld and Alexander McQueen do indicate that the show still goes on; unlike Halston himself, Murphy need never run out of material.
Production companies: Killer Films, Ryan Murphy Productions Legendary Productions
International distribution: Netflix
Writers: Ryan Murphy, Ian Brennan, Sharr White, TedMalawer, Tim Pinckney, Kristina Woo
Executive producers: Ryan Murphy, Ian Brennan, Alexis Martin Woodall, Ewan McGregor, Daniel Minahan, Eric Kovtun, Sharre White, Christine Vachon, Pamela Koffler.
Series director: Daniel Minahan
Cinematography: Tim Ives
Production design: Mark Ricker
Costumes: Jeriana San Juan
Main cast: Ewan McGregor, Krysta Rodriguez, Rebecca Dayan, Bill Pullman, Gian Franco Rodriguez, David Pittu, Rory Culkin, Kelly Bishop, Vera Farmiga.