A young French student grows increasingly desperate to secure a backstreet abortion in Audrey Diwan's harrowing drama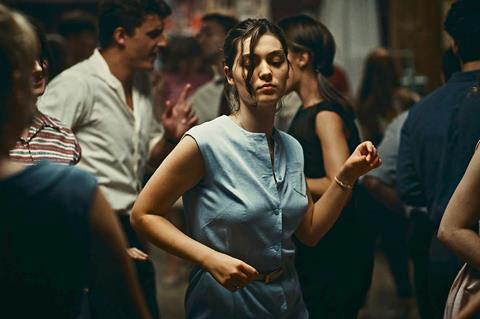 Dir: Audrey Diwan. France. 2021. 99 mins.
With legislatures the world over pushing back against pro-choice, Audrey Diwan's second film is both timely and important. But that doesn't make its final fifteen minutes any easier to watch. Adapting Annie Ernaux's 2001 memoir of the same name, based on her own experience as a 23-year-old university student in 1963, Venice competition title Happening is uncompromising in its depiction of what French women who wanted to terminate a pregnancy were forced to go through before Health Minister Simone Veil introduced the law that legalised abortion in 1975.
Knitting needles, scissors and a serpentine backstreet abortionist's tool translated here as "the wand" feature in scenes that many viewers will watch, if they watch them at all, through a curtain of fingers. Yet many of those same viewers may well agree that these scenes need to be watched. Diwan's message is clear: this is what Annie Ernaux went through, nearly dying in the process, and this is what women will endure again if denied access to legal abortion.
Yet if Happening itself experiences pushback from distributors outside of French-speaking territories, it will not be solely because it stares abortion in the face. There's a slight lack of dramatic tension in much of the lead-up to its harrowing finale, with too much weight placed on the capable shoulders of the French-Romanian actress Anamaria Vartolomei, who made her screen debut aged 12 as the daughter in Eva Ionesco's My Little Princess. She very nearly pulls off the challenge thrown at her: appearing in every shot of a film shot in claustrophobic 4:3 ratio, tracked closely by Laurent Tangy's fluid handheld camera, radiating a compelling mix of determination and fragility in her role as Anne, a French literature student in the early sixties who is appalled to find herself pregnant after a brief liaison.
We're with her, yet at the same time kept a little at arm's length, like those she meets inside the film – because her strategy is to close down, mouth set, eyes on the goal, until the job is done. Happening's most telling moment comes when a friendly fireman at the uni bar asks Anne what's troubling her, and she replies "I'm lonely".
In her Silver-Bear-winning abortion drama Never Rarely Sometimes Always, Eliza Hittman used a compressed timescale to craft a taut story that felt like one long held breath. Perhaps excessively faithful to its source material, Diwan's film ranges over the 12 weeks leading up to the final crisis, marking each week with a superimposed title. But this at least allows Diwan and her co-writer Marcia Romano to set Anne's unwelcome pregnancy in a wider social context. A student of literature at Angouleme University, Anne shares a room in a female dorm with her best friends, shy Helene (Luana Bajrami) and flirty Brigitte (Louise Orry Diquero). Anne is a bright student, and her pregnancy – confirmed by a sympathetic but otherwise unhelpful doctor – comes like a death sentence. It is, as Anne tells her professor late on, in one of several lines of dialogue that are rather too on-the-nose, "that illness that turns French women into housewives".
A male friend Anne reaches out to for help responds by making sexual advances – because, hey, she's already pregnant, so there's no risk – and if she's done it once, it must mean she's up for it again. When she shares the news with her besties, a shocked Brigitte tells Anne that she can't afford to get involved – because anyone who abets abortion is liable to imprisonment. So after visits to her well-meaning but unapproachable parents in the rural town where they run a bar, and a disastrous weekend with the father of her unborn child, who just wants the problem to go away, an increasingly boxed-in Anne decides to take the solution into her own hands, via a heated knitting needle.
From here on in, Happening escalates to two harrowing final scenes set in the attic apartment of a backstreet abortionist played with glacial authority by Anna Mouglalis. Everything else – Anne's determination to finish her studies, her new-found vocation for writing, her determination not to be shamed into repressing her sexuality – is replaced by the pain and anguish on her face as she struggles not to cry out in this dingy flat with its paper-thin walls.
A soundtrack of held piano notes and plucked strings acts as an effectively spare accompaniment to the weeks during which Anne's life and future are on hold. But the film's most prominent style choice is to deliver, through costumes and production design, a minimalist version of the mid-sixties that could equally well be the provincial France of today, give or take a few ties, jackets and rock 'n roll numbers.
Production company: Rectangle Productions
International sales: Wild Bunch, aguilhem@wildbunch.eu
Producers: Edouard Weil, Alice Girard
Screenplay: Audrey Diwan, Marcia Romano, based on the novel of the same name by Annie Ernaux
Production design: Diene Berete
Editing: Geraldine Mangenot
Cinematography: Laurent Tangy
Music: Evgueni Galperine, Sacha Galperine
Main cast: Anamaria Vartolomei, Kacey Mottet Klein, Luana Bajrami, Louise Orry-Diquero, Louise Chevillotte, Pio Marmai, Sandrine Bonnaire, Anna Mouglalis, Leonor Oberson, Fabrizio Rognone