Kirsten Stewart lights up Sony's LGBTQ+ festive drama, a pandemic transfer to Hulu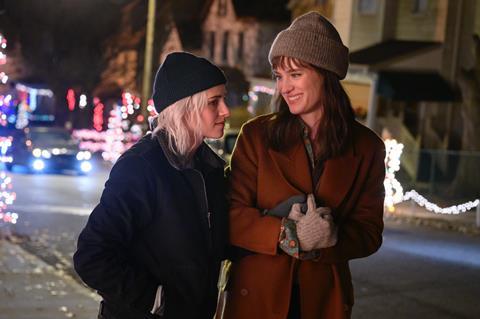 Dir: Clea DuVall. US. 2020. 102mins.
A deeply likeable cast attempts to transcend Christmas-movie cliches in Happiest Season, a same-sex romantic comedy that smuggles its progressive love story inside an intentionally familiar yuletide narrative. While director/cowriter Clea DuVall's gently amusing film ends up being too broad and formulaic to be as moving as it ultimately intends, Kristen Stewart and Mackenzie Davis have an appealing rapport as a couple visiting the latter's family for the holidays — even though she has never told her conservative parents that she's gay.
Stewart and Aubrey Plaza both convey a hip, left-of-centre sensibility
With Sony dropping theatrical plans to sell the title to Hulu in America for transmission from November 25 — eOne wil go to UK TVOD services the next day - Happiest Season boasts plenty of star power for an all-ages Christmas viewing option. (The ensemble also includes Alison Brie and Aubrey Plaza.) The producers are promoting this comedy as being the first major studio holiday film to feature an LGBTQ+ couple, but the cozy, family-friendly trappings of its convoluted plot should keep Happiest Season from being remotely controversial.
Stewart plays Abby, who adores her journalist girlfriend Harper (Davis) and plans to propose to her over the holidays. Despite the fact that they live together, and that Harper has invited Abby to come home with her for Christmas, there's something important Harper hasn't mentioned: she has never come out to her politician father Ted (Victor Garber), micromanaging mother Tipper (Mary Steenburgen) or sisters Sloane (Brie) and Jane (cowriter Mary Holland). Can Abby and Harper keep up the ruse that they're just roommates when Ted is using the holidays as the launch of his mayoral campaign, positioning himself as a family-values candidate?
With her second feature, DuVall (The Intervention) is very clearly following the conventions of farce, family comedies and Christmas films. Adhering to every trope — naturally, Abby hates the holidays but will come to appreciate them — Happiest Season offers little in the way of surprise, except that, for once, there's a lesbian romance at the centre of a "traditional" yuletide film. It's a shrewdly subversive idea that highlights how, for closeted LGBTQ+ individuals, Christmas can be a fraught time, and indeed some of the film's best scenes speak to the terror and pain that can occur when children come out to their parents.
Stewart and Davis have such adorable chemistry as the central couple — playful and flirty one moment, touchingly sincere the next — that it's a shame DuVall has stranded them in such an unsatisfying story. Granted, Happiest Season is meant to be cheesy in the comforting way that cable-television Christmas films often are, but all too frequently the actresses seem smarter than the material, forced to navigate preposterous twists and increasingly silly plot complications. The more Abby and Harper contort themselves to hide their relationship, the phonier Happiest Season becomes, undercutting Stewart and Davis' genuine connection.
The film's exaggerated comedic style also hampers the supporting cast, particularly Steenburgen and Brie as tightly-wound perfectionists in a family where everyone is trying so hard to impress everyone else. There's not much wit to the performances, almost as if these capable actresses are playing down to the genre's worst tendencies.
Thankfully, as Harper's former lover Riley, who was burned by her ex's insistence on keeping their relationship secret, Aubrey Plaza possesses the edge that's otherwise lacking in Happiest Season. Once Abby begins to doubt Harper's commitment — perhaps Harper is rekindling feelings for her hunky childhood boyfriend Connor (Jake McDorman)? — she starts spending time with Riley. Stewart and Plaza both convey such a hip, left-of-centre sensibility that one wonders if Abby will ultimately decide she's better suited for Riley.
Although the jokes cover predictable terrain — the anxiety of the holidays, the impossibility of family, the strangeness of spending time with your partner's odd parents — Happiest Season manages to wring a decent amount of laughs from its ho-hum premise. When the plot machinations aren't getting in the way, it's fun to watch a sharp cast riff off each other. But once DuVall reaches for pathos near the end as Harper acknowledges the fear she has about coming out to her folks, the film's moving moments only underline what's otherwise so strained and artificial about Happiest Season. DuVall cleverly uses traditional Christmas-film tropes to tell an inclusive yuletide tale — but the packaging is so chintzy it's not worth unwrapping to get to the heartwarming gift buried inside.
Production company: Temple Hill
International distribution: Sony Pictures, eOne. US distribution: Hulu
Producers: Isaac Klausner, Marty Bowen
Screenplay: Clea DuVall & Mary Holland, story by Clea DuVall
Production design: Theresa Guleserian
Editing: Melissa Bretherton
Cinematography: John Guleserian
Music: Amie Doherty
Main cast: Kristen Stewart, Mackenzie Davis, Alison Brie, Aubrey Plaza, Daniel Levy, Mary Holland, Victor Garber, Mary Steenburgen