An expat Israeli dinner party from hell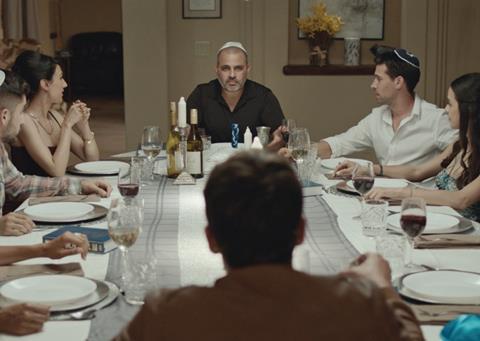 Dir: Michael Mayer. US. 2019, 92 mins
A dinner party of expat Israelis in Los Angeles goes violently awry in Michael Mayer's over-the-top and fitfully entertaining comedy Happy Times. While there's a certain pleasure in witnessing terrible people get their comeuppance, and Israelis at home or abroad may enjoy a knowing frisson from their countrymen and women behaving badly, there's not enough ingenuity or humour on display to suggest the film will breakout much further from that audience and festival midnight screenings such as its slot in Tallinn (having world premiered at Haifa Film Festival).
The gathering represents a snake pit of simmering hostility, jealousy and resentment
The setting is Brentwood and the luxurious home of boorish, shady businessman Yossi (Ido Mor) and his glamorous wife Sigal (Liraz Chamami), who are hosting a dinner for family and friends. There appears to be just one genuine bond amongst the group, between Sigal and her cousin Michael (Michael Aloni). Otherwise, the gathering represents a snake pit of simmering hostility, jealousy and resentment, most of it predicated on the materialistic hosts' lording it over their fellow expatriates.
The scene is set for a combustible evening. And Michael is more than willing to light the fuse. An aspiring, not very good actor who is trying to distance himself from his cultural roots, he's soon attacking his fellow diners for their religion and devotion to family, while his African-American girlfriend Aliyah (Stéfi Celma) chips in with PC comments, when not squirming in embarrassment beside him. Once the group's anger at Michael explodes – some of the men are just bristling with testosterone – there's no holding them back. And from hereonin the director abandons any pretence of social satire or comedy of manners to indulge in an escalating night of murderous mayhem.
There lies the problem, unfortunately. Beyond the admittedly amusing task of guessing who will kill whom (weapons include a gun, kitchen knife, antique crossbow and artist's kiln) and the enjoyable addition of the local rabbi late in the proceedings, there's not a great deal to engage the audience. Mayer and co-writer Guy Ayal fail to add any appreciable character development, their dialogue can be heavy-handed (a scene in which one of the guests fends off inquisitive police officers by accusing them of racism is particularly ham-fisted) and the director fails to explore the potential of the house as a dynamic factor in the psycho-rampaging.
The performers give it their all, notably Chamami, calmly catching up with her kids' sleepover on the phone while someone is trying to kill her, and Aloni, who makes hay with his character's pretentions and voices one of the film's few impactful remarks – explaining the violence by suggesting that, "we don't back down when the shit hits the fan."
Production company: Oh!PEN Productions, M7200 Productions (in association with) Urban Tales Productions
International sales: M-Appeal, contact@m-appeal.com
Producers: Tomer Almagor, Paola Porrini Bisson, Michael Mayer
Screenplay: Guy Ayal, Michael Mayer
Production design: Michael Fitzgerald
Editing: Michael Frost, Eliyah Aviv
Cinematography: Ziv Berkovich
Music: Guy Ayal
Main cast: Michael Aloni, Liraz Chamami, Iris Bahr, Alon Pdut, Stéfi Celma, Ido Mor, Guy Adler, Shani Atias, Daniel Lavid, Mike Burstyn