The life of former slave and liberator Harriet Trubman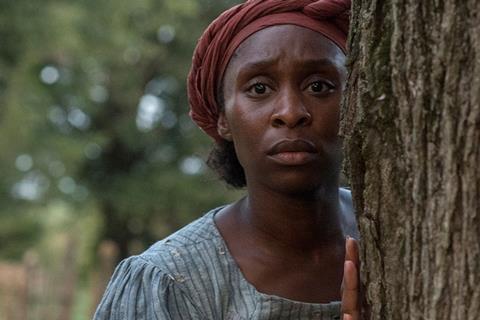 Dir: Kasi Lemmons. US. 2019. 125 mins
The life of Harriet Tubman is an extraordinary tale of triumph over endless adversity. Born a slave but vowing to live life as a free woman or die trying, she is a symbol of what can be achieved through sheer determination and a belief in God. Kasi Lemmons pays tribute to her indomitable spirit and enduring legacy in Harriet, a thoughtful biopic that grows more involving the more it shrugs off its tendency towards the reverential.
Cynthia Erivo carries the weight of the film
Harriet is likely to face comparisons with the Oscar-winning 12 Years A Slave (2013) and Coulson Whitehead's Pulitzer Prize-winning novel 'The Underground Railroad'. It seems unlikely to achieve that level of success but does a valuable job in reclaiming a life from the history books and showing why it matters.
The film begins in Maryland of 1849. Minty (Cynthia Erivo) is a slave on a plantation. Marriage to a free man has emboldened her to seek legal advice and challenge the right of the master to hold her life in his hands. Told that she will never be free, she escapes and begins a long journey to comparative freedom in the north. Minty has been a particular favourite of the master's son Gideon (Joe Alwyn) and his promise to hunt her down and bring her "home" makes him her arch nemesis throughout the story.
Arriving in Philadelphia, Minty is able to choose her own name - Harriet Tubman. It is not enough to live in freedom and she decides to return south and liberate beloved members of her family. Dozens of others will follow under her leadership as she is branded "Moses The Slave Stealer" and the price on her head grows.
In its early stages, Harriet feels a little repetitive as a succession of obstacles are encountered and subsequently overcome. Terence Blanchard's heavy-handed score doesn't do the film many favours as it constantly pushes scenes towards emotional uplift or emphatically underlines impending danger.
Once Harriet joins the Underground Railway movement and the Fugitive Slave Act is passed, the film becomes a much livelier, more urgent affair as it then heads inexorably towards the Civil War. It is even possible to view it as a worthy history lesson disguised as a superhero origins story. Harriet operates in the shadows, liberating the enslaved, fighting injustice and battling evil. None of the white plantation owners have any notion of her identity beyond the name of Moses. She even has her own superpower that may have resulted from a fractured skull when she was 13: she has (extremely useful) visions of the future that are rendered as garish monochrome inserts into the main narrative.
A breakthrough screen performer in Widows and Bad Times At The El Royale, Cynthia Erivo steps up to a leading role, carrying the weight of the film. Her understated, unshowy central performance seems tailored to reflect a woman who believed in direct action rather than fanciful words or fine intentions. Her impassioned rallying cries and outbursts of raw anger carry more weight because they are relatively rare. It may not beg for awards consideration but the sense of quiet, flinty determination in her acting makes Harriet a powerful screen figure.
Production companies: Stay Gold Features, Martin Chase Productions
International distribution: Universal/Focus Features
Producers: Debra Martin Chase, Daniela Taplin Lundberg, Gregory Allen Howard
Screenplay: Kasi Lemmons, Gregory Allen Howard
Production design: Warren Alan Young
Editing: Wyatt Smith
Cinematography: John Toll
Music: Terence Blanchard
Main cast: Cynthia Erivo, Janelle Monae, Leslie Odom Jr, Joe Alwyn