Dir/scr. Tayfun Pirselimoglu. Turkey / Greece, 2010. 109 min.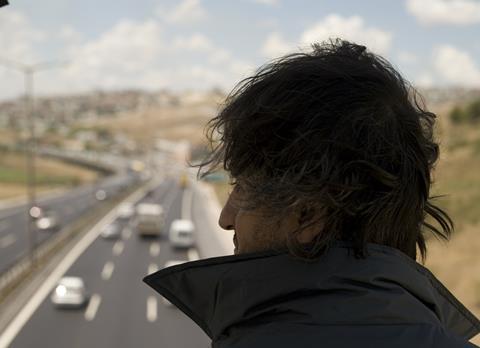 Black and white minimalism is taken to the extreme in this over-long if rare Greco-Turkish production. Moving at a frustratingly slow pace with minimal dialogue, this skeleton of a film invites the viewer to fill in its numerous, extended gaps. Very much a festival film, it could play at the far end of the arthouse circuit but seems designed mainly to test the patience of audiences.
Istanbulis presented mostly wrapped in late autumnal haze; wet, grey and depressing. Resat (Sari) packages pirate DVDs for a couple of shady characters; Emin (Avci) is a butcher who works in a slaughterhouse and is married to a seamstress (Nurcan Ulger). Finally Resat (Ruhi Sari), who gets more camera time than the others, is a younger man who goes to the supermarket just to stare at the pretty cashier, then embarks on some petty theft.
When Resat finds a gun beside a picture of a woman, it leads him to the butcher and the seamstress, all living in the same bleak neighbourhood, one of Istanbul's poorest.
Hazefocuses on the insignificant and sordid lives of its protagonists, and all look equally desperate - crushed by the misery of their lives and the drab dreariness of a never-ending routine. Resat lives with an old woman who is presumably his mother and spends the entire day looking out of the window in complete silence. Before the end, she collapses to the floor and dies without ever having uttered a single word. Most of the film's dialogue comes from the background noise on the TV.
Pirselimoglu's framing – working with DP Ercan Ozkan - is most definitely atmospheric, in a downbeat way, and the screen is frequently left empty of characters for reasons that are less than effective. There are abundant references to unemployment, but the characters are too disheartened to even rail against it – it's just one more gloomy fact they take for granted, like the colour of the sky or the piles of rubble surrounding their homes.
The performances are naturalistic and the overall result is utterly convincing, without being remotely enlightening.
To sign up for Screen's weekly Reviews Newsletter with all the week's new releases, international openings and full festival reviewsdelivered free to your mailbox every Friday, please click HERE
Production companies
Zuzi Film
Graal S.A
Producers
Veysel Ipek
Nikos Moustakas
International Sales
Graal S.A.
+30 697 332 7975
Cinematography
Ercan Ozkan
Production design
Natali Yeres
Editing
Erdinc Ozyurt
Sound
Fatih Aydogdu
Main cast
Ruhi Sari
Mehmet Avci
Nurcan Ulger