Dir. Davis Guggenheim. US, 2015. 87 mins.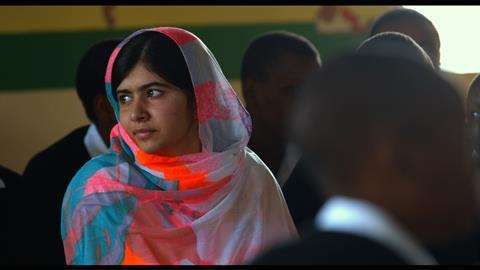 Who is Malala Yousafzai, really? The facts are straightforward: an outspoken activist for female education in her native Pakistan, she was shot in the head by the Taliban on her school bus at the age of 15, and won the Nobel Prize for Peace at the age of 17. Best-selling author, passionate advocate, friend of popstars and politicians and GCSE student in Birmingham - her father says she was attacked by an ideology, but the word Malala stands for something too. In the slim but powerful documentary He Named Me Malala Davis Guggenheim attempts to colour in a shy, yet deceptively stout-hearted schoolgirl and her symbiotically-close relationship with her father, indicated by the film's title. "He" named her Malala, after a Pashtun heroine who died on the battlefield. Was 'he' ready to sacrifice her too?
Malala believes her beautiful mother is "not independent or free because she is not educated" which sounds troublingly like the door slamming shut on Mrs Yousafzai, lonely in her Birmingham exile
Guggenheim's documentary is a prestige title for Fox Searchlight, which will undoubtedly position this for awards contention after a Telluride premiere and fall festival platforms. It's as well-made and as moving as it should be – this is about a girl who was shot in the head for nothing more than wanting to go to school. Less successful are its animated sequences, which fill in geographical and historical context in an simplified manner for audiences who struggle with Malala's backstory in the Swat Valley, Pakistan. Supported by the Malala Fund, this film clearly is intended as an educational tool, although Guggenheim (An Inconvenient Truth) is a wise and talented documentarian who knows exactly which subtleties to address, giving He Named Me Malala a satisfying depth.
'Inspired by the book I Am Malala' (the rights to which were sold for a reported $3m for her foundation), He Named Me Malala was shot over 18 months, starting out in Birmingham in 2013 in the bustling Yousafzai household, where the media-friendly schoolgirl struggles with the unique job of being an activist on the international stage whilst studying for her GCSE's (her father recently tweeted her excellent results). She's open and comfortable, extremely sweet, shy, modest, utterly devoted to her father, a sentiment bordering on an obsession, which is reciprocated. Malala is delightful to watch, whether it be shying away from a dog, being competitive with her brothers, or confessing to an admiration for sportsmen like Shane Warne. She giggles uncontrollably at the Minions before taking a call from a news outlet. She is completely honest.
More complex is her relationship with her teacher-activist father Ziauddin, who encouraged her to blog for the BBC when she was only 11 years-old. The first question Malala asked when she woke up from her coma after the Taliban shooting was 'where is my father?'. He says they have one mind in two bodies. She was his first child. He does ask himself whether he should have stopped her when she defied Mullah Fazluttah in their Swat Valley home, but it's clear he doesn't really believe that, in his heart. What will be more interesting is when the time comes for Malala to pull away, because it's already clear that she posesses a will and strength which surpasses her father's and at times can seem like the parent already.
As to the mother of this girl who fights so hard for female education? Malala believes her beautiful mother is "not independent or free because she is not educated" which sounds troublingly like the door slamming shut on Mrs Yousafzai, lonely in her Birmingham exile, but, as Malala's father grew to realise in Afghanistan, it is easier to engage international attention when the focus is on children.
He Named Me Malala concludes with a moving exhortation to "raise your voice - stand with Malala". And why would you not? Permanently scarred from her injury, with the loss of hearing in one ear and a permanently lopsided smile which she deploys often, there's an intent and focus to Malala Yousafzai which Guggenheim captures very well. It's an open-hearted determination which outflanks her father's speeches and flashes in the midst of everyday domestic scenes to remind you how special this girl really is. She's 18 now. Long may it continue.
Production company: Fox Searchlight Pictures (in association with Image Nation Abu Dhabi, Participant Media and National Geographic Channel).
Contact: Fox Searchlight
Producers: Walter Parkes, Laurie MacDonald, Davis Guggenheim
Executive producers: Mohamed Al Mubarak, Michael Garin, Jeff Skoll, Shannon Dill
Based on the book, My Name is Malala, by Malala Yousafzai
Editors: Greg Finton, Brian Johnson, Brad Fuller
Cinematography: Erich Roland
Music: Thomas Newman
Featuring: Malala Yousafzai, Ziauddin Yousafzai, Toor Pekai Yousafzai, Khushal Khan Yousafzai