A Russian farmer finds his new job as a security guard isn't all it appeared to be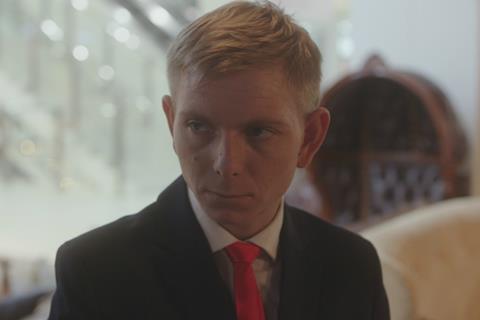 Dir. Vitaly Suslin. Russia. 2017. 78mins
The simple life of a cowherd is turned on its head when a stranger arrives in an icebound village and offers him work in the city. Allegory in this striking, economical drama is layered almost as thickly as the snow through which Ivan (Ivan Lashin) dutifully wades to share soup with his mother every week.
As a portrait of contemporary Russia, there is a soulsick melancholy to this film
This is sparse, matter-of-fact storytelling interspersed with vividly heightened fantasy sequences: Ivan's dreams for the future, which largely feature cows, bucolic bliss, sunshine and nudity. The film's enigmatic oddness may make it a tough sell theatrically in territories outside Russia although, with its distinctive directorial voice, this will be an intriguing addition to festival programs.
Director Vitaly Suslin builds a portrait of his central character through judicious use of narrative rhythms and repetition. Twenty-five-year-old Ivan cares for the cows stoically and unquestioningly. His routine includes chipping off the manure which freezes to the floor each morning, feeding his animals, wading through knee-deep drifts which drench his shellsuit, buying an energy drink from the village store.
Ivan lives in an ancient van with a bashed in radiator grill which looks like broken teeth. He seems content with his life, but when a big man called Vadim in an expensive car pulls into the village and offers his a job as a mall guard in the city, Ivan literally sprints to gather his meagre belongings there and then. "Don't forget your passport," shouts the man, ominously.
The camera reels as Ivan, tiny next to his new employer Vadim and his 'manager', the beautiful, jaded Yulya (Anna Makhlina), tries to take in the huge sprawl of the shopping centre. He is kitted out in a suit and tie; a barber tames his unkempt peasant hair. Ivan is ready for his new job, but first his new bosses just need him to take out some fraudulent loans. Ivan does as he is told.
Lashin's performance – blank, inexpressive, impassive – works rather well for this hapless character who is fatalistic about the cards that life deals him. There is something almost animalistic in his base survival instinct; it's not clear whether he doesn't realise that he is being exploited, he doesn't care, or he simply accepts that this is his role in life. Finally dumped by his 'employers', Ivan takes a job as a door-to-door salesman peddling goods from a fictitious trade fair. Meanwhile, in malls and on the streets, Russian culture – ballet and poetry – is hawked like any other commodity.
As a portrait of contemporary Russia, the film might not have the searing savagery of Andrei Zvyagintsev's brutal Loveless, but there is a soulsick melancholy to this film; a suggestion that society which preys on its weakest and sells itself so readily is no society at all.
Production company: Vitaly Suslin, Mosfilm
Contact: VitalySuslin@yandex.ru
Producer: Vitaly Suslin
Screenplay: Vitaly Suslin, Ivan Lashin.
Cinematographer: Alexei Malinkovich
Editor: Olga Kolesnikova
Starring: Ivan Lashin; Tatiana Lashina, Grigory Kokotkin, Anna Makhlina, Yelena Kiseleva