Dir/scr. Rumle Hammerich. Denmark, 2009. 100 mins.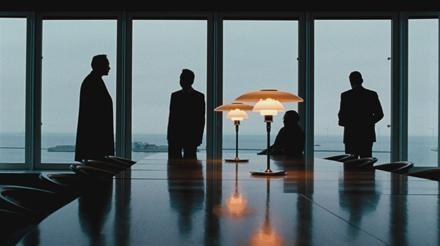 Stylish, noirish, Danish: this slickly atmospheric corporate thriller features a taut performance from Lars Mikkelsen – older brother, by a year, of Mads – as an investigative-reporter-turned-headhunter out of his depth in the high-stakes world of boardroom intrigue. A hit at home in Denmark with $2.2m in eight weeks, this would shout 'remake' if Michael Clayton hadn't gotten there first, but there's enough to recommend this smart genre effort as it stands.
Hammerich has created two challenging men who want to cut their "weak" offspring loose
It's Hammerich's moody visualisation of his own screenplay that marks Headhunter out; the plot is deft enough but holds little new for genre fans. Mikkelsen's watchable turn, a jazzy score, a watery Copenhagen lensed in icy blues and grays: in this company, 100 minutes trips by very nicely. It may not be deep enough for the art-house crowd, but there's nothing to stop Headhunter emerging as a more commercial 'discovery'. Crime sophisticates, well used by now to trickery and sexed-up shocks-that-aren't, could respond well to this old-fashioned thriller. And how can you resist a fight entirely staged and shot inside a wardrobe?
In docklands Copenhagen, Marten Vinge (Mikkelson) is a former reporter now working as a headhunter for major multi-nationals. He's all sharp corners and smooth façade, sleeping with a former, married colleague and trying to give his desperately-ill son Jakob up for adoption. He's a hollow soul, in other words, ripe for the picking by the head of Denmark's Sieger Group – "bigger than Microsoft" – who is looking to oust his own son in a bitter boardroom battle.
"I need someone who knows the new morality," says old man Niels Sieger (Henning Moritzen), dismissing his son Daniel's (Flemming Enevold) chances in the succession battle a week before a vital board meeting.
Fired up by the challenge, Marten starts to source candidates at the same time as his son is suddenly, miraculously, being considered for revolutionary new surgery. He has compromised himself, and it doesn't take long for the screw to be turned.
Hammerich has created two challenging men who want to cut their "weak" offspring loose, an interesting interplay on the "fathers and sons" theme which he largely sustains throughout.
Production standards are high for what cannot have been a generously-budgeted film; Hammerich masters his team to deliver a mood of stylish angst set in bare boardrooms and sparsely decorated homes. Water follows our principal wherever he goes, from Sieger Headquarters, where he is given office space, to the country house of Old Man Sieger, where he is an unwelcome guest. It's a chilly world, against a deliciously jazzy score.
Mikkelsen appears in almost every scene, and is more than capable throughout. Whether it's waxy-faced shock or barely-lidded emotion, his is a face to watch. It evidently runs in the family.
To sign up for Screen's weekly Reviews Newsletter with all the week's new releases, international openings and full festival reviews delivered free to your mailbox every Friday, please click HERE
Production companies
Nordisk Film
International sales
Trustnordisk
+ 45 3686 8788
Producer
Ake Sandgren
Cinematographer
Dan Laustsen
Production design
Peter de Neergaard
Editors
Henrik Vincent Thiesen
Camilla Skousen
Sound
Morten Degnbol
Music
Jacob Groth
Main cast:
Lars Mikkelson
Flemming Enevold
Henrik Vincent Thiesen
Henning Moritzen
Charlotte Fich
Charlotte Munck