Dirs/scr: Longman Leung, Sunny Luk. Hong Kong/China, 2015. 119mins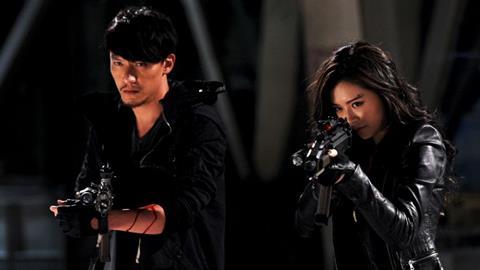 After the commercial success of their debut Cold War (the highest-grossing Hong Kong film in 2012) writer-director team Longman Leung and Sunny Luk set their sights higher with Helios, a pan-continental terrorism thriller that sees law enforcement agencies from South Korea, China and Hong Kong scramble to recover a stolen nuclear weapon.
For all its international star power bravado, Helios makes little effort to develop its characters or fully exploit its cast.
Closing the 5th Beijing International Film Festival, Helios boasts a strong international cast and slick, glossy production values, but ties itself up in clumsy political shenanigans to the detriment of its expertly-executed action sequences. While the film's narrative knots won't prevent it reaching a broad audience in Asian markets hungry for big-name, high-octane multiplex kicks, other viewers may despair as the script becomes increasingly compromised.
Renowned arms dealer Helios (Chang Chen) steals a South Korean WMD and high-tails it to Hong Kong looking to make a quick sale. Local Police Inspector Lee Yin-ming (Nick Cheung) brings in physics professor Siu Chi-yan (Jacky Cheung) to consult on the case. But when Korean authorities send NIS Agent Pok Yu-Chit (Choi Siwon) and weapons expert Choi Min-ho (Ji Jin-hee) after their device, Chinese authorities fear an international crisis, and employ their own senior advisor, Song An (Wang Xueqi) to oversee the situation.
With their first feature, Leung and Luk explored power struggles and bureaucracy within the Hong Kong police force whilst dealing with a similarly destabilising terror plot. This time around, the boardroom becomes a politically-volatile international stage, with Hong Kong proving little more than a battered pawn in the proceedings. Cold War worked well in its office-based confrontations, but lacked the necessary pay-off during street-level confrontations. Conversely, Helios features a number of expertly-staged action sequences, choreographed by the ever-reliable Chin Kar-lok, while its political tussles leave much to be desired.
Again, a huge ensemble cast is employed, featuring notable performers from both sides of the Hong Kong/China border, as well as big-name draws from Taiwan (Chang Chen) and Korea, particularly boy band heartthrob Choi Siwon, who appeared alongside Jackie Chan earlier this year in Daniel Lee's Dragon Blade. Unfortunately, the script seems intent on keeping the Korean characters separated from the unfolding drama in their own, different movie, begging the question of why are they involved at all. (During the Korean team's infrequent exchanges with their Chinese counterparts, all parties use miraculous earpieces which offer simultaneous interpretation.)
Helios does paint an impressively cosmopolitan picture of Hong Kong, acknowledging the existence of prominent British, American and even Indian communities. But rather than explore the rich diversity of the city's culture, this is used to paint the city as a lawless Wild West town, riddled with international scum and villainy and in desperate need of firm, clear-headed governance from China. To go into specifics would be to spoil the film's big reveal, but anyone with even a cursory understanding of Hong Kong's current political climate should guess the villainous mastermind's true identity the instant they appear on screen.
For all its international star power bravado, Helios makes little effort to develop its characters or fully exploit its cast. With so many names jostling for screen time, almost nobody stands out. Janice Man, for example, delivers a spunky turn as Helios' gun-toting, near-silent sidekick, but we learn nothing about her beyond her capacity to out-shine Nick Cheung in a fistfight. Not even the Cheungs (Nick and Jacky) can muster any kind of camaraderie as the mismatched duo spearheading the investigation.
Production-wise, this is a glossy, slickly shot genre piece that moves at a clip. Chin Kar-lok's action direction is notable in the film's stand-out set piece, a breathless motorbike chase through Kowloon. Jason Kwan's cinematography captures the sheen and shadows of present-day Hong Kong .
Production companies: Media Asia Films, Wanda Pictures, Sun Entertainment Culture Limited, Sil-Metropole Organisation, Long Motion Pictures, Blue Sea Productions Limited
International sales: Media Asia Films, www.mediaasia.com
Producer: Catherine Kwan
Executive producers: Peter Lam, Jerry Ye, Chau Cheok Wa, Chen Yiqi
Cinematography: Jason Kwan
Production design: Alex Mok
Editors: Ron Chan, Wong Hoi
Music: Peter Kam
Action director: Chin Kar Lok
Main Cast: Jacky Cheung Hok-yau, Nick Cheung Ka-fai, Wang Xueqi, Jin Ji-hee, Choi Siwon, Chang Chen, Janice Man Wing-san, Shawn Yue Man-lok, Feng Wenjuan