'Impeccable dread and lingering melancholy' infuse this terrific horror debut from A24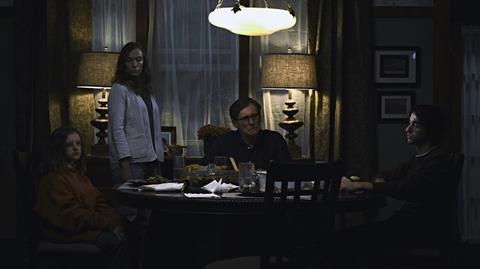 Dir/scr: Ari Aster. US. 2017. 126mins
Grief, guilt and family dysfunction prove to be overwhelming forces in Hereditary, a supremely elegant and tonally assured horror movie that trusts its audience will acquiesce to its measured, absorbing storytelling style. First-time feature filmmaker Ari Aster works from familiar building blocks — a house that may be haunted, a ghost with unfinished business — but the film's emotional sophistication and Toni Collette's gutsy performance keep the proceedings feeling fresh and electric.
Fans of slow-burn creepers should line up in droves
Premiering in Sundance's Midnight section, this A24 release deserves comparison to the studio's previous indie-horror offerings The Witch ($40 million worldwide) and It Comes At Night ($19 million), and fans of slow-burn creepers should line up in droves. The question remains whether mainstream audiences will embrace a horror movie devoid of cheap jump-scares and other modern-day tenets, but good reviews and festival buzz ought to attract the curious.
As the film begins, the elderly Ellen has died, causing sorrow in the Graham family, particularly for her daughter Annie (Collette), who had a complicated relationship with her mother — which only makes her passing all the more painful. But the loss seems to have an even greater impact on her 13-year-old daughter, the socially awkward Charlie (Milly Shapiro), who was closer to her grandmother than anyone, including her stoner older brother Steve (Alex Wolff). But soon, subtle signs start to emerge that maybe Ellen's spirit is still residing in the Graham home.
Working from his own screenplay, Aster has crafted a film of impeccable dread and lingering melancholy. Although Colin Stetson's brooding score hints early on that we're watching a horror film, Hereditary takes its time before unveiling anything that would traditionally be considered "terrifying". Instead, Aster embeds us within this family — which includes Annie's passive husband Steve (Gabriel Byrne) — so that we sense the understated tension in the house. By establishing the family dynamics first, Hereditary can then go about introducing a series of unsettling and ultimately devastating twists.
Collette is asked to shoulder a great deal as the film's main character. It's typical for the lead in a horror movie to react to seismic shocks and deliver ear-splitting screams, but Aster has given her a role which is impressively nuanced. Hereditary paints a portrait of a woman who has lived her life feeling cursed — she's fearful that, for some reason, she deserves the woes that have visited her family. Exactly why she holds onto this belief is part of the delicate character development that Hereditary finesses into a story that gets increasingly more tense. Collette wears Annie's anguish movingly, the film's horrors always connecting to the character's sense of inadequacy as a mother and daughter.
Remarkably, Aster and cinematographer Pawel Pogorzelski sustain the film's clammy mood for two hours, resisting the urge to offer easy scares or gross-out gore to jolt the audience. It would be accurate to describe Hereditary as a deft character drama that happens to have significant horror elements, which is not to undersell how consistently disquieting this film is.
As with Collette, the supporting cast has to play layered, intriguingly inscrutable individuals, and the actors respond with portrayals that draw us in, only to be terrified by the phantom menaces that begin to assert themselves.
Wolff shines as Peter, who seems resentful of his mother for reasons that will slowly emerge, while Shapiro needs just a flash of a facial expression to suggest the deep disturbance within Charlie — is it something supernatural or a manifestation of the family's turmoil? Byrne recedes into the background by design — we suspect that Steve has resigned himself to his unspoken disenchantment — but his muted turn ends up being important once Hereditary grows more frenzied in its final reels.
A few plot points will be familiar to horror aficionados, and the movie's protracted finale lacks the calm, cold efficiency of what comes before. But those reservations don't meaningfully detract from Aster's assured suspense filmmaking, which cares deeply about these complex people who made a mess of their lives long before their matriarch's death. Something wicked is coming, but Hereditary forcefully argues that the horror has been festering for quite some time.
Production companies: PalmStar Media, Pulse Films
Worldwide distribution: A24, www.a24films.com
Producers: Kevin Frakes, Lars Knudsen, Buddy Patrick
Executive producers: Ryan Kreston, Jonathan Gardner
Cinematography: Pawel Pogorzelski
Production design: Grace Yun
Editor: Jennifer Lame, Lucian Johnston
Music: Colin Stetson
Website: www.a24films.com/films/hereditary
Main cast: Toni Collette, Alex Wolff, Milly Shapiro, Ann Dowd, Gabriel Byrne