A group of friends in rural Argentina plot their revenge against the lawyer who stole their life savings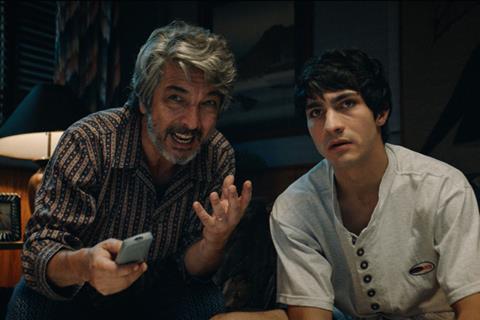 Dir/scr. Sebastian Borensztein. Argentina-Spain. 2019. 117mins
Fleeced of their savings and stripped of their dreams, a group of small-town underdogs retaliates in tried-and-tested fashion in Heroic Losers; by not only reclaiming what's theirs, but taking from the greedy and giving back to the needy. Adapted from his 2016 novel by The Secret in Their Eyes author Eduardo Sacheri, and reuniting director Sebastian Borensztein with his Chinese Take-Out and Kóblic lead Ricardo Darín, this affable affair spins a heist caper during the Argentine depression at the turn of this century.
In transforming bleak reality into an uplifting fantasy, this remains a thoroughly likeable movie
Playing Toronto fresh from doing big business on home soil, then screening at San Sebastián, the crowd-pleaser should continue its global tour — although formulaic, it's suitably empathetic and entertaining.
Indeed, while tied to a specific place and a distinctive chapter in Argentine history, Heroic Losers' always timely, universally relatable tale goes a considerable way. Pitting ordinary folks against the rich, powerful and unscrupulous has long given Robin Hood-style stories an appealing glow, as has exploring the economic disparity and potential for corruption inherent in such class clashes. Sacheri and Borensztein's script heartily capitalises on both.
As charismatic as ever — albeit in a much quieter mode than in fellow con-job movie Nine Queens — Darín plays Fermín, an ex-soccer star who still holds local sway. With his wife Lidia (Verónica Llinás), he wants to revitalise his quiet region outside of Buenos Aires, all by turning unused grain silos into a storage facility. Convincing his friends and neighbours to pool their funds is relatively easy. Barely scraping by, tyre store owner Fontana (Luis Brandoni) is willing to take a chance, while businesswoman Carmen (Rita Cortese) is happy to do what's best for the community, and to volunteer her son Hernán's (Marco Antonio Caponi) assistance.
A motley crew of others soon follows their lead, but just as the aspiring co-op amasses enough cash to secure a loan, all Argentine banks are frozen. The government decree arrives a day after the local manager strong-arms Fermín into placing their money in an account, rather than a safe deposit box. From here, Heroic Losers relies upon more than a few strokes of convenience, including a tragedy designed to thrust the group on a quest for justice — and the fact that, before the lockdown, their funds were withdrawn by lawyer Manzi (Andrés Parra). Discovering that the scamming attorney has stashed the loot in a heavily alarmed underground vault, Fermín masterminds a new plan, assisted by his college-aged son (Darín's own offspring, Chino) and the rest of the gang.
Heroic Losers isn't heavy on surprises; not in its comfortable rhythms, warm-hued look at rural Argentine struggles, overt fist-pumping moments or reliable performances. Borensztein's feature also starts slowly, pads out its narrative and doesn't quite know when to end. And yet, in transforming bleak reality into an uplifting fantasy, this remains a thoroughly likeable movie. It's pure cathartic escapism but, when the central heist clicks into gear, the film cracks its way into rousing territory.
That said, belonging to such a highly populated genre casts a long shadow. While reminiscent of Ocean's 11 and Going in Style (both the originals and their remakes), no single movie proves as influential as How to Steal a Million. Borensztein weaves in clips of the 1966 Audrey Hepburn and Peter O'Toole crime comedy, with the classic even inspiring some of Fermín's tactics. Pilfering — or nodding and reshaping, at least — goes with the terrain, and may yet fuel more heist fare to come. Indeed, and as happened with the Darín-starring Secret, Heroic Losers will likely spark a swift English-language remake.
Production companies: K&S Films, Mod, Kenya Films
International sales: Film Factory, v.canales@filmfactory.es
Producers: Hugo Sigman, Ricardo Darín, Matias Mosteirin, Chino Darín, Federico Posternak, Leticia Cristi, Fernando Bovaira, Simón de Santiago
Screenwriters: Sebastian Borensztein, Eduardo Sacheri
Cinematography: Rodrigo Pulpeiro
Editing: Alejandro Carrillo Penovi
Production design: Daniel Gimelberg
Music: Federico Jusid
Cast: Ricardo Darín, Luis Brandoni, Chino Darín, Verónica Llinás, Daniel Aráoz, Carlos Belloso, Rita Cortese, Andrés Parra