Victoria Fiore's debut feature about a boy on the edge of delinquency captures the wild nature of his childhood in Naples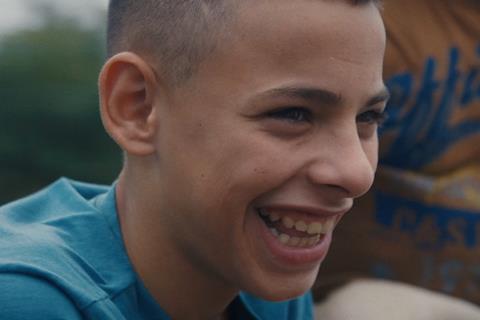 Dir: Victoria Fiore. UK/Italy. 2021. 85 mins
Naples is a city with its own fervid mythology. It is a mythology which is stoked by media portrayals of it as a citadel of organised crime, but which is, ultimately, like the neighbourhood which provides the backdrop to this stunning film, self-contained and self-fulfilling. Shot over the course of four years with exceptional access, Hide And Seek (Nascondino) follows three generations of the same Neapolitan family but focuses on Entoni, a child on the cusp of adolescence. Already semi-feral, he has slipped from the grasp of his distracted mother and is, according to his grandmother, former crime boss Dora, a constant worry. The Italian justice system agrees. In response to epidemic levels of youth crime, a policy has been introduced which allows courts to remove at-risk children from families with links to organised crime. This remarkable feature documentary debut from Victoria Fiore captures both the wild freedom of the city playground for kids like Entoni, and the looming inevitability of his future.
What could have been a bleak piece of poverty porn neatly side steps that fate thanks to the pulsing electronic score and the exhilarating energy of the camerawork.
The film, which premiered at the London Film Festival last year, evolved from Fiore's 2017 short film, Fire Games of Naples. An accomplished and involving picture, it is notable for the vivid, immersive photography and the degree of intimacy which we are afforded with characters in a world which tends to be sealed off from outside viewers. Further festival screenings seem likely, and this is a film which could prove to be an attractive proposition to documentary specialist distributors.
Key to its appeal is the film's firecracker of a central character. A diminutive ten or eleven years old at the start of the film, Entoni has an impish child's face, but the razored hair and reckless braggadocio of a much older teenager. In the absence of male role models, he is shaping himself into his idea of a man. Dora, closeted away from the world with her fortune-telling angel cards and her cigarettes, can see the future for her grandson, and it scares her. There is an inevitability in the way that Entoni's mischief and energy is framed as delinquency; her legacy for her children and grandchildren is a stamp of suspicion tied to her own shady past (she is dramatically evasive about details) which marks them out as trouble.
But in fairness, Entoni is a child whose quest for thrills and disregard for rules means that he sails closer to the wind than most. One notorious incident, which, like several key moments, is poetically recreated in the film, results in a car catching fire. Entoni and his best friend Dylan are complicit in the crime, but only Entoni is pursued by the courts which decide that he should be placed in a children's home.
There is something of a slow motion car crash scenario in watching this appealing, mischievous child funnelled off into the preordained destiny which seems to await most of the men in his neighbourhood: Naples' "Spanish Quarter", with its faded Maradona mural and its ritual bonfires which lick the sides of the tenements. But what could have been a bleak piece of poverty porn neatly side steps that fate thanks to the pulsing electronic score and the exhilarating energy of the camerawork. And it is this last, marking out cinematographer Alfredo De Juan as a considerable talent, which really sets the film apart. With shots of feisty little dogs chasing kids piled onto Vespas; chubby children perfecting the postures borrowed from grown ups; dresses wafting like ghosts on washing lines slung across the streets, the film brings the city to life in all its messy, unpredictable, earthy glory.
Production Companies: Bronx Film, Freya Films, My Accomplice
International Sales: Syndicado, aleksandar@syndicado.com
Producers: Aleksandra Bilic, Jennifer Cocoran
Cinematography: Alfredo De Juan
Editing: Adelina Bichis
Music: CJ Mirra