Claire Denis sends Robert Pattinson into space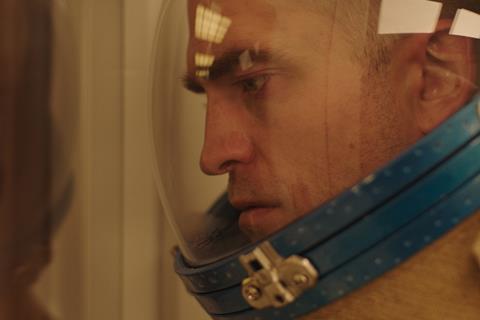 Dir Claire Denis. Germany/France/US/UK/Poland. 2018. 110 mins
Claire Denis's first foray into science-fiction is, inevitably, more Solaris than Star Wars. High Life offers an uncompromising mind-bender of a deep space journey through destructive desire, faith, trust and the instincts for good and bad that make us merely human. Denis loyalists will be left with much to ponder but baffled audiences may struggle to connect with its fractured time frame and bizarre moments of brutal violence and sexual abandon.
High Life is a film that slowly reveals its secrets
High Life may also be Denis' first English-language feature, but even with Robert Pattinson heading the cast it seems highly unlikely to mark any form of commercial breakthrough.
The beginning has intimations of a brave new world as a fine, misty spray tumbles down on a bountiful garden of Eden. We are on board a spaceship where Monte (Robert Pattinson) is the last man standing on a lengthy mission. He is also the ultimate single parent with the sole responsibility for a young baby who needs to be fed, changed, nurtured and encouraged.
Some of the most gentle, accessible scenes in the film are in the connection between Monte and the child; her trust in him and his sense of responsibility towards her. Innocence and purity can surely be sustained when a child is raised in this kind of vacuum. It is equally apparent that something has gone terribly wrong on this mission and the film unfolds with flashbacks and explanations to what has happened.
The space ship is on a mission to reach the nearest black hole to planet Earth and is populated by dangerous prisoners given a last chance of redemption. Dibs (Juliette Binoche), a witch-like medical figure with the steely authority of a Nurse Ratched, is dubbed "the shaman of semen". Her obsessive experimentation into reproduction places a crippling pressure on the men to produce sperm and the women to carry a child to full term in defiance of the lethal radiation levels.
High Life is a film that slowly reveals its secrets; from the back stories of those who were on board to the growing conflicts that ended in multiple deaths. It has some of the menacing surface allure of Under The Skin (2013) although Denis keeps her science-fiction very low-tech. The space craft looks like a cargo container and the dilapidated interiors resemble a rundown hotel or an overworked hospital.
There is a conventional enough story within High Life although Denis chops it up, dishes it out in random order and works hard to unsettle and disturb the viewer. There are some unforgettable images of the ecstasy Binoche's character experiences impaled on a dildo or milking the monk-like Monte for the semen he has been denying her.
Body fluids and animal instincts figure prominently throughout as individuals are driven to extreme acts by the claustrophobic settings and the knowledge that their lives have been reduced to this small space and these few human contacts.
Robert Pattinson is the dominant presence in the film, creating a sense of Monte as someone marked by his past actions but absolutely committed to following the path of redemption offered by his child. He is the most engaging human element in an intriguing, playfully provocative Denis piece that has us in search of a depth and meaning that simply may not be there.
Production companies Pandora Films, Alcatraz Films, Andrew Lauren Productions, The Apocalypse Films Company, Madants
International sales: Wild Bunch sales@wildbunch.eu
Producers: Claudia Steffen, Christoph Friedel, Laurence Clerc, Olivier Thery Lapiney, Andrew Lauren, Oliver Dungey, Klaudia Smieja
Screenplay: Claire Denis, Jean-Pol Fargeau, Geoff Cox
Production design: Francois-Renaud Labarthe
Editing: Guy Lecorne
Cinematography: Yorick Le Saux
Music: Stuart A Staples
Main cast: Robert Pattinson, Juliette Binoche, Andre Benjamin, Mia Goth