Spin-off may be fast but it's not impressively furious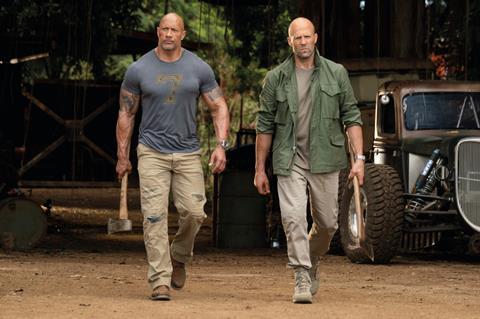 Dir: David Leitch. US. 2019. 137mins.
Two of the Fast & Furious supporting cast take centre stage in Hobbs & Shaw, a lumbering spinoff that lacks the series' over-the-top élan and ludicrously adrenalised set pieces. Dwayne Johnson and Jason Statham spend a lot of time tediously barking at one another while playing mismatched partners, and although director David Leitch (Atomic Blonde, Deadpool 2) has shown an ability to mix style, action and comedy, this by-the-numbers crime thriller flaunts numbing craftsmanship with very little underneath.
Statham, who showed a comic flair in Spy, is too stiff to really let loose, while Johnson's easy-going, cocky deadpan only goes so far
Opening across most of the globe by August 2, Hobbs & Shaw probably can't hope to match the totals of 2015's Furious 7 ($1.5 billion worldwide) or 2017's The Fate Of The Furious ($1.2 billion). But the stars' marquee value, combined with their connection to the Fast & Furious franchise, should yield significant grosses for what will presumably be this summer's last big blockbuster. Still, this spinoff very much feels like a holding action until Fast & Furious 9 arrives next May.
American special agent Hobbs (Johnson) and disgraced former British operative Shaw (Statham) are assigned to work the same case: finding a stolen super-virus that could wipe out the human population on Earth. The two men despise each other, but they realise they must work together to defeat Brixton Lorr (Idris Elba), a terrorist whose body has been enhanced by cybernetics, and protect Hattie (Vanessa Kirby), an MI6 agent who has acquired the virus — and who also happens to be Shaw's estranged sister.
Love them or hate them, the Fast & Furious films have established several indelible trademarks that have helped them carve out their own particular niche in the event-movie landscape. Curiously, Hobbs & Shaw displays nearly none of those trademarks, eschewing everything from the signature street races to the melodramatic storytelling style. In their place, the new film is more of an outright action-comedy, with Leitch trying to balance chuckles with fight scenes. As a result, Hobbs & Shaw is a playful, even cheeky instalment in this ride-or-die franchise — complete with A-list comedy cameos and a few left-field allusions to the stars' previous movies.
That tonal downshift could have been welcome. (After the operatic spectacle of recent Fast & Furious movies, how could Hobbs & Shaw compete?) The problem is that Leitch and cowriter Chris Morgan (who has worked on the franchise for more than a decade) jettison what makes these movies special and overestimates how funny it would be to have Hobbs and Shaw bicker constantly. Certainly the characters have a contentious history, but their macho posturing and belittling putdowns produce little comedic spark. Statham, who showed a comic flair in Spy, is too stiff to really let loose, while Johnson's easy-going, cocky deadpan only goes so far.
Ironically, it's other members of the ensemble who stand out. Brixton's plans for world domination are dull, but Elba imbues the character with a steely menace in keeping with a villain who is almost more machine than man. (At one point, Hobbs quips that they're battling the Terminator, and Elba exudes the right amount of relentless fury.) And especially good is Kirby, who is a whiz at the film's athletic hand-to-hand combat scenes. The Fast & Furious movies always possess a certain amount of eye-rolling histrionics, but Kirby finds just the right mix of sincerity and snark, understanding that these films are meant to be knowingly ridiculous. Still, her flirtatious scenes with Hobbs — whose growing attraction to Hattie is only accelerated by the fact that it angers Shaw — have juice to them that the rest of the movie lacks.
Leitch fails to orchestrate any action sequences with the bravura of his previous work. No amount of leaden choreography or pro forma CGI destruction can make familiar set pieces come to life — even the close-quarters fighting is humdrum. Nowhere in Hobbs & Shaw do the characters drive cars that fly from one skyscraper to the next — or engage in nervy chase sequences with airplanes or submarines — but as preposterous as those moments were in previous Fast & Furious instalments, they nonetheless threw down a gauntlet, brashly announcing that this franchise was unafraid to try anything. By comparison, Hobbs & Shaw feels downright lazy, even cynical, happy to recycle well-worn action clichés. For a movie whose characters constantly try to prove how macho they are, Hobbs & Shaw is rather gutless.
Production companies: Chris Morgan Productions, Seven Bucks
Worldwide distribution: Universal Pictures
Producers: Dwayne Johnson, Jason Statham, Chris Morgan, Hiram Garcia
Screenplay: Chris Morgan and Drew Pearce, story by Chris Morgan
Production design: David Scheunemann
Editing: Christopher Rouse
Cinematography: Jonathan Sela
Music: Tyler Bates
Main cast: Dwayne Johnson, Jason Statham, Idris Elba, Vanessa Kirby, Cliff Curtis, Helen Mirren