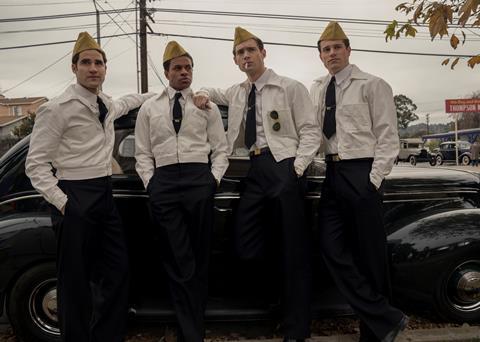 There are no hoorays for Ryan Murphy's Hollywood. The feted showrunner turns his campy eye on the film industry's Golden Age, and trips over a sexy premise to deliver a brazenly under-developed script which would never have gotten past the mailing room of the titans he namedrops. Bogged down in a treacly gloop of political correctness, the show loosely follows the making of a film called Peg as a way into a re-imagined, revisionist Hollywood where Jewish women, gay men and black stars hustle for their causes.
Golden Age of Hollywood aside, 'Hollywood' casts doubts on current claims that we're experiencing a Golden Age of Television.
The second series in the Glee/American Horror Story showrunner's lavish deal with Netflix, this 7x60-minute drama starts out as a sexed-up Kenneth Anger-ish look at studio shenanigans of the post-war Hays Code era complete with a period, soundstage-y aesthetic. A continuation, in a way, of Murphy's 2017 success with Feud, the story of Bette Davis and Joan Crawford. Here, hunky good-looking male wannabes offer a 'lubrication service' at a carwash run by failed actor Ernie (Dylan McDermott) for the likes of Avis (Patti Lupone), the sexually frustrated wife of the head of Ace Pictures, or reimagined versions of Cole Porter, Rock Hudson, etc.
'Golden Tip Gas' is a great idea: one suspects the series was commissioned from it. Handsome, dumb Missouri exile and decorated war veteran Jack Costello (David Corenswet) ends up here when his attempts to land a job as an extra fail and his Schwabs waitress wife announces she's pregnant – with twins. Jack is straight, so when Ernie asks him to service a man, he hires a cop costume, goes to a gay porno theatre and "arrests" a black hustler named Archie (Jeremy Pope) to offer him the job.
This is probably the first clear sign that Hollywood is faltering after an admittedly intriguing start. Up until now, it seemed a little thin, perhaps, but pacey and full of promise nonetheless, with its heady mix of real-life and fictional Hollywood players. But why sacrifice the character development which is almost overpowering in its absence for an extended sequence of a man renting a costume, dressing in that costume, going to a theatre, etc, when he could have just asked? Is this a gag? However, Hollywood and plot contrivances turn out to run hand-in-hand. Lo and behold, Archie is also a screenwriter, of the aforementioned Peg. One of his clients is the man who will become Rock Hudson (Jake Picking): he'll go up for a part in it. As will Jack.
Separately, the half-Filipino first-time director Raymond Ainsley (Glee's Darren Criss), who lives with a black Ace Studios starlet called Camille (Laura Harrier), wants to rehabilitate a boozy Anna Mae Wong (Michelle Crusiec) because…they're both Asian. But Ace Studios wants him to make Archie's script for Peg instead. (Not helping anyone's cause is the fact that Peg itself turns out to be the most spectacularly dull black-and-white film never made. And we're about to see a lot of it.)
It's not just a happy finish at the Golden Tip Gas: Murphy and partner Ian Brennan are so set on happy endings for everyone in this show, including Hollywood itself, that they'll stop at nothing to get there - anti-miscegenation and sodomy laws don't exist, inconvenient characters are casually bumped off to a score that makes the average telenovela seem subtle.
Somewhere between Anger's 'Hollywood Babylon' and David Niven's 'Bring On The Empty Horses', the world knows about Vivien Leigh's schizophrenia, Tallulah Bankhead's relationship with Hattie McDaniel, while Rock Hudson, sadly, is a fairly soft target, let alone the predatory ways of his agent Henry Wilson. George Cukor held Sunday afternoon parties for the men locked in Hollywood's golden closet, this much we know, and Murphy and his team bring them to life with a nude glow. The show's sparse highlights include Lupone, good in everything she does, and, at a stretch, Rob Reiner's extended cameo as studio head Ace Amberg, although it's hardly his finest hour. The question remains, though: why watch Hollywood when Martin Scorsese's 2004 The Aviator exists, complete with real film stars like Leonardo DiCaprio and sets by Dante Ferretti? Or, for a 1960s version, last year's Once Upon A Time In….? And while it's unlikely to appeal to as wide a crowd as Netflix, 2018's Sonie Henje biopic Sonja: The White Swan, captures late 1940s Hollywood perfectly, on a much more limited budget.
Hollywood manages to be simultaneously more cynical and lazy than anything Tinseltown turned out during that age. It was a time marked, certainly, by Hays Code hypocrisy and the danger that came with it, but also by a naivety which Murphy just can't capture, or didn't have the time to try. Even the one-liners are limp. "Suck my cock!" exclaims Henry Wilson (Jim Parsons) to the young Rock Hudson. "You won't be homosexual when I'm through with you!".
Golden Age of Hollywood aside, Hollywood casts doubts on current claims that we're even experiencing a Golden Age of Television.
Production companies: Prospect Films, Ryan Murphy Television for Netflix
Creators: Ryan Murphy, Ian Brennan
Executive producers: Ryan Murphy, Ian Brennan. Alexis Martin Woodall, Janet Mock, Eric Kovtun, Ned Martell, Darren Criss, Jim Parsons, David Corenswet
Main cast: David Corenswet, Darren Criss, Patti Lupone, Laura Harrier, Joe Mantello, Dylan McDermott, Jeremy Pope, Jim Parsons, Michelle Krusiek