Dir. Will Allen. US. 2015. 100 mins.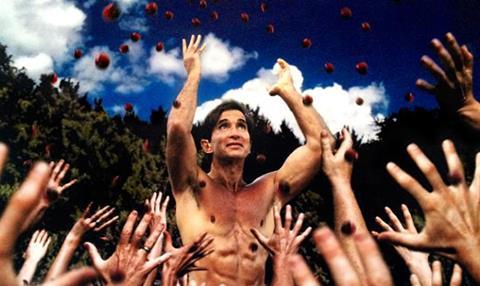 In Holy Hell, credulity and servility make a toxic cocktail when shaken by a charlatan. Even by cult documentary standards, this one finds absurd depths in the peddling of enlightenment.
There's dramatic remake potential for Holy Hell
This personal doc, which is culled from 22 years of footage, has a gauzy look that's all its own – part Richard Simmons workout tape, part goofy New Age motivational session, with huge doses of unintentional humour. Holy Hell is also a revenge doc, as it distils the decades taken from some 150 followers of a self-styled spiritual "master" in Hollywood who called himself Andreas and called his domain Buddahfield. With the right attention from critics, this jaw-dropper could find a strong berth on VOD and on the edgy pole of the cable spectrum.
Directed and filmed by Will Allen, a trained cinematographer, Holy Hell is nothing like home movie footage. The doc will still test the audience's appetite for stories of cult exploitation. Given the oddness of the sect's leader, there's dramatic remake potential for Holy Hell. Too bad the clever satirist Paul Bartel is no longer with us.
Allen spent more than twenty years in the cult, and functioned as its in-house filmmaker. This gave him access to Andreas, a Venezuelan whose real name was Jaime Gomez.
Andrea preached self-fulfilment, and urged his followers not to have sex with each other, or with anyone else. Yet he also asked the men in the cult to talk of their attraction to other men. He forced himself on many of them for years and the director admits that he was one of those victims.
Over that time, as Allen's footage attests, Andreas was mostly preoccupied with himself and his appearance, walking around imperiously in a Speedo swimsuit. For him, self-improvement also meant undergoing extensive plastic surgery on his face. One Buddahfield member recalls that Andreas's false eyelashes would sometimes fall on one of his cheeks. A sceptic puts it simply: "false eyelashes, false guru."
Allen's raw footage from which Holy Hell was distilled – about 35 hours – represents a fraction of what he filmed while accompanying Andreas wherever the "master" went.
Kiss and tell understates the relationship, which makes Holy Hell quite a different doc than Going Clear: Scientology and the Prison of Belief, by Alex Gibney, who observed that organisation from the outside or from documents and videotapes that he was able to obtain. Both films rely on extensive interviews with people who have become known as cult "survivors".
Through Allen's lens, we see Andreas, in his Speedo or thong, treated worshipfully by male and female followers. Physical beauty was a constant concern. Almost all the cult members were attractive and lean. Clips from Allen's internal films look like cosmetics commercials. Over time, make-up and plastic surgery can't keep up with the age that shows on Andreas's face. Belief and mistreatment persisted nonetheless.
Interviews with abused cult members, mostly handsome men, can be repetitive, as you wonder why so many stayed for so long. With his camera, Allen has reconstituted the long stupor from which he and others awakened. (Some are still with Andreas, who relocated.) If the heartfelt testimonies are any indication, it's been a wrenching hangover.
Production companies: WRA Productions, Very Special Projects, Whitewater Films
Producers: Will Allen, Tracey Harnish, Alexandra Johnes
Executive Producers: Cheryl Sanders, Michael C. Donaldson, Julian Goldstein
International sales: The Film Sales Company,
andrew.herwitz@filmsalescorp.com
Cinematography: Polly Morgan, Will Allen
Editors: Will Allen, Sean Jarrett
Music: Giles Lamb