A deeply personal film from actor and writer Shia LaBoeuf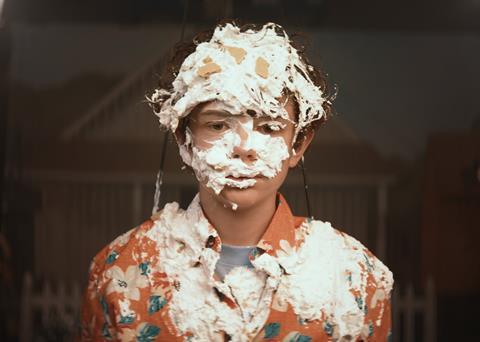 Dir: Alma Har'el. US. 2019. 93mins
Sensitively made and infused with pain, Honey Boy is an emotional exorcism that can't overcome the limitations of its autobiographical construction. Shia LaBeouf wrote and stars in this portrait of addiction and bad fathers, drawing from his own life to chronicle how an impressionable child actor turns into a troubled young man. Making her feature debut, documentary filmmaker Alma Har'el conjures up a dreamy meditation on damaged men, and there's an undeniable fascination in watching LaBeouf wrestle with such personal subject matter in such a public way. But despite committed performances from LaBeouf, Lucas Hedges and Noah Jupe, Honey Boy ends up feeling indulgent rather than searing, settling into its anguish rather than translating it into trenchant drama.
LaBeouf is working through traumatic memories in these uncomfortably raw moments, but neither he nor Har'el can shape these spasms of agony into a compelling narrative
Honey Boy premieres at Sundance, an ideal launching pad for this nakedly self-examination. Indie star power courtesy of LaBeouf and Hedges should attract attention, and the opportunity for audiences to get a glimpse inside LaBeouf's difficult upbringing could also prove to be a commercial hook.
The film jumps between two time periods. In 1995, 12-year-old Otis (Jupe) is trying to establish an acting career under the watchful eye of his deadbeat, addict father James (LaBeouf). And in 2005, the older Otis (Hedges) is an established performer who's in rehab for the umpteenth time, trying to come to terms with his alcoholism as well as his father's toxic influence on him.
LaBeouf has said that Honey Boy is loosely based on his relationship with his own estranged father, an assertion reinforced by the childhood photos which appear during the end credits. (Also, "Honey Boy," which is what James calls Otis, is the nickname LaBeouf had as a child.)
That knowledge informs Honey Boy's pointed torment as we watch three characters — two of them the same person, but at different ages — confront their demons. Intriguingly, the most developed is James, and LaBeouf plays this deeply flawed man with a mixture of desperation and sadness. The actor doesn't shy away from making this demanding, vindictive, wholly pathetic father unlikable, but compassion also sneaks into the performance. It's as if LaBeouf is both condemning his dad and trying to understand him, inviting us to share in his big-screen therapy session.
Har'el (Bombay Beach) gives the story a grounded realism that allows Honey Boy's surrealist interludes to stand out in sharper relief. (The older Otis has dreams where he returns to his childhood home, while the younger Otis takes motorcycle rides with his dad that feel like fleeting, happy reprieves from their usually contentious relationship.) She unsparingly — and excessively — forces us to sit with these broken people, observing as they scream, fight and violently unravel.
Despite Honey Boy's heartfelt tone, conventionality and self-pity masquerading as hard-fought wisdom prove to be this film's undoing. LaBeouf's screenplay may be littered with personal touchstones — like his own father, James is a former rodeo clown and military veteran — but as a film, it calls to mind other autobiographical tales about addiction, recovery and ugly father-son relationships, echoing similar tropes and overindulging its characters. Too often, Honey Boy presents us with scenes of James' bad behaviour — his quick temper, his craven attempts to live vicariously through his son's burgeoning acting career as a way of compensating for his own failures — that are repetitive and unenlightening.
Undoubtedly, LaBeouf is working through traumatic memories in these uncomfortably raw moments, but neither he nor Har'el can quite shape these spasms of agony into a compelling narrative.
In an underwritten role, Hedges again demonstrates his ability to play intense, searching souls — although, after Ben Is Back and Manchester By The Sea, his work in Honey Boy feels familiar. Jupe (who appeared in last year's A Quiet Place) is given more screen time and makes the most of it, presenting us with a young Otis who's initially afraid of his father but slowly learns to stand up to his bullying expectations.
Fans of LaBeouf, an ambitious artist who often does his best work when plumbing the depths of prickly characters (as in Andrea Arnold's American Honey), may find a seductive allure, promising a rare opportunity to witness the inner strife that has motivated and shaped a volatile public figure. But for all the regret, anger, acceptance and sorrow that flow freely through this film, there's little catharsis or insight.
Production companies: Automatik, Delirio Films
International sales:CAA Film Finance and Sales Group - filmsales@caa.com/Endeavor Content – Mark Anker, mankner@endeavorcontent.com
Producers: Brian Kavanaugh-Jones, Daniela Taplin Lundberg, Anita Gou, Christopher Leggett, Alma Har'el
Screenplay: Shia LaBeouf
Production design: JC Molina
Editing: Mónica Salazar, Dominic Laperriere
Cinematography: Natasha Braier
Music: Alex Somers
Main cast: Shia LaBeouf, Lucas Hedges, Noah Jupe, Natasha Lyonne, Martin Starr, Laura San Giacomo, FKA Twigs