Stirring coming-of-age drama parallels a woman's sexual awakening with Algeria's political adolescence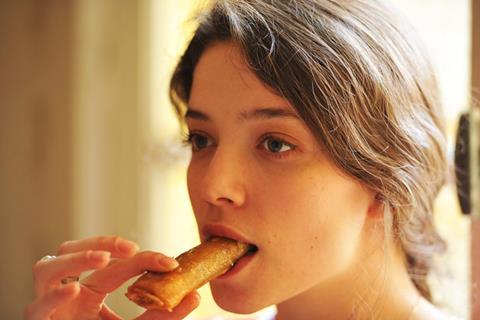 Dir/scr. Kamir Aïnouz. France/Algeria. 2020. 100 mins.
No one could accuse Kamir Aïnouz of being coy with her semi-autobiographical debut feature, a stirring coming-of-age drama that draws parallels between a 17-year-old French-Algerian woman's sexual awakening circa 1993 and the complicated political adolescence of her homeland at the time. From the moment that Honey Cigar's opening titles fill the screen with pulsating yonic animation, as rendered in soft pinks and accompanied by breathy and melodic sounds intimating female desire, this is a film with a wonderfully personal and frank perspective. Its protagonist, Selma (Zoé Adjani), may fight for control of her body and life, but this Venice Days competition opener itself is confident and compelling from the outset.
In her second lead role, Adjani (niece of Isabelle) puts in a captivating breakthrough performance.
Honey Cigar should earn a continued audience; films about the female teenage experience are no longer rare, but Aïnouz's addition to the genre proves not only astute and thoughtful, but also engaging. In the headstrong Selma, viewers may see shades of Lady Bird. In the plight of a young woman seeking liberation, Mustang might also spring to mind. It is to Aïnouz's credit, though, that Honey Cigar always feels 100-percent her own.
The sister of Brazilian-Algerian filmmaker Karim, Aïnouz is clearly drawn to teenage girls finding their way in the world, having co-scripted the 2012 American remake of LOL. (Honey Cigar counts the Dardenne brothers amongst its executive producers.) Here, the writer/director swaps texting theatrics for a period before social media, and for Selma's realisation that becoming a woman in her Berber family is hardly straightforward.
As witnessed in an easygoing chat en route to their well-appointed Neuilly apartment after Selma's interview at a Parisian business school, the teen gets along well with her father (Lyes Salem), a lawyer who still travels to and from the increasingly volatile Algiers to see clients. Yet she borders on dismissive with her gynaecologist mother (Amira Casar), who stopped working to raise her. When Selma falls for her new classmate, Julien (Louis Peres), just as her parents start discussing her marriage prospects, the family dynamic shifts. Her dad polices her comings and goings, and the reason for her mum's recurrent anxieties becomes evident. In trying to seize her own path — with Julien, and with the young investment banker, Luka (Idir Chender), her parents favour — Selma is determined yet also vulnerable.
In her second lead role after 2015's Cerise, Adjani (niece of Isabelle) puts in a captivating breakthrough performance. She benefits from Aïnouz's introspective script, cinematographer Jeanne Lapoirie's (120 BPM (Beats Per Minute)) lingering close-ups, and an authentic rapport with both Salem and Casa; however she also perfectly conveys her character's evolution. That's especially true in thorny intimate moments, including Selma's bold way of handling the virginity Julien teases about and her father frets over, and in a tense and tough incident that strips away her agency.
Firmly seeing the world through Selma's eyes, Honey Cigar initially seems blunt in its efforts to also address Algerian politics, but that feeling is short-lived. When its protagonist is continually told she does not look Algerian at her new school, it is purposefully overt — but how her background colours every aspect of her life, and her sense of femininity, soon becomes as seamless as the radio snippets detailing news on the ground that provide a constant soundtrack in the family's flat. And, when the film's sun-dappled third act travels to Kabylia, Aïnouz builds Honey Cigar into a particularly resonant multi-generational snapshot of women finding their own power in the face of oppression.
Production company: Eliph Productions, Willow Films
International sales: Best Friend Forever, sales@bffsales.eu
Producers: Christine Rouxel, Marie-Castille Mention-Schaar
Production design: Angelo Zamparutti
Editing: Albertine Lastera
Cinematography: Jeanne Lapoirie
Music: Julie Roué
Main cast: Zoé Adjani, Amira Casar, Lyes Salem, Louis Peres, Idir Chender