Neil LaBute explores the horrors of modern hook-ups in his gothic thriller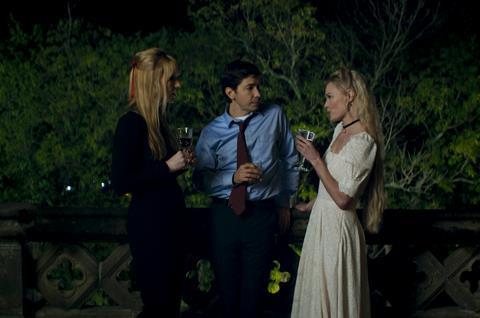 Dir/scr: Neil LaBute. US. 2022. 83mins
Playwright, screenwriter and director Neil LaBute has long been interested in the interplay between the sexes and, in particular, how men become shapeshifters in the company of women. For House Of Darkness, his first feature since 2015's Dirty Weekend, LaBute returns to the familiar territory of Your Friends & Neighbours, The Shape Of Things et al, here dabbling in genre and #MeToo sensibilities to present an updated version of a classic narrative. While it's lacking in subtlety, and perhaps not quite as forward-thinking as it might hope to be, its exploration of modern morality and well-executed horror elements make for a watchable chamber piece.
Production design and cinematography lean into the old dark house aesthetic with candlelight casting both a warming glow and yawning shadows
Making its international premiere at Fantasia after a low-key bow at Santa Barbara film festival, House Of Darkness may be too talky for die-hard genre fans — although it certainly has its squishy moments — but the names of LaBute and cast members Justin Long and Kate Bosworth should attract attention. It releases in select US cinemas on September 9 with a move to on-demand on September 13, where it should entice a healthy audience.
The casting of Long and Bosworth brings immediate audience preconceptions; Long is generally the affable everyman, even in genre films like Jeepers Creepers and Drag Me To Hell, while Bosworth is typically the laidback love interest in the likes of Blue Crush and Superman Returns. (Although she did, of course, take the lead in Rod Lurie's 2011 remake of Straw Dogs). Neither plays to type here, even if Long's character Hap goes out of his way to try to convince Mina (Bosworth) that he's a nice guy. He's given her a lift home from the bar where they met through simple chivalry, he says, yet doesn't hesitate when he's invited inside her isolated gothic abode.
The first half of the film sees Hap and Mina getting to know each other in front of a roaring fire in her opulent home; this languorous set-up concerns itself with establishing, and slyly manipulating, the power dynamic between the two. While the two have an easy rapport — although we're 30 minutes into the film before they exchange names — meticulously-crafted (and occasionally stagey) dialogue is designed not so much as to establish their connection, but to poke at established and evolving protocols of this one-night-stand scenario.
While Hap likes to think he presents himself as courteous and gentlemanly, there are hints that suggest his true feelings; he says he's not married "yet", makes a salacious phone call to a friend when Mina is out of the room, alludes to the difficulties of navigating a new culture of sexual consent. Mina, for her part, remains enigmatic, slowly drawing darker truths from Hap's lips. "Be honest" is her refrain. But is she practicing what she preaches?
As the night wears on in real time and the atmosphere grows heavier, production design and cinematography lean into the old dark house aesthetic, with candlelight casting both a warming glow and yawning shadows. Hap remains too transfixed by Mina to pay much attention to things like the shapes he sees in doorways, the strange noises from other rooms. In fact, the abrupt arrival of Mina's equally-mesmerising sister Lucy (Gia Crovatin) and, much later, of third sister Nora (Lucy Walters) — both in neat jump scares — make the horny Hap think in terms of opportunity, rather than concern. LaBute seems to be asking the audience to imagine how Mina would be feeling if it was she who had been coaxed into a strange house and effectively ambushed by two strangers but, right up until the end, Hap remains absolutely convinced of his dominance in the situation.
LaBute is deliberately upending the traditional predator-prey narrative, offering an opposing view to his ferocious debut In The Company of Men, in which two businessmen make it their mission to tear down a vulnerable woman. Yet this particular narrative has been handled with rather more clout in films like The Nightingale and Promising Young Woman and, despite some impassioned late-stage exposition from Lucie, there's never a real sense that Hap deserves the treatment he receives; he is simply a cipher for the worst of his sex. Nevertheless, it's always welcome to see filmmakers presenting a challenge to the patriarchal status quo, even if toxic femininity proves just as damning here as its masculine counterpart.
Production companies: Saban Films, SSS Entertainment
International sales: The Syndicate info@thesyndicatefilms.com
Producers: Daryl Freimark, Tim Harms, Neil LaBute, Shaun Sanghani
Editing: Bridget Durnford
Cinematography: Daniel Katz
Production design: Mitchell Crisp
Music: Adam Borsage
Main cast: Justin Long, Kate Bosworth, Gia Crovatin, Lucy Walters