Writer-director Helena Wittmann returns with an elliptical study of a yachting trip around the Mediterranean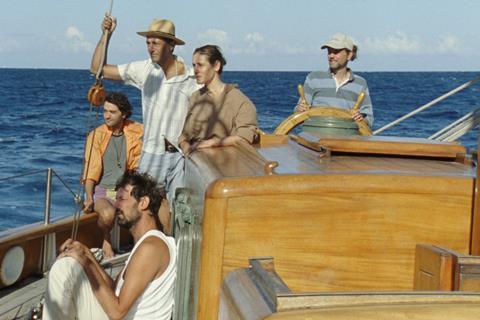 Dir/scr: Helena Wittmann. Germany/France. 2022. 106 mins.
Five years after making a quiet but considerable festival splash with her debut Drift, a sea-fixated fiction feature with experimental touches, German multi-hyphenate Helena Wittmann navigates more expansive, ambitious — and hazardous — currents with her similarly challenging follow-up, Human Flowers Of Flesh. A poetic, elliptical and deliberately elusive affair, the German/French co-production follows a yacht and its half-dozen occupants (owner, passengers, crewman) around the Mediterranean and various coastal moorings.
A sluggishly paced series of discrete episodes, only occasionally enlivened by some fleeting visual or stylistic flourish
Launching in the Golden Leopard competition at Locarno and tacking very closely — even slavishly — to recent modes of serious, slow cinema, it will certainly have no difficulty finding future festival berths. Audiences beyond that circuit's cinephile coterie, however, may find the experience torpidly unrewarding and a significant letdown after Drift's idiosyncratic promise. This a film which has all the superficial contours of a profound and intelligent enterprise, but little of the actual content.
Working from her own screenplay, Wittmann covers her back by prominently referencing two well-established creative antecedents of impeccable credentials: Marguerite Duras' 1952 novel The Sailor From Gibraltar and Claire Denis' 1999 picture Beau Travail. Filmed with a starry cast (Jeanne Moreau, Orson Welles, Vanessa Redgrave) to very mixed results by Tony Richardson in 1967, Duras' text concerns a mysterious, lovelorn woman who sails her boat around the Mediterranean (and beyond) in search of a long-lost amour.
Here the equivalent figure is Ida (Angeliki Papiliou): her name is belatedly divulged at the 71-minute mark, while the monikers of the other characters are revealed only in the end credits. Ida sails the Med with her multinational, multilingual crew, but matters of motivation or background are never mentioned (in both Duras' and Richardson's versions, the protagonist is a lady of opulent wealth).
These people apparently exist only in the present, without any need to work or visible means of support. First seen hiking on chalky cliffs in Corsica, they spend more time staring into space than engaging in conversation. Much of what little dialogue exists comprises literary allusions and quotations, including a direct extract from The Sailor From Gibraltar to doubly underline the Duras debt.
Bresson-style puppets rather than flesh-and-blood personages, Ida and her perpetually becalmed pals become (moderately) intrigued by glimpses of a French Foreign Legion fort and personnel on Corsica; the Legion will recur intermittently in the picture, culminating in a sojourn in North Africa where Ida impulsively follows a Legion veteran through the street to his apartment.
This middle-aged chap is played by Denis Lavant, and is identified in the closing credits as "Galoup" — thus establishing him as the same character who was a principal protagonist in Beau Travail. Hat-tipping to an established heavyweight of late-20th-century cinema is all very well, but stirring such prominent echoes unfortunately serves to emphasise the deficient and jejune aspects of Human Flowers Of Flesh. Doing so in the film's very last section is especially unfortunate, leaving the audience not with a strong impression of Wittmann's own work but with the sense of a filmmaker trying to piggyback on the venerated achievements of others.
Of course, many viewers may neither have read The Sailor From Gibraltar nor seen Richardson's (long out of circulation) film or Beau Travail. But even without some awareness of these predecessors, Human Flowers Of Flesh may seem like a sluggishly paced series of discrete episodes, only occasionally enlivened by some fleeting visual or stylistic flourish. But even these — a dozen or so parachutists (presumably legionnaires) dropping out of a plane and floating earthward like jellyfish; an interlude of aqueously blue-tinted 8mm — are no more than grace notes, coming and going in a frustratingly arbitrary style.
Some will doubtless thrill to a text with so many enigmatic caesuras and lacunas, leaving so much space to fill with musings and interpretations. A less-charitable perspective would be to conclude that Human Flowers Of Flesh is not so much a film as an archipelago of quasi-filmic elements. Working both as her own editor and cinematographer, Wittmann struggles to assemble promising fragments into a satisfactory whole: a textbook big-screen example of ambition far outrunning execution.
Production companies: Fuenferfilm, Tita Productions

International sales: Shellac, sales@shellacfilms.com
Producers: Frank Scheuffele, Karsten Krause, Julia Coellen

Cinematography: Helena Wittmann

Production design: Anna Ostby

Editing: Helena Wittmann
Main cast: Angeliki Papoulia, Ferhat Mouhali, Gustavo de Mattos Jahn, Ingo Martens, Mauro Soares, Vladimir Vulevic, Steffen Danek, Nina Villanova, Denis Lavant