Adam Sandler plays it effectively straight in this likeable basketball drama for Netflix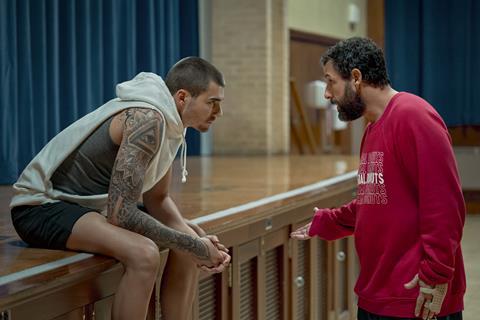 Dir: Jeremiah Zagar. US. 2022. 117 mins.
Adam Sandler is winning as a veteran NBA scout with something to prove in Hustle, an inspirational sports drama that follows a familiar playbook. Featuring several current and former basketball greats, this likeable film coasts on lowkey charm and smooth adherence to formula, the outcome never really in doubt. Nevertheless, Hustle lives up to its title by going all out — especially Sandler, who brings some heart to his predictable character, and director Jeremiah Zagar, who fights against the story's cliched elements.
Hustle seems to have picked the wrong protagonist to build its story around
The picture premieres on Netflix on June 8, right in the middle of the highly-anticipated NBA Finals. Indeed, both basketball fans and Sandler supporters will be intrigued by this project, which finds the funnyman doing a rare dramatic role — although nothing as nerve-shredding or accomplished as he achieved in 2019's Uncut Gems.
Sandler plays Stanley, a longtime scout for the Philadelphia 76ers who travels the globe looking for transcendent talent. Hoping to finally get off the road and take a job on the team's coaching staff, which will enable him to spend more time with his family, Stanley is devastated by the death of the 76ers' benevolent owner (Robert Duvall), who is replaced by his spoiled, vindictive son Vince (Ben Foster). Soon, Vince is telling Stanley he can only become a coach if he finds one more star player abroad. Stanley thinks he may have done just that after visiting a poor community in Spain, meeting the incredibly gifted Cruz (Juancho Hernangomez) and convincing him to fly to the US to pursue his hoop dreams.
Zagar (We The Animals) gives the material a little grittiness, which along with the star-studded NBA cameos — including Julius "Dr. J" Erving and Trae Young — lends authenticity to a story of an outsider trying to break into the league. The basketball sequences are often compellingly filmed, and Hernangomez (who plays for the Utah Jazz) certainly has the skills to convince as this phenomenal talent. He's a little less confident in Hustle's dramatic scenes, however, although he and Sandler (a lifelong basketball enthusiast) exude a sturdy mentee-mentor rapport. Besides living in poverty, his character has faced other hardships, which Hustle will slowly reveal, and while Hernangomez tries to give those moments the proper gravity, he doesn't quite have the chops to make the character three-dimensional.
That deficiency speaks to the film's larger problem, which is that it focuses so hard on Stanley's quest for redemption that the script, written by Taylor Materne and Will Fetters, doesn't show as much interest in Cruz. This young man must support his family while being so far from home, confronting a foreign culture he doesn't entirely understand, and yet Hustle is instead positioned as a tale of a middle-aged man striving to demonstrate to his doubters that he still has a place in the basketball world. Sandler is wonderfully weary in the role, illustrating Stanley's growing self-doubt as Vince consistently demeans him, but the picture seems to have picked the wrong protagonist to build its story around.
Still, the plot's comforting contours are handled with ease, with Stanley getting Cruz ready for the all-important NBA Draft Combine, a showcase for up-and-coming players where Cruz will hopefully garner interest from pro teams. What follows is a series of well-crafted montages of training sequences and high-wire gameplay, all scored by Dan Deacon, whose electronic instrumentals suggest an epic grandeur.
At times, Hustle tries to be a Moneyball-esque examination of the nuts and bolts of the business of basketball, but those attempts at a more realistic portrait of the sport are undercut by contrived twists meant to manipulate the audience's emotions. (Rest assured both Stanley and Cruz have de rigueur dark pasts that serve as handy personal motivation for the two men.) Clearly, Hustle wants to be both a feel-good saga and a serious look at a cutthroat industry, and Sandler does his best to bridge that gap, playing a man who has devoted his entire life to basketball, wondering if the game will ever love him back. Like his Uncut Gems character Howard, Stanley is a risk-taker, although nowhere near as devious or despicable. It's a reminder that the actor, still best known for broad comedy, can be touchingly understated on screen — even when the film takes its eye off the ball.
Production companies: Happy Madison Productions, Roth Kirschenbaum Films, SpringHill Company
Worldwide distribution: Netflix
Producers: LeBron James, Maverick Carter, Joe Roth, Jeffrey Kirschenbaum, Zack Roth, Adam Sandler, Allen Covert
Screenplay: Taylor Materne and Will Fetters
Production design: Perry Andelin Blake
Editing: Tom Costain, Brian Robinson, Keiko Deguchi
Cinematography: Zak Mulligan
Music: Dan Deacon
Main cast: Adam Sandler, Queen Latifah, Juancho Hernangomez, Ben Foster, Kenny Smith, Anthony Edwards, Robert Duvall