Jennifer Lopez and Constance Wu rule the stage in this flashy strip-club caper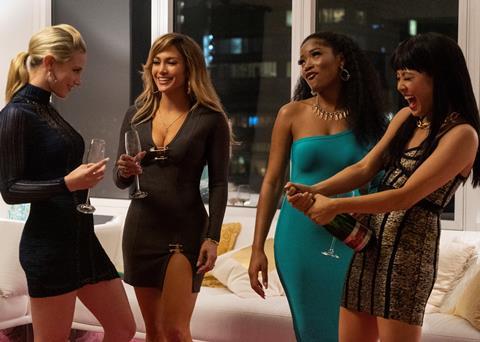 Dir: Lorene Scafaria. US. 2019. 109 mins.
Like the sequinned, simpering erotic dancers it spotlights, Hustlers is a lot smarter than it initially looks. Given a story about a gang of larcenous strippers, audiences might expect little more than dirty jokes and steamy sex. But this slyly feminist movie pushes empowerment, too; it's a film about being in control, not losing it. That makes it less of a giddily guilty pleasure than it could be, but aided by Jennifer Lopez' career-best performance as a duplicitous diva, its celebration of female force and friendship is likely to draw and delight fans – particularly if they've first fortified themselves with a few frozen margaritas.
This film's simple you-go-girl attitude avoids any moral judgements
Faithfully adapted by director Lorene Scafaria from a New York magazine article, it's the true-life tale of pole-dancing beauties whose incomes plumeted along with the 2008 stock market. So, without enough Wall Street clients willing to tuck dollars in their G-strings, these women decided to get proactive. Slip the men drugs. Slip out their credit cards. And then take these fools to the limit, racking up thousands in bogus charges and splitting the payouts with the clubs.
There's a good, Boiler Room-like of story here – outer-borough, working-class kids finding a way to slice themselves a piece of Manhattan's one-percent pie – although this film's simple you-go-girl attitude avoids any moral judgements. Still, it's hard not to be on these women's side, with the excellent female cast including Lopez, Constance Wu, Cardi B and Julia Stiles, as the poised, preppy reporter interviewing them (and occasionally raising a judgemental eyebrow – only to be quickly told off). Lopez, who also produced, is particularly fierce, owning the film the way her character owns that stripper pole, strutting into every scene and only leaving once you're begging her not to.
Scafaria's direction is equally confident. In an opening that's Martin Scorsese by way of Paul Thomas Anderson, she begins with a closeup of Wu's still innocent eyes – then follows her from a crowded dressing room through a backstage maze into a manic club full of pounding music, shouting customers and twerking dancers. Other, quickly cut scenes offer peeks into the lowlife world of high finance, and the crassly brand-name aspirations of the strip club's shopaholic stars, cut-rate Kardashians who never saw a crumpled dollar bill they didn't want to spend.
Although some of the actresses are underused – and no male character registers at all – Scafaria draws great performances from Wu and Lopez. Wu's tentative, vulnerable Destiny immediately girlcrushes hard on Lopez's imperial Ramona, but gradually that relationship grows, going from an unequal footing – with the deeply maternal Ramona mothering the younger woman – to a truly supportive union. The movie pulls back from making the leads' relationship explicitly sexual; Destiny and Ramona are strictly gay-for-pay here, flirting only to feed their customers' fantasies – but their warmth is real. And, in a way, that they aren't lovers – simply strong and extraordinary friends, who don't need men to find affection – may be the film's most daring accomplishment.
Still, Scafaria's script is missing some of the edges of her earlier films, smaller, risker movies like The Meddler and Seeking a Friend For The End Of The World. This picture feels a little too polished, a little safe, a little too worried about presenting an unlikable character, or even offending – a peculiar concern for a story about thieving dirty dancers. The dances, with most of the women in barely-there costumes, are less raunchy than most Las Vegas revues; even the action in the "VIP rooms," where it's decadence on demand, largely consists of Wu and Lopez pouting and posing. That an upscale "gentleman's club" would be neither upscale nor full of gentleman may not be a surprise, but that actual strippers do so little actual stripping certainly is.
But then, if this is what these men were willing to pay for, maybe the film is right. Maybe they did deserve to be taken.
Production companies: STXfilms, Gloria Sanchez Productions, Nuyorican Productions
International sales: STX Entertainment.
Producers: Jessica Elbaum, Will Ferrell, Elaine Goldsmith-Thomas, Jennifer Lopez, Adam McKay, Benny Medina
Screenplay: Lorene Scafaria, based on an article by Jessica Pressler
Production design: Jane Musky
Editing: Kayla Emter
Cinematography: Tod Banhazl
Main cast: Constance Wu, Jennifer Lopez, Julia Stiles