Dir/scr. Paul Gross. Canada, 2015, 120 mins.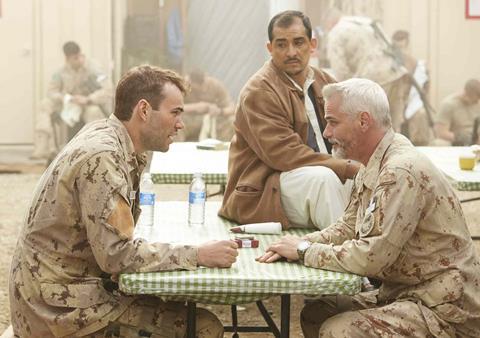 An earnest, emotional look at the continuing military quagmire that is Afghanistan, the Canadian drama Hyena Road has an agreeable modesty to it that almost makes up for what can sometimes be a very pedestrian treatment of contemporary warfare. Writer-director Paul Gross, who's also one of the film's stars, gives considerable care to his portrait of a few soldiers serving in a conflict with no end in sight, but too often the good intentions of the project are Hyena Road's chief asset, as the story hauls out predictable warzone narrative chestnuts with dispiriting frequency.
Hyena Road may be a bit underwhelming in its action set pieces and storytelling urgency, but its heart is certainly in the right place.
Premiering at the Toronto Film Festival, the movie will open across Canada on October 9. In other territories, Hyena Road's genre trappings will be its biggest draw considering that there aren't significant names among the cast. Sturdy battle scenes and character melodrama may help attract viewers, but because the film doesn't do anything significantly new for the war film, Hyena Road may end up as only a limited commercial performer worldwide.
Set in Kandahar Province, the film plunges us into the world of Pete Mitchell (Gross), a charming veteran intelligence officer, a hot-headed sniper named Ryan Sanders (Rossif Sutherland), and soldier Jennifer Bowman (Christine Horne), who must keep her romantic relationship with Ryan secret. Their lives intersect as Mitchell goes in search of a famed older Afghan leader known as The Ghost (Niamatullah Arghandabi), whom, Mitchell believes, could be instrumental in winning the trust of the locals as the coalition forces try to dismantle the Taliban uprising.
It's impossible for Hyena Road to avoid comparisons to recent Middle East war dramas, such as The Hurt Locker and American Sniper, which also balanced portraying the horrors of armed conflict with dramatising the lives of those in harm's way. Gross, who previously made the World War I film Passchendaele, badly missteps when he has his character offer overheated, world-weary voiceover narration describing Afghanistan's reputation as a land that's unconquerable — just ask Alexander the Great — but on the whole, Hyena Road avoids grand statements in order to stay an intimate character study.
That said, though, these characters don't benefit from close inspection. Across the board, Hyena Road features likeable, empathetic performances in service of war-movie types. Gross provides just the right mixture of warmth and hard-earned experience as Mitchell, but because the film intentionally de-emphasises the man's personality — he's neither a fire-and-brimstone leader nor a stoic, inspiringly virtuous hero — the character is reduced to being a bland good guy. Likewise, Sutherland and Horne have an easy rapport as the clandestine lovers, but there's no great dramatic spark here, either — even though Gross unveils one of the hoariest of romantic-drama clichés midway through Hyena Road in order to up the stakes for these two characters.
What is commendable about Hyena Road is that Gross approaches the material with a certain amount of respectful humility that doesn't tip over into banal proclamations about the nobility of soldiers' sacrifice. Though this may be yet another Afghanistan war film told from the perspective of the outsiders, Hyena Road steers clear of the xenophobia and insulting generalisations that sometimes riddle its American peers. Throughout, we are reminded of the complexity of these soldiers' mission, which often makes it hard to tell friend from foe, only underlining the insanity of the entire operation. Hyena Road may be a bit underwhelming in its action set pieces and storytelling urgency, but its heart is certainly in the right place.
Director: Paul Gross
Production companies: Elevation Pictures, WTFilms, Telefilm Canada, Manitoba Film & Music, Rhombus Media, Triple 7 Films, Buffalo Gal Pictures, Grand Technology Resources, Bron Creative
International sales: WTFilms, sales@w-t-films.com
Producers: Niv Fichman, Paul Gross
Screenplay: Paul Gross
Cinematography: Karim Hussain
Editor: David Wharnsby
Production design: Arv Greywal
Music: Asher Lenz, Stephen Skratt
Main cast: Rossif Sutherland, Paul Gross, Christine Horne, Nabil Elouahabi, Niamatullah Arghandabi, David Richmond-Peck, Karl Campbell, Allan Hawco, Clark Johnson