Dir. Billy O'Brien. Ireland, UK. 2016. 104 mins.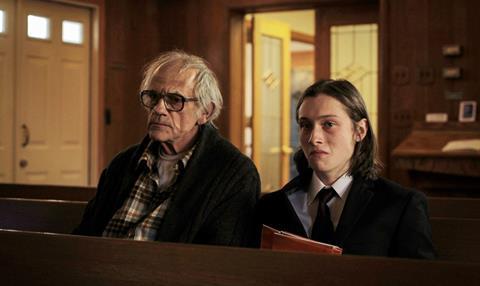 A sticky vein of macabre humour is a key selling point for this genre-blurring adaptation of the cult novel by Dan Wells. Not quite a thriller, nor a horror, but borrowing elements from both, I Am Not A Serial Killer is a wry tale of a sociopathic teenager whose obsession with serial killers kicks up a notch when a real-life mass murderer starts to stalk his neighbourhood.
There is plenty here to generate enthusiastic word of mouth, plus a terrific turn from Christopher Lloyd and numerous gruesome, lens-splattering embalming sequences
An Irish/British co-production which is set (and was mainly filmed) in the American heartlands, the film's lack of easy categorisation may present a marketing challenge. It's closer in tone to the willful oddness of Donnie Darko than to conventional serial killer flicks. However there is plenty here to generate enthusiastic word of mouth, for example some extravagantly grisly visual flourishes – there is a sight gag involving entrails oozing off a gurney in the very first scene – plus a terrific turn from Christopher Lloyd and numerous gruesome, lens-splattering embalming sequences. The atmospheric photography from Robbie Ryan should ensure that the film's appeal is not just limited to those with an appetite for gore.
At sixteen, John Cleaver (Max Records), has been diagnosed as a sociopath. He knows that he has the potential to kill, and to have absolutely no compunction about doing so. But he also knows that this is something he doesn't want to do. Helped by his gentle therapist Dr Neblin (Karl Geary), he has devised a set of rules. As long as he adheres to them, his fellow residents in the small town of Clayton are safe. But John is surrounded by more death than is strictly healthy for a boy of his niche inclinations. After school, he works alongside his mother (Laura Fraser) and his aunt at the family mortuary.
When the victims of a killer who has started to prowl the local streets arrive in the mortuary, John is like a kid in a candy store, albeit a kid whose school projects feature people like Jeffrey Dahmer and Dennis Rader. When he realises that the killer has purloined a kidney from one of his victims, John's expression is one of uncontained glee. He starts to investigate, and his unhealthy fascination with murderers means that he is better equipped than the blundering local police. Even so, when he stumbles onto the identity of the killer and realises that there is a supernatural element at play, John starts to realise that he is out of his depth.
Max Records (Where The Wild Things Are), who has something of the striking, high-cheekboned beauty of a young Keanu Reeves, manages to insert enough vulnerability to humanise his emotionally distant character. His unnerving response to a school bully is one of the film's most amusing moments. Baffled by attention from girls his own age, he is drawn to fellow outsiders – his frail elderly neighbour (Christopher Lloyd) and his wife; his computer nerd school friend.
There are some pacing issues – there are a few too many sequences featuring John stalking various neighbours. But the film looks terrific. Ryan shot on film; the wintry colour palette and the billowing clouds of steam from the monolithic Water and Light Department plant which looms over the community gives an otherworldly atmosphere to the unremarkable small town setting.
Production companies: Floodland Pictures, Fantastic Films, Level 5 Films, Liquid Noise Films, Tea Shop & Film Company, Winterland Pictures
International sales: Independent Film Sales nada@independentfilmcompany.com
Producers: Nick Ryan, James Harris, Mark Lane
Screenplay: Billy O'Brien, Chris Hyde
Cinematography: Robbie Ryan
Editor: Nick Emerson
Production design: Jennifer Klide
Main cast: Max Records, Christopher Lloyd, Laura Fraser, Karl Geary