Dir. Ernesto Contreras. Mexico/Netherlands, 2016, 100 mins.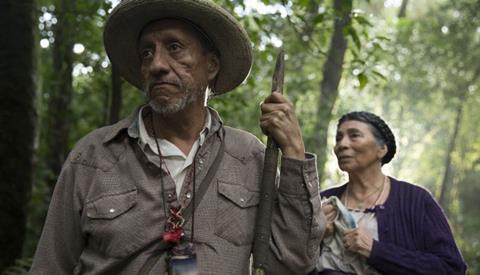 With his fourth feature I Dream In Another Language, Mexican filmmaker Ernesto Contreras attempts an ambitious feat: blending a tale as old as time with a rumination on the ravages that the passing years can inflict, both in cementing emotional scars and in disintegrating indigenous cultures. Thankfully, the resulting effort falls on the lyrical side of the predictable but poetic spectrum which that combination suggests. It's a mix which should send this slowly enthralling film towards the global festival circuit following its Sundance Film Festival premiere in the 2017 World Dramatic Competition.
Contreras turns this layered story into a quietly involving affair, particularly in its midsection.
Returning to Park City after 2007's Blue Eyelids with a project which received the Sundance Institute's Mahindra Global Filmmaking Award in 2011, Contreras directs a script written by his brother and frequent collaborator Carlos. In a remote village, newly arrived linguist Martín (Fernando Álvarez Rebeil) seeks the last surviving native speakers of Zikril, an ancient dialect rumoured to commune with humans and animals alike. The elderly Jacinta (Monica Miguel) and Isauro (José Manuel Poncelis) are his intended subjects; however, he soon learns of the existence of the cantankerous Evaristo (Eligio Meléndez), who hasn't spoken to Isauro for half a century.
While grounded in the modern day, I Dream's narrative not only toys with myth-like aspects, but also intertwines flashbacks which flesh out the ailing, antagonists' feud. As Martin's mission to analyse as many Mexican languages as possible becomes reliant upon Isauro and Evaristo's reconciliation, snippets of their past (where the youthful duo are played by Hoze Meléndez and Juan Pablo de Santiago) with Evaristo's eventual wife Maria (Nicolasa Ortíz Monasterio) reveal the extent of the complications that now put Zikril at risk. Language — this time English — also connects Martin with Evaristo's granddaughter Lluvia (Fátima Molina), who yearns to leave her rural existence for America.
A number of early scenes place significant emphasis on unravelling the mystery behind the central love triangle, one that doesn't remain a secret for long, though such heavy-handedness isn't emblematic of the entire feature. Although some major developments are entirely forseeable even as the film flirts with the fantastical and metaphorical, Contreras turns the layered story into a quietly involving affair, particularly in its midsection. Indeed, in an effort driven by memory, history and their role in shaping the future, I Dream In Another Language works hard to leave its own imprint.
Primarily, much of the movie's success stems from Contreras, his regular cinematographer Tonatiuh Martínez and the rest of the technical team's handling of its spiritual musings, with a beguiling mood as crucial as the underlying backstory. From the bird calls that flutter through the feature's acoustics, to the rays of light that couch pivotal moments in a warm glow, to the array of striking images of figures against equally engaging landscape, the film favours two approaches to bringing its sights and sounds to life — one naturalistic, patient and intricate; the other hazy, roving and lingering, as if snatched from a dream.
Together, both create an enigmatic atmosphere, though it is one specific stylistic choice that gifts I Dream In Another Language its most memorable sections. Choosing not to decipher the elusive, fading language of Zikril for the audience may place a considerable burden on veterans Poncelis and Meléndez, but the focus on physicality makes their interactions all the more compelling. In an feature that often resembles a mix of Icelandic effort Rams and Colombia's ethnographic-leaning Embrace of the Serpent thanks to narrative and visual commonalities, the personality expressed by the aging men in their eyes and posture alone offers exactly what the film's title promises: another language.
Production companies: Agencia SHA, Revolver Amsterdam, Alebrije Cine y Video
International sales: Agencia SHA, luisalbores@me.com / Revolver Amsterdam, welcome@revolver.nl
Producers: Mónica Lozano, Luis Albores, Érika Ávila, Eamon O'Farrill, Dijana Olcay-Hot, Raymond Van Der Kaaij
Executive Producers: Mónica Lozano
Screenplay: Carlos Contreras
Cinematographer: Tonatiuh Martínez
Editor: Jorge Macaya
Production designer: Bárbara Enríquez
Costume designer: Gabriela Fernández
Music: Andrés Sánchez
Cast: Fernando Álvarez Rebeil, Eligio Meléndez, Manuel Poncelis, Fátima Molina, Norma Angélica, Mardonio Carballo, Juan Pablo de Santiago, Hoze Meléndez, Nicolasa Ortiz Monasterio, Monica Miguel.