Amy Schumer stars as a woman whose belief that she is drop-dead gorgeous results in major life changes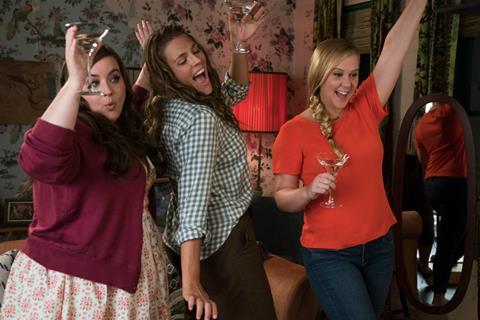 Dir/scrs: Abby Kohn & Marc Silverstein. US. 2018. 110mins
Like its appealing main character, I Feel Pretty is a smart, funny comedy that isn't always confident enough in its potential greatness. Lovingly and shrewdly exploring how women wrestle with body image while trying to live up to impossible beauty standards, the directorial debut of long-time screenwriting partners Abby Kohn and Marc Silverstein wields a clever hook and some tart observations about the ways that modern life conspires to make people feel painfully inadequate. It's a shame the film gets tripped up by plot contrivances, but Amy Schumer is thoroughly winning, generating plenty of laughs but also a great deal of empathy as an insecure urbanite who suddenly believes she's gorgeous.
Writer-directors Kohn and Silverstein have seized upon an ingenious premise that speaks to a universal truth
I Feel Pretty arrives in US theatres on April 20 before landing in the UK on May 4, serving as a test of Schumer's box-office clout. (2015's surprise hit Trainwreck grossed $141 million worldwide, while last year's Snatched only brought in $61 million.) Warm reviews and good word-of-mouth could help a film that's positioning itself as counterprogramming to the upcoming Marvel onslaught of Avengers: Infinity War.
Set in New York, the film stars Schumer as Renee, who works for a high-end cosmetics company run by the impossibly pretty Avery LaClaire (Michelle Williams). It's just not at work where Renee feels unattractive. When she works out at the gym or goes to a bar with friends, she often feels heavier and plainer than the sexy, beautiful women around her. Then one day, after an accident on a workout machine, Renee hits her head and wakes up to discover that she's utterly breathtaking. But she actually doesn't look any different — it's only how she perceives herself that's changed.
Writer-directors Kohn and Silverstein (who previously wrote the screenplays for Never Been Kissed and He's Just Not That Into You) have seized upon an ingenious premise that speaks to a universal truth. Once Renee believes she's beautiful, she starts behaving more confidently, working her way up the corporate ladder and impressing people with her poise. It doesn't matter that she looks the same as she always did; because Renee now feels good about herself, she's better armed to take on the world.
In her stand-up comedy and her Emmy-winning sketch series Inside Amy Schumer, Schumer has often self-deprecatingly taken aim at her insecurities about her figure, mocking how society forces women to hate themselves because they're not sufficiently thin or gorgeous. She taps directly into Renee's poor self-image, and makes the character's sense of defectiveness humorous but also poignant. Renee is surrounded by women who have perfect complexions, smiles and bodies, and in Schumer's sad, resigned expression we see how the character has internalised these corrosive feelings of worthlessness for years.
Once Renee hits her head, though, she meets a sweet, sensitive guy named Ethan (Rory Scovel) who is attracted to her self-confidence. It's ironic how well-suited this couple is — he has his own culturally-instilled insecurities, in his case about not being manly or suave enough — and as a result I Feel Pretty presents us with two people trying to shake off their negative view of themselves in order to finally find contentment.
Scovel brings understated charm, and he and Schumer have an easy-going rapport. And Williams, who plays Avery as a kewpie-doll caricature (complete with a comically high-pitched voice), unearths a little depth in her character. Just like Renee and Ethan, Avery struggles in the face of the world's expectations — because she's a petite, stunning blonde, everybody assumes she's dumb — and I Feel Pretty does a commendable job of not vilifying anyone, including the film's "beautiful" characters.
Because Kohn and Silverstein are so insightful in their skewering of the hell women put themselves through to be desirable, however, the film proves powerfully frustrating once it grows progressively formulaic in its later reels. Predictable twists happen like clockwork, even if they're completely inorganic to everything that has transpired, and the story builds to an overblown finale that's not in keeping with the movie's modest, funny pleasures.
There's something truly beautiful about a film that argues that we're all perfect just the way we are — which is why it's disappointing that I Feel Pretty doesn't always follow its own advice, settling for cookie-cutter conventionality rather than savouring its own quirky style.
Production companies: STXfilms, Huayi Brothers Pictures, Voltage Pictures, Wonderland Sound And Vision
US distribution: STX Entertainment
International sales: Voltage Pictures, alexandra.cocean@voltagepictures.com
Producers: McG, Mary Viola, Nicolas Chartier, Amy Schumer, Alissa Phillips, Dominic Rustam
Production design: William O. Hunter
Editing: Tia Nolan
Cinematography: Florian Ballhaus
Music: Michael Andrews
Cast: Amy Schumer, Michelle Williams, Rory Scovel, Emily Ratajkowski, Busy Phillips, Aidy Bryant, Naomi Campbell, Lauren Hutton