This explosive documentary is a marathon of allegations and evidence about Russian sports doping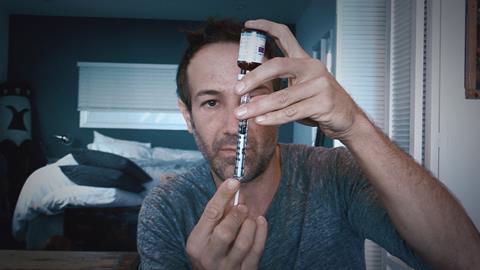 Dir. Bryan Fogel. US, 2017, 110 minutes
Russia will host the FIFA World Cup next year, and will continue participating in the Olympics, despite explosive evidence in the new documentary Icarus which reinforces allegations that doping of athletes is a policy approved at the highest level in Moscow. Icarus feels like a marathon of accusations at almost two hours, and the doc could have crossover potential in reaching a worldwide sports audience, provided that the film isn't scooped by any new Russian sports scandal. The publicity might even pull its colorful protagonist, a former Russian anti-doping official turned whistle-blower, out of the US witness protection program.
This film is proof that, with the right protagonist, a documentary seems to tell its own story.
Roundabout is an understatement for the way that the first-time filmmaker and amateur cyclist Bryan Fogel tells his story. Fogel first decides to conduct an experiment to investigate how doping might help his performance, and enlists Grigory Rodchenkov, the anti-doping specialist, who advises the director on what drugs to take and on how to avoid being detected. This involves sending his urine to Rodchenkov's Moscow lab. Soon it emerges that the lab and Russian officials like Rodchenko were colluding to substitute "clean" urine for Russian athletes, avoiding any positive identification of performance enhancing substances. And many inside and outside Russia seem to have known.
In All the President's Men, the mantra was "follow the money." In Icarus, it's follow the urine.
Much of this information has been discovered and revealed by reporters, especially a German TV team who found Rodchenkov. Yet Icarus is unique for having Rodchenkov as its dubious star — in person, on camera, a clever rogue with an accent out of central casting and a shameless charm. It's never clear whether he's a Mephistopheles or another victim, probably both.
This film is proof that, with the right protagonist, a documentary seems to tell its own story. Rodchenkov is one of those characters who, as they say, you couldn't make up. Yet it's still not clear, at the end, how much of the story of his previous life was made up by Rodchenkov himself. Imagine a one-time marathon runner, encouraged by his mother, who personally injected her son with performance-enhancing drugs.
"It's hard to imagine what the Russian state interest in athletes' urine might be," says an official at WADA (the World Anti-Doping Association) rhetorically. Shifting between footage of athletic triumphs and guerilla interviews with Rodchenkov, Fogel identifies that interest – the prestige that comes from winning international competitions. Russia's prestige sank when it fared poorly in the 2008 Beijing Olympics. Rodchenko says that the nation's leaders are determined to keep that from repeating.
Icarus is a cinematic patchwork that gets rougher in texture as bodies either drop or disappear. As the scandal gathers steam, a healthy Russian anti-doping official dies suddenly. Top Russian sports bureaucrats who denied any wrongdoing leave their posts. Another is promoted to Deputy Prime Minister. The purging is reminiscent of the Stalin years, when disfavoured commissars were removed from official pictures.
Fogel, who takes his initial stylistic cues from Morgan Spurlock, narrates his own story, documenting his own doping with needles that scar his body as the camera watches. Soon enough, the scandals go far beyond him, thanks to Rodchenkov's alarming testimony, yet the novice filmmaker still manages to take the story up to the present, aiding Rodchenkov in his flight from Russia to the US, where he now lives as a kind of American Edward Snowden.
Icarus begins with images of Lance Armstrong winning races and eventually confessing to doping. It pivots into the leitmotif of jars of urine, overseen by the FSB (former KGB), which guarantee that athletes turn up "clean" and that doping won't be discovered. As Russia heads toward new sport competitions, this documentary already begs for a sequel, or at least an update.
Production companies: Impact Partners, Chicago Media Project, Diamond Docs, Alex Productions
International Sales: UTA RonsonR@unitedtalent.com
Producers: Bryan Fogel, Mark Monroe, Dan Cogan, David Fialkow, Jim Swartz
Executive producers: Maiken Baird, Teddy Leifer, Timothy Rode, Craig Sims
Screenwriters: Bryan Fogel, Mark Monroe, Timothy Rode
Directors of Photography: Jake Swantko, Timothy Rode
Editors: Jon Bertain, Kevin Klauber
Music: Adam Peters